Thinking about the gaming laptops from Acer, it has to be Acer Aspire v15 nitro (vn7-591g) review which comes first in the list, since it is one of the best under $1000 laptops and it is in pretty close competition with the lot which includes the Lenovo Ideapad Y700 and the Asus GL522. So,without further ado let's get into the review:
Specifications:
Screen Size: 15.6 inches
Screen Resolution: 1920 x 1080
Processor: 2.6 GHz Core i7-6700HQ
RAM: 8 GB DRAM
Hard Drive: 1 TB SATA
Graphics Coprocessor: NVIDIA GeForce GTX 960M
View Price: www.amazon.com
Amazon Ratings: 4.1/5 (60 customer reviews)
Design and Display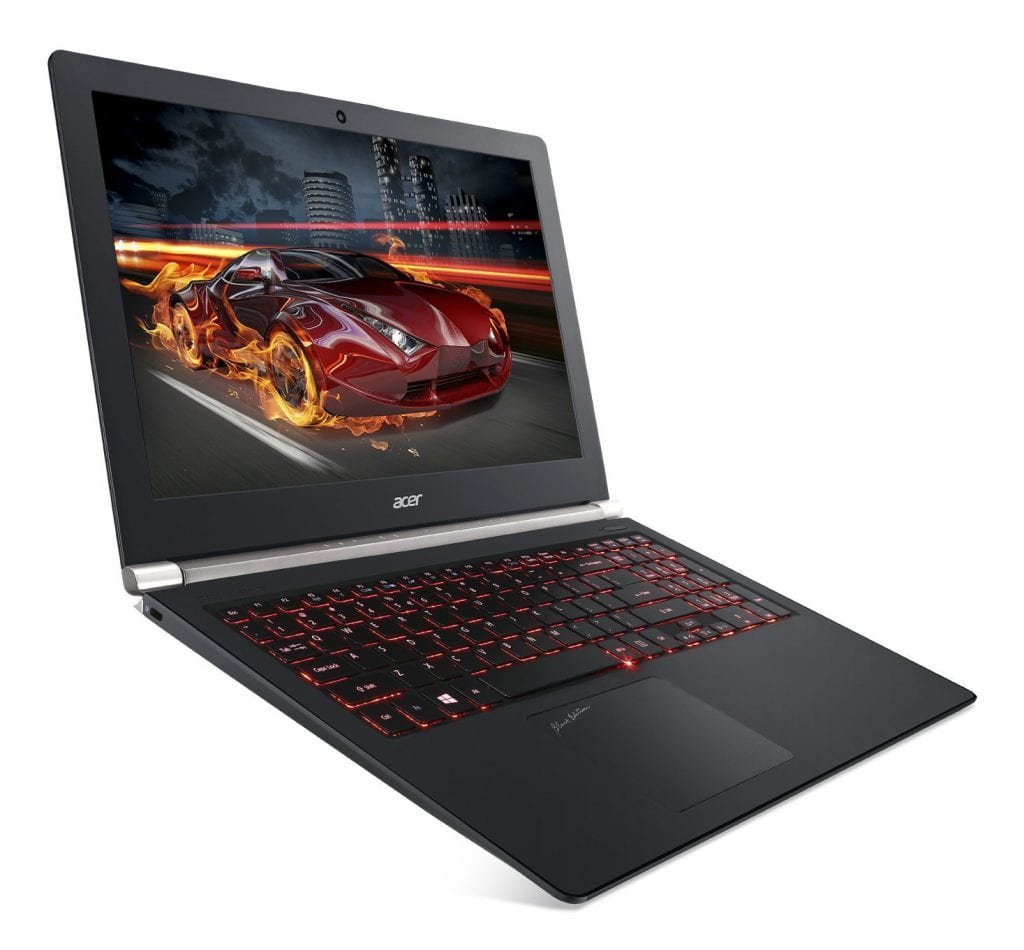 The laptop design is very subtle and it has a nice premium look. It has the Acer logo and the silver hinge is pretty sleek to look at apart from the fact that it makes the laptop sturdy.The laptop does look a little more like a work laptop than a gaming laptop. However, the Nvidia GeForce GTX 960M GPU does say a totally different story.
The laptop is pretty thin compared to its other competitors and that is something I guess which was traded for battery life(would come to that point later). It is slightly thinner than the Lenovo Ideapad Y700 as well making it one of the thinnest laptops in this price range.
The display is a nice matte one and it is really balanced and vibrant when it comes to the display of colors,though the display does have a similarities to the other laptops in the same range, however when taken an overall glance the differences is really minimal, so that isn't something to worry about in this laptop. In conclusion, this gaming laptop has a  nice display and a very subtle design to go with it.
Keyboard and touch
Well the keyboard is backlit and that is something most of the gaming laptops have these days, it is sturdy and is not as thick as the Alienware 15 or the other laptops in that series which is something I like about this laptop.
Moving on, the touch is pretty accurate and sensitive. There were no issues or complaints the laptop had about the touchpad. The keyboard does have an included number pad which increases the size of the keyboard towards the left. However, this did make the keyboard look roomy and more towards the left which according to me looks really nice.
Gaming and Performance
The gaming in this laptop is really cool, it goes on for around 100fps for games like dota, GTA 5 however for the mid- level graphics demanding games it can come down to 70fps which is good enough though not great(On high settings).I think at this price range the gaming experience of the laptop is something that saves its life.
The performance is pretty okayish, I feel that you should have it upgraded.It doesn't need any up gradation if you just going to use it for average gaming and are not a hardcore gamer.
The overall performance and gaming on this laptop are pretty good, even though it does have a few issues with its battery life which we would see under Battery life and heat section in this post.
Audio and Webcam
The laptop has Acer TrueHarmony Plus and Dolby Audio surround sound which promises to get you some high-end audio. I think the audio here is okayish and nothing that great, I do recommend the Lenovo Ideapad Y700 if you are an audiophile as it is in the same price range and has a better audio to offer. If you can live with a pretty average audio then you should consider this laptop.
The webcam is of pretty good quality and gives nice 720p stills, I really find the webcam good enough for the price since a few laptops have not paid much attention to their webcams in their gaming laptop but this laptop does have a pretty good one for the given price.
Battery life and overheating issues
The battery life of this laptop is really sad and that is something that could throw this laptop off its game. I must say that the laptop is pretty slim and sleek but that does take a toll on the battery life of the laptop. With an average use, the battery lasts for about 3-4 hours which is just average or I can even say a little below average for a laptop of that range. While gaming the battery would last for a maximum of 1 hour but in most cases, it would be even less(on maximum game settings).
The laptop does heat up quite a lot.However, people having a hands on experience have claimed that it doesn't affect the performance of the laptop apart from the discomfort you would feel while actually using or gaming on a hot laptop.
Ports and Warranty
The laptop has various ports which include Gigabit Ethernet,1 – Thunderbolt 3 (Full USB 3.1 Type C) Port,2 – USB 3.0 Ports,1 – USB 2.0 Port,1 – HDMI Port with HDCP Support, separate microphone, and headphone jack.
It comes with a one year warranty like any other laptop.
Bottomline
It is a really nice laptop when it comes to gaming, however, the major disadvantage of this laptop has to be the battery life and the discomfort it causes in gaming when it gets heated up. If you can live with these cons and don't find them bothering you much then this laptop can be a pretty good choice for you. However, I do recommend that you check the Lenovo Y700 Ideapad and then compare both the laptops and decide which laptop would you want to go for because both are in the same price range and have almost the same features.
=> Check out this laptop on Amazon
If you have any further questions or comments, leave them in the comment section below and I would be happy to help,I would appreciate any kind of experience with this laptop as well since it would help others make a better choice.Do not forget to share this post if you liked it!