From the looks of it, the Acer Predator Gaming Laptops are one of the best gaming laptops we have in the under $1500 range. From looks to the high specs it is one of the best gaming laptop choices one could have, so without further ado let's get started with the review.
Specifications:
Model: Acer Predator 15 G9-591-70VM
Screen Size: 15.6 inches
Max Screen Resolution: 1920 x 1080 pixels
Processor: 2.6 GHz Core i7 6700HQ
RAM: 16 GB SO-DIMM
Hard Drive: 1024 GB SATA
Graphics Coprocessor: NVIDIA GeForce GTX 970M 3GB GDDR5
View Price: www.amazon.com
Display and Design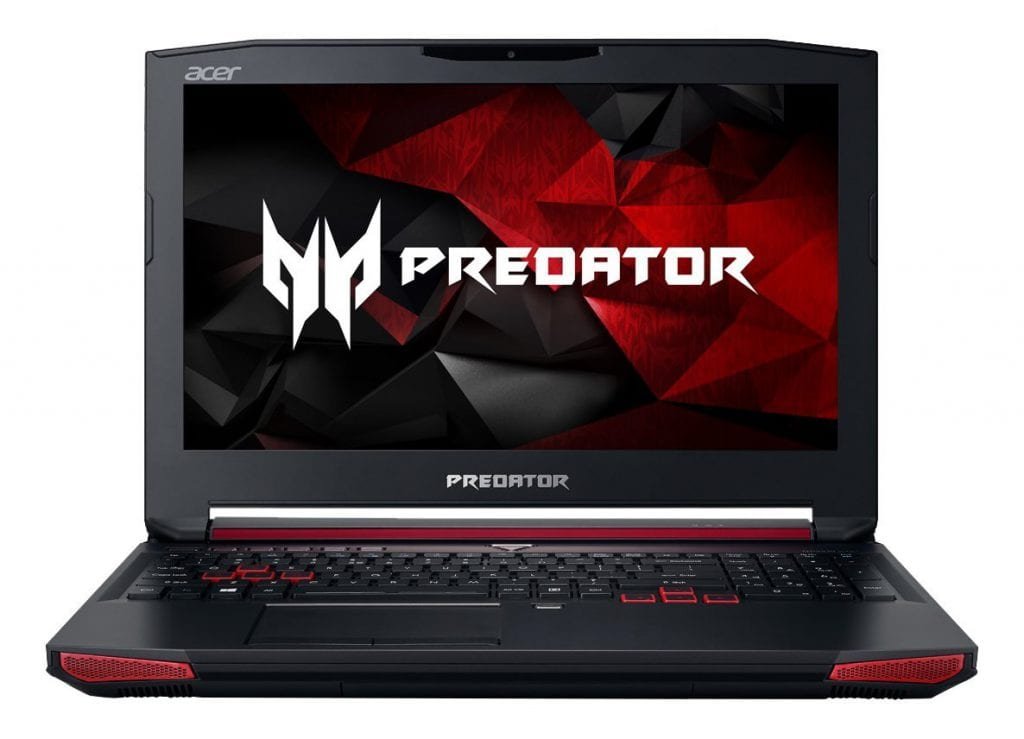 The Acer Predator laptop is a gamer-oriented laptop and the look of the laptop completely backs up that thought. It has a nice black and red chassis and the cover of the laptop is matte black with the classy Acer predator logo in silver. The keyboard and the other parts of the laptop are a mix of red and black which looks visually appealing.
The laptop has got a full HD Matte display with a resolution of 1920 x 1080 pixels which  gives a really nice pop of color on your screen while gaming. It gives the laptop an added feature to go perfectly home theater style while watching a movie or any of your favorite TV series.
The display on this laptop is pretty impressive and it gets really bright when you turn on the brightness to max. The laptop does not support a touch display which is okay because I personally find touch screens a little annoying while gaming. The laptop weighs a good 7.5 pounds which could be a little heavy for some of the users, even then I do not consider it as a deal breaker.
Keyboard and Touchpad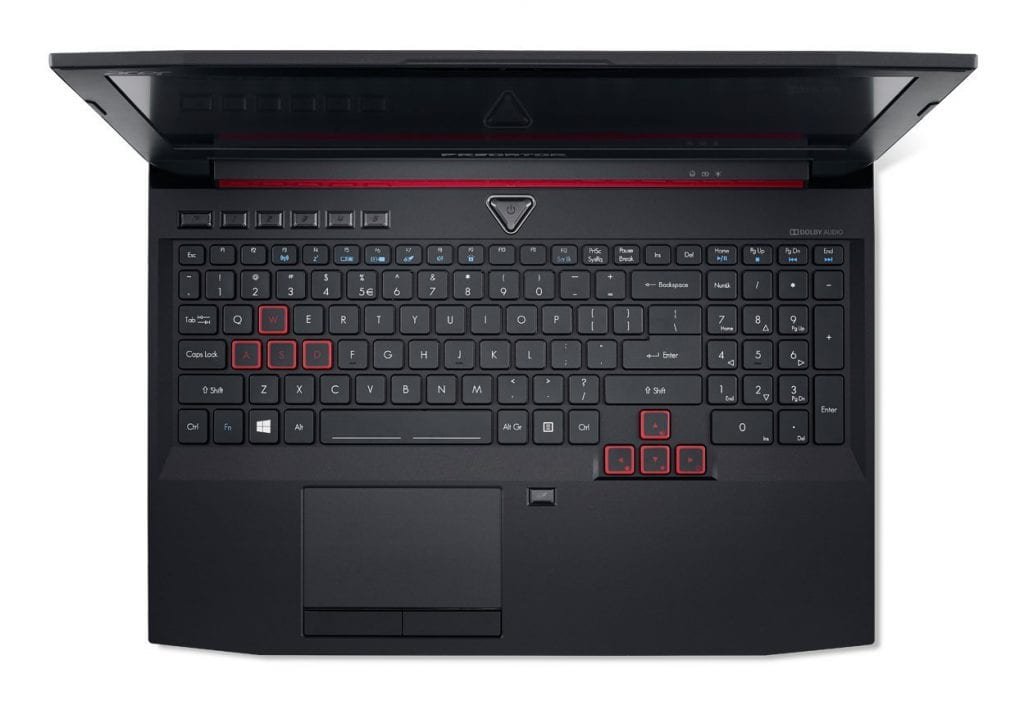 The keyboard on this laptop is one of the most comfortable gaming keyboards, I have found on any laptop. It has directional keys and the W, A, S, D keys on the keyboard are specifically highlighted. It does include a number pad along the right corner of the keyboard. The touchpad is more towards the left and not centered, however, it does give the feel of a perfect gaming keyboard and eases its use when coupled with a mouse.
The keyboard has backlit lights which enable the user to use them even when the lights are out and the touchpad is precise and accurate. The touchpad in this laptop is much better than the other gaming laptops I have reviewed(Dell never disappoints when it comes to the touchpad and next in that list is this laptop).You can even disable the touchpad which is a really nice feature as the touch might get in your way while you are typing or gaming.
Audio and webcam
The audio in this laptop is powered by Predator TrueHarmony Premium High-Performance Sound System and consists of two Built-in Stereo Speakers and Subwoofer. The audio is pretty loud and the quality seems really good which does take the gaming experience up a notch. It does make your movie experience even better with the Full HD display along excellent audio quality.
The webcam is good for making videos and even for skype business meetings. It is ideal for video chat as it supports HD picture quality which gives a really clear picture quality and even prevents any lag that might occur otherwise.
Gaming and Graphics
The storage in this laptop is really huge, it comes with a 16 GB RAM and 1024 GB HDD which ensures a lot of space for the storage of all your games and other software. The laptop includes a NVIDIA GeForce GTX 970M 3GB GDDR5 which would enable most of the games to be played in high settings and only a few games in ultra settings would be slow or not playable. This system can even support the Rift or the Vive which is pretty amazing as it comes out as a complete gaming laptop with no inhibitions.
The graphics are pretty amazing and I think this laptop has really good specs just for $1299, the gaming experience is amazing and it is really tough to beat this laptop.I think the only ones which would come with such good specs would be the Alienware15 and Alienware 17.
Battery Life and Overheating issue
The battery life on this laptop is amazing and it lasts for about 7 hours while you are using it for work and movies or browsing the internet. If you are gaming it can easily last for about 3-4 hours which is pretty good for a gaming laptop.
The laptop does not heat up at all and it has really worked a lot on the overheating issue of the laptops. It has effective exhaust fans at the bottom of the laptop which keep the laptop at optimum temperature and hence helps to avoid the overheating of the laptop which causes any unusual discomfort during gaming. Users have claimed that it barely gets hot even after hours of usage.
Ports and Warranty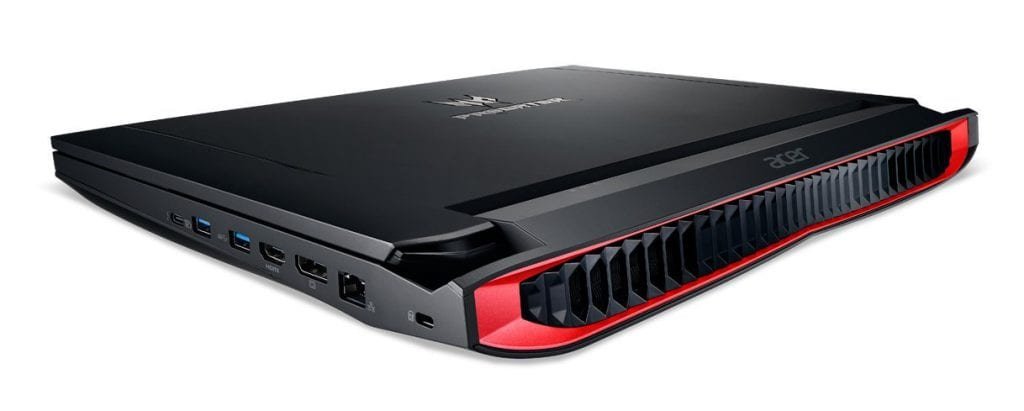 The ports included in this laptop are 8X DVD-Super Multi Double-Layer Drive , Secure Digital card reader, Full USB 3.1 Type C-Port, 4 – USB 3.0 Ports, 1 – Display Port, 1 – HDMI Port with HDCP Support.It even comes with Bluetooth 4.1 along with Wireless-AC 1535 802.11ac WiFi.
The laptop comes with a warranty for 12 months.
Bottomline
This laptop is great when it comes to gaming, it has a good display, great audio quality, and a NVIDIA graphics card which supports all the games as well as Virtual Reality Headsets.
This is a laptop for hardcore gamers and can easily surpass any other laptop in this range. The only laptop that comes across the Acer Predator as a tough competition is Alienware15.
The only drawback this laptop has is that it can be a little heavy but since it has everything apart from that I would still recommend this laptop as it is perfect for gaming and with all the features that support a perfect gaming experience.
For any further questions , do leave a comment in the comment section below and I would be happy to help.