Watching VR adult content on a smartphone is one of the best ways to use the VR technology to enjoy your adult content but you need to have the right adult apps for your Android phone to get the best out of your experience. There are sites where you do get free content but they are all just going to end up giving you a blurry mess as the quality is not as good as you would want for VR.
So, if you are interested in getting full-length clips with a great video quality then do try out the recommendations below and if you want to know how to watch adult content on your Android phone on VR then do read a detailed post about it HERE. Let us know if you have any other suggestions in the comments down below.
1. Badoink VR
Badoink VR is one of the best premium VR sites out there with a really nice support which makes it top my list. In order to view content from Badoink VR, you need to install the VR player app which is for free and you can get started with watching your adult content.
If you do not have a VR headset, BadoinkVR can send you one for a starting price of $1 which is a pretty good deal. The site has tons of videoes and uploads more and more videos twice a week. If you want a quality VR porn video with the best models in it then you can go for BAdoink VR and use the free VR player app which will help you launch the videos in VR.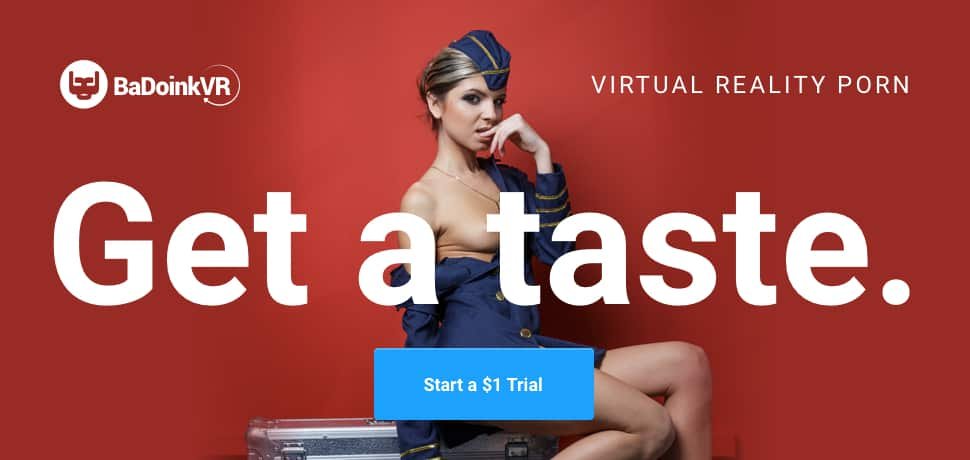 2. WankzVR
WankzVR is a pretty popular VR adult content site and it has the best HD quality VR videos out there. While in VR you might want to zoom into a few scenes and get a better view, well if you are someone who does that quite often then going in premium with the WankzVR website might be a really good option.
The WankzVR too needs you to install the  VR Player app which is free to download and you need to download the videos in 3D side by side format in order to have a VR experience. The downloaded videos can be saved in the app folder and you can enjoy your adult content without any hassle.
3. Naughty America
Naughty America is known for its models and the nice background where they shoot the videos. Naughty America is pretty popular and this famous site lets you get started with their membership for just $1. This is the best trial offer that you could get from a VR adult content site.
If you are joining NAughty America then you can access videos from the most gorgeous and famous adult models out there and that is definitely a plus for VR adult content. The free VR Player app works for this site as well and you can stream the videos on your phone in VR or even download them and then watch in VR.
4. Virtual Real Porn
This is another site which I have quite heard of and it comes with a VirtualRealPlayer that you need to install on your phone in order to view videos from this site. This site has tons of videos and various other options like syncing videos with adult accessories and various other things which you can check out on their official site.
This website has a lot of great content and it may not be as good as the recommendations mentioned above, but it surely is worth trying and if you want to use a VR adult accessory that can be paired with the videos then this site is completely worth the premium membership.
5. Czech VR
Czech VR needs a slightly different app in order for you to get started with watching adult VR content. Czech VR is a website which I have seen being recommended on most of the subreddits and it is one of the best websites for adult content out there. Even though there is a lot of other sites that have some really good content, Czech VR has many other VR networked websites giving you a really wide range of categories to choose from.
You need to download the Mobile VR Station app in order to view the videos from Czech VR. Once you have downloaded the app, you need to download the videos of the desired quality on your PC and then transfer it to your iPhone. Once you are done with that you need to launch the videos in the VR Player.
In the case, you have any suggestions or thoughts that would help our readers then leave them in the comments section below!