Alienware is known for its gaming laptops and in this post, I would really like to review the Alienware 15 laptop which is pretty popular as a gaming laptop.So without further ado let's get into the specifications.
Specifications
Display: 15.6 Inch FHD (1920 x 1080 pixels)
Operating System: Windows 8.1 (64-bit)
Processor: 2.6 GHz Core i7 6700HQ
Memory: 16GB RAM
Video Graphics: NVIDIA GeForce GTX 970M with 3GB GDDR5
Hard Drive: 1 TB HDD + 256 GB SATA SSD Storage
Item Weight: 7.07 pounds
View Price: www.amazon.com
Amazon Ratings: 3.7/5 (105 customer reviews)
Design and Display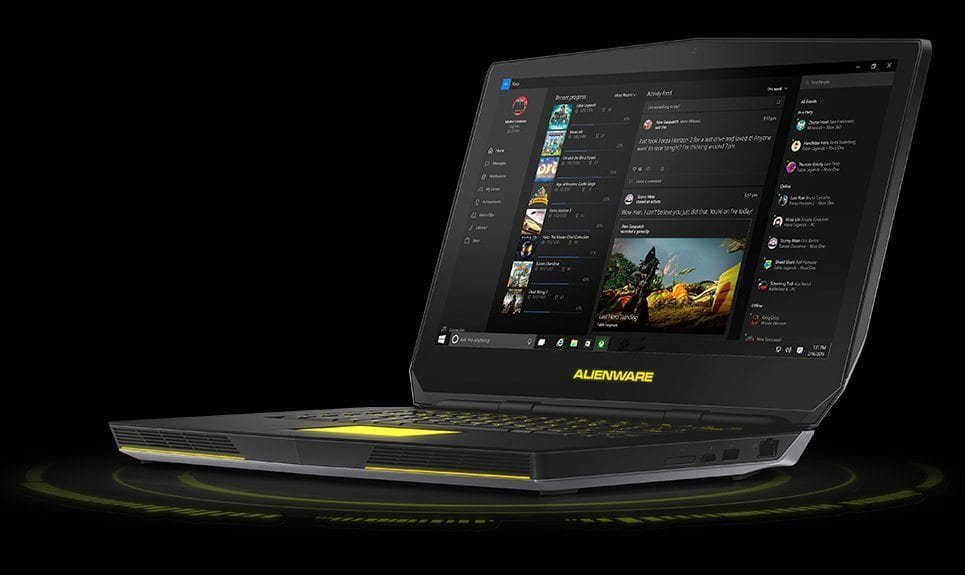 The first look of the laptop is pretty cool as it comes with a lightly brushed aluminum top and angled lines with the alien logo on the top that light up. The angled lines give it a nice slimming effect and a really sleek gaming laptop look.
The laptop is really good with 300 nits display which is for the anti-glare display and the true life display(350 nits) costs a bit more .It is actually having a nice equation for balanced color display and it really depends on the kind of display you choose. It is neither too oversaturated nor too bright making it a good laptop when it comes to its display.
It is a little heavy and weighs about 7 pounds and has rubber feet that enhance ventilation and avoid heating up of the laptop during gaming. There have been complaints of the laptop surface attracting fingerprints from oily hands. However, it is not being a deal breaker.
The entire construct of the laptop is pretty sturdy and nice, you will notice that it is a pretty thick laptop which did get me excited about the battery life. The color of the Alienware logo and the angled lines led lights on the cover can be customized any time with the software in the laptop.
The entire laptop's led colors can be customized easily and it does provide a lot of color options and you could independently have different colors for different led lights in the laptop which is really fun and quirky.
Keyboard and Touchpad
The keyboard is comfortable to use and it is perfect when it comes to gaming. It is comparatively better than the Alienware 13 and the keys are not too spongy and are pretty much perfect!
The keyboard can be customized with different colors of your choice and the backlit keyboard looks extremely good when gaming in a dim room. The numerable options for customization are really impressive.
Coming to the touch, it is lot better than the Alienware 13 and it lights up which is pretty cool. You could change the color of the touchpad lights through the software as and when you like, giving you thousands of different color combinations to choose from.It is a highly customizable laptop and I have seen very few gaming laptops with this level of customization options.
Audio and Webcam
The audio in this laptop gets really loud and is powered by Klipsch and Creative SoundBlaster X-Fi technology. The volumes can really get crazy when at the maximum level making the gaming experience feel much more real. It is pretty loud compared to other gaming laptops and I think if you really are an audiophile then this gaming laptop is perfect for your needs.
The webcam is good and relatively much better than the Alienware 13. Comparing to most of the gaming laptops I must say the webcam is much better in this version of the Alienware.
Gaming and Performance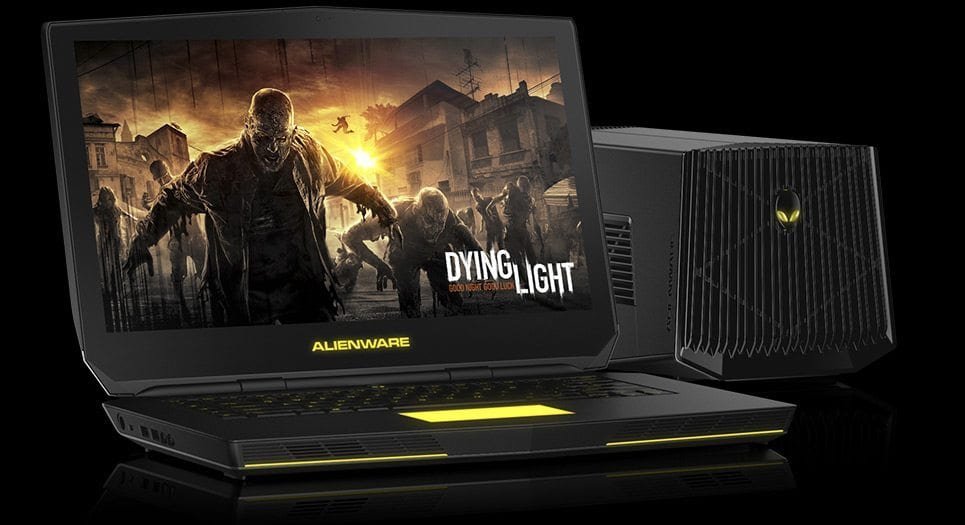 The gaming experience is really good giving around 65fps on high settings , however with ultra settings the speed does come down to around 45-50 fps which still isn't a deal breaker as it works pretty fine with every game. Overall gaming performance is really good. The boot time is less  because of the inclusion of the 256SSD in this gaming laptop.
I really liked the performance of this laptop as it did a lot faster file transfer and showed relatively better performance than the Alienware 13. If you want to buy a laptop on these two aspects which are gaming and performance then it is a really good buy.
You have the option to upgrade your graphics card from GTX 970M to GTX 980M, which makes a lot of difference when it comes to gaming. In GTX 970 M you will have issues while playing games whereas in the Ultra settings but the 980M will easily let you play the graphics hungry games on ultra settings.
Even after an hour of gaming,  the laptop didn't heat up much (barely heated up) so that acts like an added advantage.
Ports and Battery life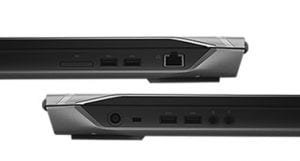 Since it is a gaming laptop you have multiple ports here to use, it comes with a Type C port and 3xUSB 3.0 port, HDMI connection,Alienware graphics amplifier port, Ethernet port and a separate headphone and microphone jack.
It doesn't have an optical drive. However, I really do not remember the last time I used a DVD/CD so I think in my case it is pretty obsolete anyway. If you are using CDs then you may want to rethink before buying this laptop.
The battery life for this laptop is pretty good when it comes to normal use like watching movies or surfing the net it lasts about 5 hours, however, when it comes to gaming, it could go down to 2 hours(on battery).
You can easily upgrade this laptop without any pain, that being a real added advantage when it comes to gaming laptops.
Warranty
It does come with a year warranty including accidental damage(Retail).
Bottomline
If your budget allows you this laptop then I think it really is a good buy because it is a rare combination of graphics, display, gameplay and great sound quality.
It is more or less like the perfect laptop any gamer could own and with the graphics amplifier, it could actually take your gaming experience to a whole new level. I really liked everything about it and would recommend this laptop for gaming any day. So if you up for that budget and do need a gaming laptop then Alienware 15 is a laptop you should consider.
If you have any questions or queries leave them in the comment section below and I would be happy to help.