This ASUS ROG 17.3 inch laptop is one of the best gaming laptops I have seen and it really makes a mark in the list of regular gaming laptops. So, without any further ado let's get started with its specifications followed by a detailed review.
Specifications:
Model: ASUS ROG G751JY-VS71
Screen Size:17.3 inches
Max Screen Resolution: 1920×1080 pixels
Processor: 2.6 GHz Core i7-4720HQ
RAM: 16 GB DDR3 SDRAM
Hard Drive: 1TB +256 GB SSD
Graphics Coprocessor: NVIDIA GeForce GTX980M 4GB GDDR5
Weight: 8.4 pounds
View Price: www.amazon.com
Amazon Ratings: 4.3/5 stars (222 customer ratings)
Design and Display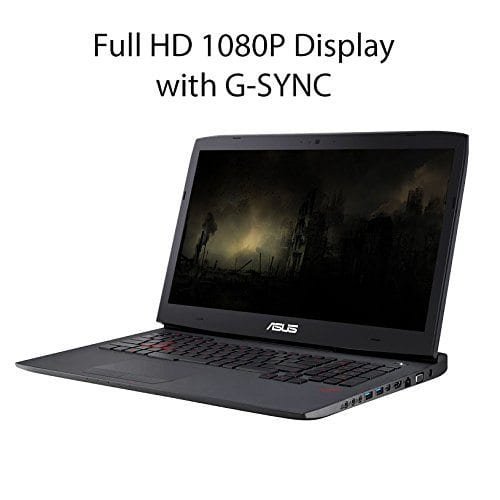 The laptop has a nice matte black finish which is a little different from the other high-end gaming laptops that Asus usually has to offer.The cover has the classic fighter design but it is a little different way from the usual Asus gaming laptops since here the two angled lines do not light up. The cover does sport the Republic of Gamers logo which does make the laptop look gamer ready and it has most of the chassis in black and read, which are the colors Acer has been using more often in its Gaming laptops.
The laptop offers a nice matte HD display with a resolution of 1920×1080 pixels. Another point worth mentioning is that it has an antiglare screen and that is one feature which is important because I'm not a person who likes to look at the reflection of my own face on the display screen. Imagine playing a horror game and at the same time looking at your reflection on the screen (creepy :P).
It has a perfect blend of colors and is a perfect laptop to watch your favorite movies.The laptop weighs around 8.4 pounds which I must admit is heavy for a gaming laptop but for the number of detailed features it has, I would still go for it.
Keyboard and Touch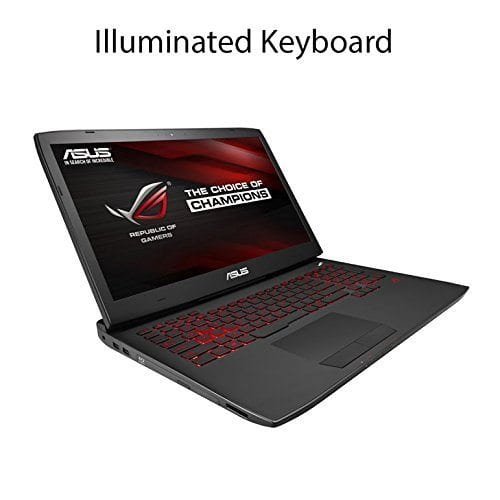 The keyboard in the laptop is pretty comfortable and easy to use, the only thing that might create some trouble is that the keys are a little difficult to use without the backlight ON because the text is written in red, but even then that is not a major issue, at least I don't think so, however, a few people can really find that annoying so do consider this point before buying.
The usual gaming keys W,A,S,D  have their key walls with the bright red lighting making it easier to figure out those keys while gaming.I think the keyboard is really spacious and the size of the touchpad will support this comment even further. It does have a number pad on the right side of the laptop.
The touch in this laptop is sensitive and accurate.The touchpad is really large and spacious giving the user a really comfortable experience.
Audio and Webcam
The laptop comes with really good speakers and they can get really loud, to be honest, I really liked the speakers of Alienware 17 a bit better, but only a "bit better", so I think Asus has done a really good job when it comes to the sound quality from their speakers.
The webcam is good and does let you record videos and take pictures in HD quality, which is good for a gaming laptop but it is not a great feature for the price you pay. To me, it is more like" just there" feature, when it comes to gaming laptops.
Gaming and Graphics
The laptop has NVIDIA GeForce GTX980M 4GB GDDR5 which does make this laptop really worth the price, you can play almost every game on high settings easily and that gives you a high-quality gaming experience.There is a huge gaming difference that is between the GTX 970M and the GTX 980M when it comes to gaming and having the latter in your laptop is a much added advantage especially when it comes to a gaming laptop.
It has a very impressive storage which includes the 16 GB RAM and the 1o24 GB hard drive, so storage in this laptop is pretty amazing and you have a lot of games in hand all the time.The performance of the laptop is really good which lets you multitask easily. Switching between two games has never been easier before and the switching takes place real quick and with ease.
Transferring files is also much faster due to the power pack features that it has and hence making this laptop stand apart from others when it comes to performance.
Battery Life and Overheating Issues
The battery life in this laptop isn't as good as the Alienware 15 .During normal browsing and watching movies it may last for about 3-4 hours, to the max 4 hours and while playing games it would just last for 2 hours.Now, that is a bummer, but really??
For a laptop this heavy and with all the great specifications I really doubt if you would just not buy it because of the battery life and let me warn you, the power brick is unusually heavy so think twice before traveling with this laptop.
The laptop does not overheat and cause any sort of discomfort. It does way better in this area than the other laptops and that makes it ideal for gaming because the last thing you want is feel like you have your hands on a frying pan while gaming.
Ports and Warranty
When you hold this laptop, you will notice a lot of slots on either side of the laptop, so let's look at the ports we have here- 4x USB 3.0, 1x Thunderbolt 2, 1x HDMI, 1x VGA/Mini D-sub 15-pin, 1x SPDIF, 1x Headphone-out and Mic-in.
The laptop comes with a year warranty and you can even purchase a 2-year or 3-year accidental damage protection from Amazon.
Conclusion
The laptop is really one of the best gaming laptops I have reviewed, although I must say it was a little sad that the battery life is not that good. Although, it does have a really amazing storage, great performance and a splendid display to back it up.The laptop sure is a little heavy and it must be noted that it is not all that travel-friendly.
The graphics card just adds up to all the features and really makes it a good feature/price option when it comes to gaming laptops in the given range.You have to consider this laptop while purchasing a gaming laptop and for a further more addition to the features do check my take on the Alienware 15 and Alienware 17 laptops.
=> Click here to check out the ASUS ROG G751JY
In the case, you want to share your experience or have any questions, leave them below in the comment section and I would be happy to help.