The Asus ROG series has another addition to its gaming laptops which is the Asus ROG G752VS. This laptop has the latest graphics card by Nvidia which is one of the major reasons which makes this laptop ready to be used with the new VR headsets which includes Oculus Rift and Vive. Although I do find the ASUS ROG GL502VS slightly better when it comes to the price/feature balance. So, without any further ado, let's look into the specs of this laptop followed by a detailed review.
Specifications
Screen Size: 17.3 inches
Screen Resolution: 1920×1080 pixels
Processor: Intel Core i7-6820
RAM: 32 GB
Graphics Coprocessor: NVIDIA GTX 1070 8GB
Storage: 256GB SSD + 1TB HDD
View Price: www.amazon.com
Amazon Ratings: 4.8/5 (11 customer ratings)
Display and Design
This laptop has a silver finish on its cover along with the fighter inspired lines which is the typical ROG series look.The look of this laptop is similar to the ASUS ROG G752VY although there is a major difference when it comes to the GPU of the two laptops. The Asus logo sits between the two angled lines and the overall look of this laptop is great.The keyboard and the touchpad have a soft black matte finish which gives the laptop a more premium look.
The display of this laptop has to be one of its best features. It is a nice HD matte display with the antiglare screen making it ideal for a high-quality gaming experience. I liked the fact that it was neither too matte nor too glossy which made the display more than perfect. It has a perfect balance of colors and the there is no color bleed situation in the display. It has a wide viewing angle, so you could view it from any angle and it would still have that perfect display quality in store for you.
The display comes with the NVIDIA G- Sync technology which creates a balance between the display's refresh rate and the GPU's frame rate to have better visuals and to avoid lagging and visual tearing as well.
Keyboard and Touchpad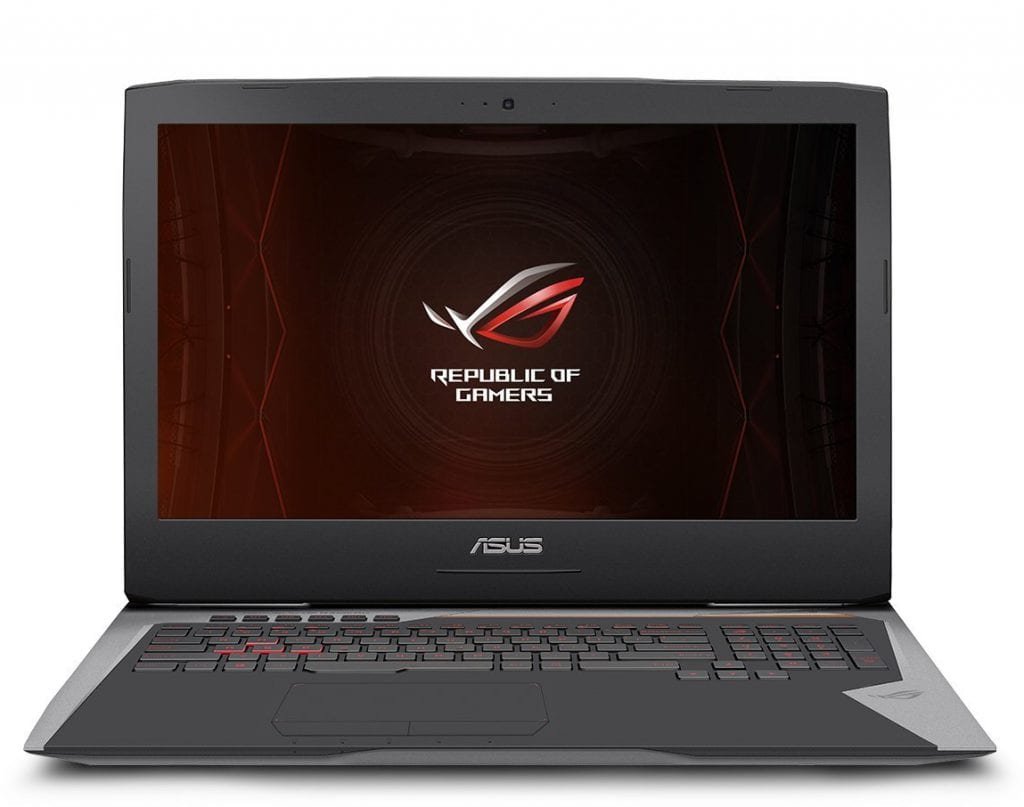 The keyboard is nice and comes along with many features, it is backlit and solves the ghosting issue. The anti- ghosting feature ensures that all the keys when pressed simultaneously are interpreted correctly. You can hit 30 keys simultaneously and they get registered without any misinterpretation of the input, which is a great feature to have in your gaming laptop.
The illuminated keyboard helps you type even when the lights are dim or if you are in a dark room. It does include a number pad as well towards the right and some keys on the top left which I felt are pretty much useless.They are a great feature to have, but you can do well without them as well.
The touch in the laptop was great, it is sensitive and accurate and can be customized as well. Though I would prefer using a mouse while gaming, the touchpad in this laptop is good enough and it has no serious issues.
Gaming and Graphics
The laptop includes NVIDIA GeForce GTX 1070 GPU with Pascal architecture, which is a 2016 release and it is a VR compatible graphics card. It is said to deliver up to 3x the performance of previous-generation graphics cards which will really take the gaming experience to another level.
The graphics hungry games like the GTA 5, Battlefield, Rise of the Tomb Raider can be played without any lag issues in the ultra settings and the laptop can even be geared up with an Oculus rift or the HTC Vive to take the gaming experience one step ahead. There are no issues you can have when it comes to gaming on this laptop as all the games can be easily played on the high or ultra settings because it has one of the best GPU's of 2016.
The storage is extremely good with the 256 SSD and the 1 TB HDD. The RAM is 64 GB, which is a high-end specification and makes this the best gaming laptop you can ever own.The file transfer speeds, booting process is really fast which is something expected from a laptop of this level. It has a really good performance and great graphics which really sets this laptop apart from the regular gaming laptops.
With overclocking feature introduced in this laptop, the performance speeds and the gaming experience just gets better. You can feel that each and every task gets completed much faster than a usual gaming laptop. The overclocking can be increased or decreased by using the ROG Gaming Center.
 Battery Life and Overheating Issues
The battery life of this laptop is pretty good in comparison to the other Asus laptops, it works for around 5-6 hours with the internet and while gaming with full brightness it may not last for more than 2 hours.
The cooling system in this laptop has claimed to create an effective and efficient cooling system that helps improve GPU performance by smooth and stable gaming.The overheating issue in this laptop is not bad, but it does heat up a little after hours together of gaming, maybe after 2 hours the laptop does feel a little warm, however, the cooling system takes it down from there and there is no unusual overall heating of the laptop.
Ports and Connectivity
The ports included in this laptop are 1x HDMI 2.0 Port, 1x Displayport 1.2, 802.11ac WiFi 2×2, Bluetooth 4.1, 1x Thunderbolt III Over USB 3.1-Type C(Gen 2), 1x mini Display Port, 1x Headphone-out jack (S/PDIF) and a  Microphone-in Jack. 
It does include Bluetooth 4.1 and comes with a Dual-Band 2×2 802.1ac WiFi which ensures high-quality signal strength and better speed wireless speed.
Bottomline
This laptop is one of the best gaming laptops I have reviewed and I'm still waiting for the Alienware to introduce the new 2016 released graphics card which is inclined on making the VR experience much better because I strongly feel that Alienware might set standards really high for all these laptops.However, this laptop is reasonably priced for all the features that it is offering to the consumers(I agree it is expensive but the graphics card is way too good).
It is slightly heavy by weighing around 4.5 kg, however, it is more like a desktop in a laptop with the great GPU and every other feature included just makes this laptop great when it comes to performance and responsiveness.
I think it is a perfect choice for someone who is a hardcore gamer and apart from being a little on the heavier side of gaming laptops, I do not see a reason why you would not want to get your hands on this beauty.
This was my take on ASUS ROG G752 VS, however, you can take a look at the ASUS ROG GL502VS which has similar gaming GPU specs.
In the case of any comments or questions, leave them in the comment section below and I would be happy to help 🙂