The Asus ROG GL552 review is another addition to the under $1000 gaming laptops.However, it has it's own pros and cons and we would see later how the gaming is limited in this laptop and it's various shortcomings , so without further ado let's look into the review.
Specifications
Screen Size: 15.6 inches
Screen Resolution: 1920 x 1080 pixels
Processor: 2.6 GHz Core i7 6700HQ
RAM: 16 GB DDR4-SDRAM
Graphics Coprocessor: NVIDIA GTX960M 2GB GDDR5
View Price: www.amazon.com
Amazon Ratings: 3.8/5 (437 customer ratings)
Design and Display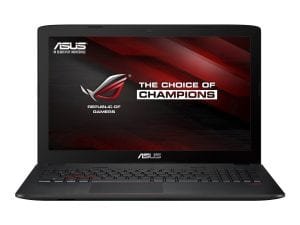 The laptop is pretty sleek and has a grayish finish on its cover which in gives it a really nice gamer laptop finish. The cover includes the logo which adds up to make the laptop look good and professional. I really liked the fighter inspired lines which make it look really cool and more of a gamer laptop.
It weighs about 5.6 pounds making it really light and easy to carry around while travelling. However, it does have those rubbery feet that could easily leave marks if dragged on a surface.
The display is not the one with lustre but a matte screen which is something I prefer since I do not like the screen reflecting my face and have this feeling that lustrous screens become dusty easily and more often.
I really feel the display here is a little better than the Lenovo Ideapad Y700 which I reviewed earlier, so that means the display here is really good for the price you get it.
Audio and Keyboard
The speakers are expected to produce crystal-clear high-fidelity audio with exclusive SonicMaster technology, however, most of the reviewers found it pretty okayish. It is not as good as the Lenovo Ideapad which comes in the same price range as this laptop, though I must admit that the Lenovo laptop did have an added advantage of the JBL powered speakers.
If you are not a real audiophile then it is a good laptop for you because there is more to this laptop and the speakers are not bad enough to be the deal breakers. The keyboard is pretty sturdy and nice to use with the backlit lights which I think does make it look visually appealing and it does have more intense backlit lights around the W, S, A, D keys since they are really crucial for gaming.
The overall gaming audio is really not that bad. However, in comparison with the rest of the gaming laptop clan, it can be a little bit disappointing. I feel if you do compare it with some other high-end laptops you are sure to be a little disappointed, for laptops in the given price range it does a good job.
Gaming and Performance
Best graphics for this price range is something that the laptop offers.It has Nvidia 960MM GPU with 2 GB of RAM, I feel the graphics card steps up this laptop in the competition.The gaming experience on this laptop is  pretty amazing.However, I do feel that in the high game settings for all the graphics hungry games this laptop will end up running at a very low fps making it obsolete.
This laptop is for gaming for those people who are not hardcore gamers and just want a pretty good enough gaming experience and do not plan to use it with a VR headset because it is not going to be compatible with graphics hungry games.
All I want to say here is that the graphics demanding games could be a little bit of an issue on this laptop(Mostly games with VR compatibility will not work).
The performance of this laptop is pretty impressive in the given price range as it is swift and does provide a pretty faster rate of transfer of data. The performance is on par with most of the $1000 and above laptops hence making it really good performance wise.
During gaming, the left side of the laptop gets pretty hot, so the laptop needs to be kept ventilated or it would be ideal to keep it on a well-aerated surface.
Ports and battery life
The laptop has enough ports for gaming. It has a USB 3.1 port with a Type C connector, 3 USB Type A ports, HDMI, Ethernet, SD Card slot and a headphone jack.
It has enough ports that would be needed for gaming so that is not something you need to be worried about.
Coming to the battery life of the laptop it lasted for about 4.5 hours and I think that is something great about the laptop because not many laptops last more than 3 hours, even the ones in the same price range. So that was a pretty good deal that Asus gives its consumers. Longer battery life makes it a better laptop when it comes to travelling.
Upgradeable and Warranty
It can be easily upgraded whenever you want to replace the memory or storage.It is a painless process and you could do that with ease.
You can even get the upgraded model which is 1TB+128GB SSD , Nvidia GTX 960M w 4GB VRAM for $1299 which according to me is better since it is an upgrade to the base model(1TB | Nvidia GTX 960M w 2GB VRAM) if you have that budget with you.
The system does come with a year warranty and accidental damage protection, for more on the laptop do check out the amazon link below.
=>Buy ASUS ROG GL552 Gaming Laptop
If you have any further questions or comments leave them in the comment section below and I would be happy to help.