Virtual Reality is one of the newest technologies that we are seeing now and with the flock of new VR headsets that exist, there are plenty of new 360 degree cameras that one can invest into in order to make their own VR videos. Imagine going on a family vacation and capturing your best moments in VR and later reliving those moments by playing the videos in your VR headset.
You can look around the location that you have visited and actually relive the experience over and over again. Virtual Reality is one of the best things that can help you transform any 360 videos into an almost real life experience. Now, there are tons of options out there for different 360-degree cameras and if you are still deciding which one to go for then have a look at the compiled list of the best Virtual Reality cameras available out there.
1. Samsung Gear 360
The Samsung Gear 360 is one of the most affordable cameras that we have out there and it is quite famous because of the Gear VR hype. Indeed the Gear VR is an incredible VR headset and if you are having a Gear VR compatible phones then there is no other VR headset you should look out for other than the Gear VR.
The Gear 360 is easy to use and carry around. It is even waterproof hence you can use it inside a swimming pool without worrying about damaging it. It uses an external SD card which is great because once you are done with one of them you can easily change the memory card instead of doing the tedious job of saving the files elsewhere and clearing the SD card to reuse.
However, the Gear 360 camera is only compatible with Samsung Galaxy devices and since it comes with limited compatibility it has one major limitation. Overall, the camera is easy to use and even though you would not get the best quality videos, it is worth the money you spend on a VR camera. Now there is a new 2017 version which is even better than the previous camera and has a better resolution.
If you are a Gear VR owner then you are pretty lucky since you can easily make this purchase and start creating high-resolution 360-degree videos today.

2. Ricoh Theta
Rico Theta is another 360 camera that you can find out there and probably one of the best ones. This camera has two different versions but the SC one comes with a 5-minute recording span which according to a few people would mean really short recording time span. However, I think you can edit the videos and compile more than one but you do have another option of the Ricoh Theta S where the recordings can be 25 minutes long.
The camera comes with internal memory and you can easily record and share the videos on this VR camera. One of the things that make this camera the best is that you can easily share the videos you record and there is a better compatibility factor than the Samsung Gear 360 camera.
The Ricoh VR camera is pretty easy to operate and you would be able to easily watch your VR videos without too many issues on any VR headset of your choice. The Ricoh Theta is one of the affordable and best VR cameras out there and if you are interested then do take a look at the product.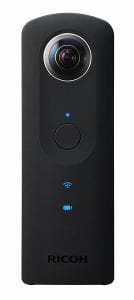 3. Insta 360 Nano
Now if you are an iPhone user then you might want to go ahead and take a look at this 360 camera right now because Insta 360 Nano is the best we have out there. This camera is only for iOS users and it is really affordable with a pretty good camera resolution.
The camera does have a few plus points like it uses the iPhone memory and you can easily share your videos over social media sites. The camera is pretty decent and may not be a premium quality one but still does the job with recording decent resolution 360 videos.
A few drawbacks can include the resolution and that it does not have a good battery. It is pretty visible that the video quality is better on other cameras that are usually compatible with Android phones but trust me if you are an iPhone user then this probably might be the best one out there. If you have found another camera that is better than this and compatible with the iPhone then do let us know in the comments section below and help out other readers.
You can have a look at the InstaNano Air which is another great option for Android users.
4. Nokia OZO
This 360-degree camera looks amazing and is amazing when you look at all the features as well. The 360 camera comes with 45 minutes of recording time which by far is the best among all the cameras mentioned in the list. The 360-degree camera also comes with 8 microphones which would record sound which is pretty cool.
The quality of the videos are really great and it is even a little more expensive than one would expect. However, if you are looking for professional 360-degree video recordings then this one is the best. Along with the other features, this camera can also record videos on the fly which is pretty amazing.
If you are okay with the price then you should definitely go ahead in order to start creating VR videos of the best premium quality and resolution. This is probably the best 360 degrees VR camera that you can invest into and it will really help you make the best videos.
Since the camera is really expensive it is limited to professional use, however, if you are interested then you can always have a look at the camera on the official website and leave your thoughts in the comment section below.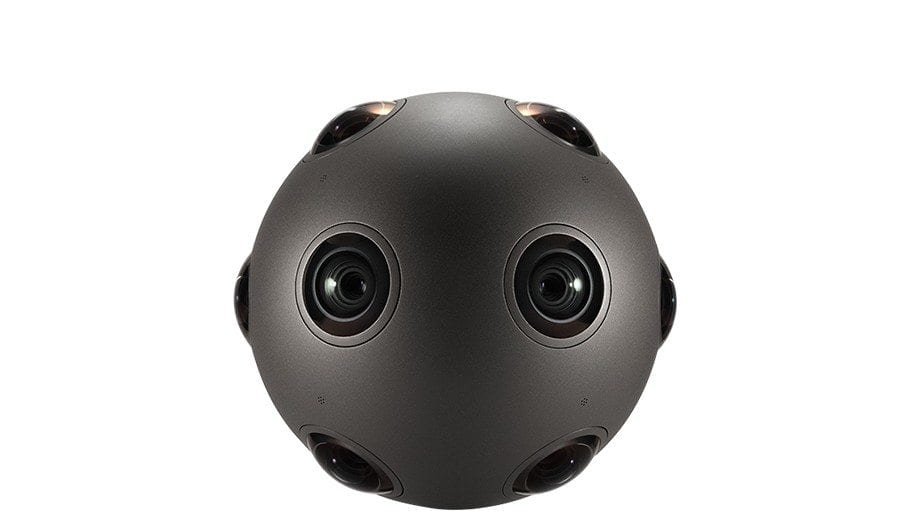 5. 360Fly 4K 360-degree Camera
Let's come back to reality and focus on cameras that one can actually buy in the $500 range and that brings us to the Freefly 360 camera. Freefly camera is pretty amazing in comparison to all the others in the list and comes with an amazing 64 GB internal memory which is sufficient for a holiday or a vacation.
The camera is pretty good and will help you record some good quality 360-degree video when it comes to video resolution I must say that the Freefly camera is obviously the better one after Nokia OZO and gives a really nice video quality. The camera is waterproof so you can use it when you want to capture moments under water which is pretty amazing in my opinion.
However, even though the camera is pretty amazing there are a few drawbacks when it comes to the software since many people complain that the camera gets stuck and you need to sometimes start recording the video all again from the beginning. If you want to have a look at the Freefly 360 camera then do check it out on Amazon!

If you have any thoughts or opinions leave them in the comment section below!
If you like the post then do not forget to share it on social media!