Best controller for Samsung Gear VR has to be one of these gaming controllers because all of the controllers mentioned here are pretty good. Even though there is a touch pad on the GearVR headset using a controller can drastically enhance your gaming experience and even make it much more comfortable than always having one of your hands at the sides of your VR headset. In the long run this could get a little painful and might take some time getting used to it, so without further ado let's look at the controller options we have for the Gear VR.
1. SteelSeries Stratus XL Controller
This controller has to be on the top for it's compatibility and easy pairing with any device, moreover it is one of those high end gaming controllers that you should have provided you have some extra cash lying around.
From the gameplay to the comfort, this controller has got everything that needs to be there in order to stay right at the top being my #1 Recommendation.
Specifications:
Android Controller
Compatible devices: Compatible with Windows 7 and up, as well as Samsung Gear VR, HTC Vive, Oculus, and for use with thousands of controller-enabled games.
Battery: AA batteries(included)
Best Buy: www.amazon.com
Amazon Ratings: 4.4/5 (297 customer reviews)
What I liked about the product
1. It does come in a nice box with batteries that are to be physically inserted inside them. It has a nice Matt finish and gives a really nice premium look.
2. It has two analog controllers which are designed such that it gives you a good grip and it feels really comfortable to place your thumb on the controllers.
3. It has the home button, front button and back button making it compatible with both Android and Microsoft platforms. It has buttons on the back of it as well which are the battery checker and the Bluetooth controller which is used to switch on and off the Bluetooth.
4. It does have two bumpers on the top which are usually used for shooting games or even racing games.
5. It is compatible with many games hence making it much easier to use because at the end of the day that is a controller's job, being compatible with the game and give a high-end gaming experience.
6. It can work well with Android 3.1 and later versions and Windows 7 and its higher versions.
7. You cannot fit in phones in these controllers like the way there was an arm in Moga controllers and the removable arm in case of GameSir G3s controller. However, that is not needed when you have your phone inserted in a VR headset.
What I Didn't like about a product
1. Well, it won't fit in your pocket like the Moga Hero, so yes, you need to carry it along with you in your backpack if you ever plan to use it outdoors, and that was the only downside of this controller.
2. It comes with AA batteries which have to be replaced once they get over, however you could buy AA batteries that are chargeable.
3. If you have big hands you might find it a little difficult to use the A,X,Y, B controllers, however, this is not a major issue and most of the customer feedback it has got barely mentioned it as a problem.
Conclusion
It is definitely worth a try because I feel it actually gives a really nice premium feel and is far more compatible with games which results in a better gameplay and a much better experience. It goes well with every phone and I think it is a great choice for all the gamers out there. I love the entire experience of the SteelSeries Stratus as you could easily pair it up with any VR headset without facing any major issues and that is why it is one of the best-recommended gaming controllers.

2. GameSir G3s
This controller is no less, with its chargeable battery and the glowing LED s (which aren't going to be visible once you have the VR headset on) this one is a pretty close fight to the SteelSeries Stratus controller and does include itself in one of the high-end controllers with the excellent gaming experience.
For people who are more visual and would like their controllers to look great, I think this one is a must have and you can read the complete review here-
Specifications:
Working Platforms: Android/Windows/PS3/iOS
Working Modes: Android standard/Mouse Simulation/X-input/D-input
Connection: Bluetooth 4.0/Wired USB
Working Distance: 23 ft
Battery Capacity: 600 mAh
Battery Life: 18 Hours
View Price: www.amazon.com
Amazon Ratings: 4.7/5 (16 customer reviews)
What I liked about the product
1. It is cheap and it has a really good feature/price balance, so that is something impressive.
2. You could use it with almost all phones including an iPhone whereas with the Moga controllers that were not the case. You can use the Android controllers with the VR headsets but the iPhone controllers were a little bit different(in the case of Moga Controllers).
3. They have a nice D-pad, however, a few other reviewers had an issue with it when they played long for more than 2 hours, I never went that far while it comes to playing but it worked fine with me.
4. It's Analog controllers and the other controls are pretty comfortable to use and all the A,X,Y,B controls light up on just pressing one button which looks visually appealing.This is my favorite part when it comes to the looks of the controller.
5. Apart from the led lighting the controller is more of a Matt black and looks pretty sleek and has an added premium theme to it.
6. It is lighter than any gaming console and still works very smoothly.
7. Yes, it does have a removable arm unlike the Moga controllers, so you could fix the arm whenever you want to and attach the phone to the controller and again the arm is spring loaded and can fit phones from 4 -6-inch screen size.
8. Each box comes with a unique QR code which comes in handy while connecting your phone to the controller via Bluetooth. When you download the app to connect the phone and the controller, you need to enter the unique QR code to confirm your purchase.
9. It works on almost every platform, making it a multi-device controller and that is a good deal for the money you spend on this controller.
What I did not like about the Product
1. If  you would have used the Moga Pro Power series then you will realize the difference between the battery and you can easily tell that you would wish that the battery was as goes as the Moga Power series.
2. Limited games compatibility with the iPhone, however, that is only to grow with time so that should not be a major issue.
Conclusion
Overall, it is a good controller and would recommend it as it is a perfect controller for any phone and could easily be used with the VR headsets without much of an inconvenience. I really liked most of the features of this controller making it the second best on the list of the Best controller for Samsung Gear VR.

3. Moga Power series
Well if you just want a controller and do not want to spend much on it then I guess this controller is the best, it does its job pretty well and the Hero controller in this series is even small enough to fit into your pockets.
With rechargeable batteries having the capability to recharge your phone as well, this controller can prove to be multi tasking pretty well with your VR headsets and your phones as well.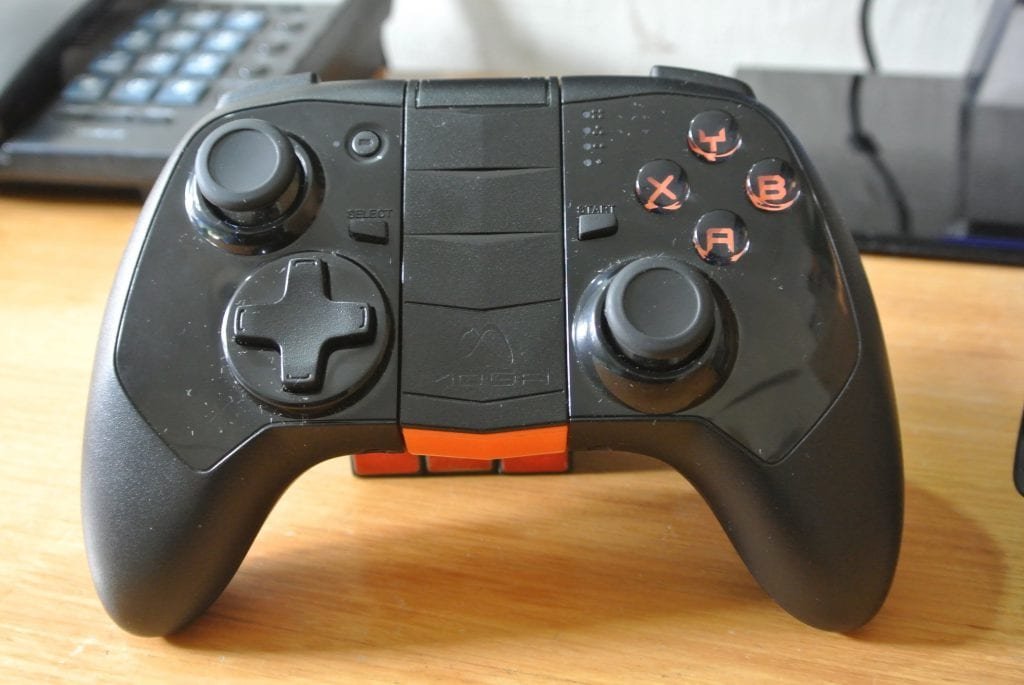 1. It does come with a spring loaded arm where you could easily fit phones of typically any screen size.The phone is pretty secure here and the chances of the phone falling out are very rare.I personally like the spring loaded system and it does make things a lot easier and easily compatible with almost every android phone.
2. Now from the Ace controller the display lock and the pause button has been replaced by the select and start button along with the same directional pad and the analog controllers.
3. The bottom is included with the OFF button, A Mode and B mode, basically, A mode is for the Moga enhanced games and in the B control you need to map the Moga controls before using it for the game.
4. It is a Bluetooth controller so you could easily pair it up with the Moga Pivot app and this is done only while the initial pairing has to be done and then later it automatically pairs up with the controller.You could even project the screen on your TV and enhance the gaming experience.
5. The built is sturdy and it has a much better premium feel than the Moga Ace Power Controller and it could be easily used by someone who has big hands unlike the Hero version of it.
6. Drifting in games becomes way easier with the addition of this controller and trust me, the gameplay is so much better and this controller gives the feel of a high-end controller.
7. It comes with the charging capability as well just that you need to connect the USB cable in case of charging of the phone and the battery is much better than both the Moga Ace Power and the hero series, as it lasts way longer.
8. It has a 2200 mA battery whereas the other two have around 1800m A battery hence making it more powerful when it comes to the battery life.
Conclusion
I highly recommend this to someone whose phone's battery sucks and since it is really useful and will in come in handy apart from the controller aspect of it which is pretty awesome as well.
It just doesn't fit in your pocket else it is small as well but compared to the Moga Hero Power it is a little huge and hence if you are okay with the size then you are all set with the Moga Pro Power controller.

Moga Hero Power Controller
The hero controller differs from the Pro only in the size, rest all the features being the same.The size of the Hero is a little smaller than that of its Pro version and hence making it difficult if you have big hands, I have small hands and hence find the Hero much suited and neither did I mind the Pro version.
Again it is sturdy and has a nice premium feel to it, the only are where it differs is the battery of the controller which is a little less than the Pro version of it.
The Moga hero has a battery of 1800 mA and hence would last not as long as the Pro version of the controller would, however apart from that there are not many differences between the two so the choice would totally be yours.
Conclusion
The game play in both the controllers is pretty awesome and it comes with many games in the app already which you could get for you phone.Make sure you have enough storage for all the games and then you are good to go.It is perfect for people who have no time for PC games or want to play while traveling as it holds the phone really well without creating any issues.
The Hero version doesn't come with the stand for tablets or larger phones though the Pro version does come with that and hence making it more compatible with devices having a larger screen.

These were my recommendations for the Best Controller for Samsung Gear VR. These controllers are not only the Best controllers for Samsung Gear VR but they can also be paired with other VR headsets in the case you want to have a much easier gameplay experience in VR.
If you have tried any of these controllers then let us know your experiences in the comment section.
Know a better gaming controller? 
DO let us know your thoughts in the comment section below and do share the post if you liked it!