In order to choose the Best VR headset for kids, we need to understand that Virtual Reality is relatively new in comparison to the other gaming tech that we have out there and since it has not been long, parent do tend to worry if VR is safe for their kids or not. There are a lot of questions that you have once you think of handing over a VR headset to your kid. Let us look into these questions one by one.
Is VR really safe for Kids?
VR headsets are slowly becoming a major part of the gaming industry and we all know that kids are going to wear them as well, but is it really safe for the kids?
Now, there is no such proof of the permanent damage done to the eyes with VR headsets but wearing it for a long period of time might cause stress on the eyes which can have some long-term effects which can be cured by corrective glasses.
The best way to allow kids to use VR headsets is to make sure that they take a break after 45 minutes of using the VR headset because that is when the real stress starts to build up. Most of my VR headset recommendations in this post are going to be headsets which do not have a head strap as they are more comfortable and allow gaming for hours together.
Tips to make sure your kids are safe using VR headsets
1. Well, the best practice a parent should adopt is not to allow gaming for long hours and monitor that your kid takes a break after every 45 minutes.
2. Ask the kid if they are feeling motion sick or not and in the case they then tell them to take a break immediately and monitor the game which causes motion sickness. You can read more about motion sickness in VR in one of the posts on our website.
3. Make it clear to them that playing games on VR headsets should be done in moderation and educate them about VIrtual Reality and how it works. Being transparent with them and educating them might help them make the right choice when say, they can see the images in VR clearly because the focus is not adjusted.
4. Having fun is really important at the end of the day so make sure that you are not sucking out all the fun by being strict with the rules and instead have an intention of helping kids to enjoy VR in a safe and better way.
Age restrictions on different VR headsets
There are different age restrictions on VR headsets like the Oculus Rift and the HTC Vive and the restrictions are mainly because of the head straps that make it easier for one to play with the VR headsets for hours together. In the case of handheld VR headset which is meant for kids you just can't have a peaceful gameplay for more than 30 minutes as you can feel the pain in your arms from holding the headset for too long.
In the case of handheld VR headset which is meant for kids you just can't have a peaceful gameplay for more than 30 minutes as you can feel the pain in your arms from holding the headset for too long.
The Gear VR and Oculus Rift have an age restriction of 13 and the age restriction exists because of current lack of confidence in the health and safety side of the VR headsets. Similarly, the HTC Vive chooses its audience to be above the age of 14 for health and safety reasons.
The other handheld VR headsets like the Master View Mattel cannot be used for more than 15 minutes without a kid having sore arms and hence cannot do much damage as the VR experience is being viewed in moderation.
There are a couple of VR headsets that you could give your kids and are kid-friendly. Do take a look at the list below and let us know which one among the ones mentioned below is your favorite.
1. Mattel View-Master
This VR headset is made by the toy company Mattel and is one of the best VR headsets for kids. The VR headset has stunning 360-degree experiences and it is going to make you feel like it is worth every penny that you spend on it. The headset is good for kids between 7-15 years of age.
The headset has some stunning and educational VR experiences and it might actually prove helpful in making your kids understand more about the history and other subjects being taught in school. The headset also supports cool games and hence this VR headset is a package of education and fun for kids.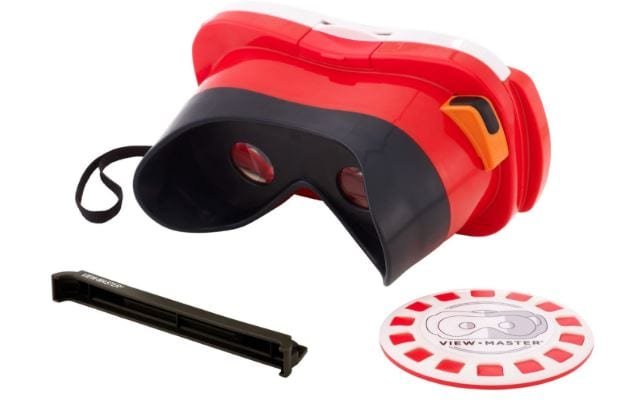 2. Homido Grab
Homido Grab is a VR headset model from the Homido company which makes quality VR headsets. This headset has no head strap and you need to hold it over your face with the help of your hands. The VR experiences on this headset are pretty great and you can play a ton of games that are compatible with the Google Cardboard.
This VR headset is a perfect option for kids since they are light in weight and easy to carry around. The headsets come in different colors as well and you can pick your favorite among the options available. The headset has a great built quality and is one from one of the best mobile VR headset companies out there.

4. VR Real Feel
VR Real Feel is a Kickstarter campaign and it is one of the best VR headsets for kids. The headset comes with a controller as well and currently there is a racing wheel controller available and the others will release by the end of 2017.
If you plan on getting a VR headset exclusively for gaming for your kid then this one here is perfect. The VR headset provides real immersive experiences especially with the addition of the controller that gives it a realistic feel. VR Real feel would be released with different controller variations which would include a gun, a baseball bat, and a few other controllers.
The VR headset is pretty cool and if you want to gift this to a 10-year-old for Christmas then this is one of the best budget VR headsets for kids.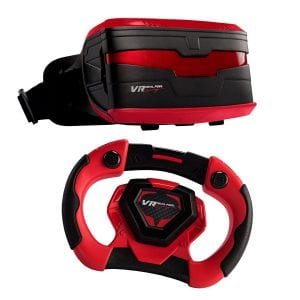 3. Google Cardboard
Google Cardboard is your last resort when you are really tight on budget or want a DIY VR headset. There are many DIY tutorials for Google Cardboard and you should definitely check them out. You can even get them on Amazon for cheap and get started with VR.
If you are not sure about Virtual Reality then getting started with the Google cardboard is not a bad idea, you can always get an upgrade with the other two VR headsets. However, if you are planning on gifting a VR headset to a kid then you should go for the VR headsets mentioned above.

The Google Cardboard was launched with the initiative of being affordable so that a larger audience gets to experience VR and understand how the experience really feels.
Let us know your favorite VR headset in the comments section and in the case you have any questions feel free to ask!