VR porn is a niche that has been growing in popularity and we would soon see have a lot of content in the VR porn category.
Best VR Porn Sites are something difficult to find and if you do not have the time to do all the research then do bookmark this post as we have done it all for you!
You should go through this list and browse all the different adult content sites to see which one you would like the best. The ones that we personally liked was BadoinkVR, VirtualRealPorn, and SexlikeReal as they have got it all.
These three websites basically cover all the different categories one would be looking for in VR Porn and with their extensively large library, you are never going to run out of some good quality VR adult content.
1. BadoinkVR
This is the best adult VR site out there and BadoinkVR is really easy to get started with as it comes with the option of a trial membership for $1.
BadoinkVR is one of the sites where you are going to get great quality content in high resolution. Unlike the blurred mess that comes out with most of the free VR adult videos.
You can even zoom in on the videos and you would find a better zoom in quality than most of the other VR porn sites.
The production quality on the site is really good and they add content twice every week.
Recently BadoinkVR has come up with two other sister sites which means that by just having a membership for this one site you can browse 5 or more different adult VR sites partnered with BadoinkVR.
Signing up for the premium membership on this site is worth the money and if you are looking for the best VR porn site then my #1 recommendation has to be BadoinkVR.
In order to view content from Badoink VR, you need to install the VR player app which is for free and you can get started with watching your adult content.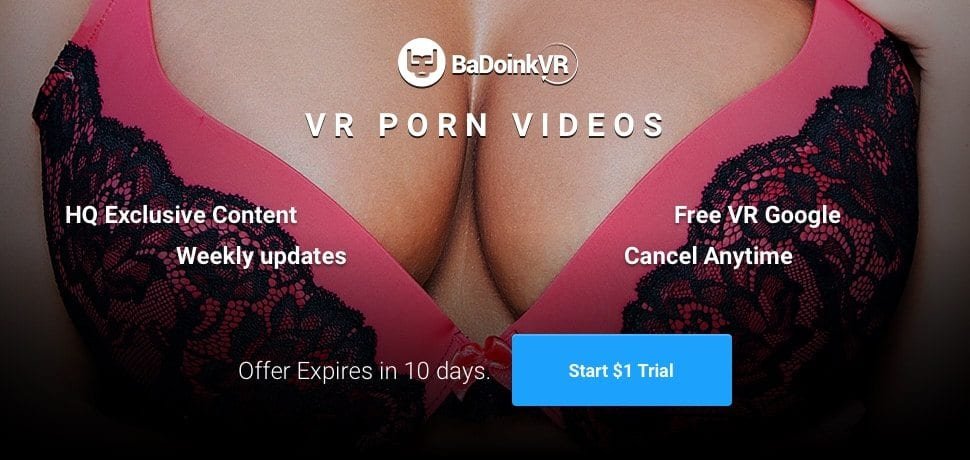 2. WankzVR
Another website with some high-quality content is WankzVR. The videos produced on the site are really high quality and immersive.
The site has partnered with many other sites which means you can browse quite a few websites once you sign up for the premium membership on this website.
Again, the quality of the videos is amazing although it might be a little less colorful than the BadoinkVR it is no less.
Both the websites are premium sites I would join if I was into VR porn and in the case, you are wondering about the zoom in quality then yes, you have a pretty good zoom in quality on their videos as well.
WankzVR is another great site for a premium membership and if you want some high-quality immersive VR porn experience then make sure to check out this website.
If you are using a mobile VR headset then the WankzVR needs you to install the  VR Player app which is free to download and you need to download the videos in 3D side by side format in order to have a VR experience.
The downloaded videos can be saved in the app folder and you can enjoy your adult content without any hassle.
3. Virtual Real Porn
Virtual Real Porn is an adult site that may not be as colorful and bright compared to the other two sites mentioned above. It has tons of different content that you can browse from and it has content for gay and women.
In VR, porn content is mostly shot from the  Male Point of View making it really difficult for women to find the right content for them.
This site solves that problem by being the first one to have a section of adult content for women. Not just this, they probably have different types of adult content so that everyone can find something that they like.
The site also supports teledildonics which means you can use VR sex toys that are compatible with the videos. The sex toy would mimic the actions being performed in the video on you which would just make your VR experience more immersive and interactive.
If you are someone who would want to take advantage of the teledildonics feature then you should definitely join Virtual Real Porn.
If you are using the site on a mobile VR headset then all you have to do is get your hands on the VirtualRealPlayer and install it on your phone in order to view videos from this site.
4. VRBangers
Being compatible with all the VR headsets, VRBangers is another adult content site which has some really good videos. The site has 360-degree videos that are compatible with most of the VR headsets hence if you want to take a dive on this site then you should go ahead.
The only reason I do not recommend the site much is that there are not way too many videos as much as I find on the other two sites and the quality of videos on BadoinkVR and WankzVR is something I prefer. There is nothing new on this site if you already are a member of any of the sites mentioned above.
However, there are quite a few people who prefer this site over others, so it is totally a matter of personal choice. If you want to take a look at the site then go ahead and then decide if you really want to go premium with the site VRBangers.
5. Czech VR
Another amazing site directly from the subreddits is Czech VR. This site has been recommended by many people in Reddit forums and according to them, it has some really great VR adult content. The site is no different from WankzVR, but yes, you do find some great VR adult content here.
Even though there is a lot of other sites that have some really good content, Czech VR has many other VR networked websites giving you a really wide range of categories to choose from.
If you want to use this site on a mobile VR headset then you need to download the Mobile VR Station app on your phone in order to view the videos from Czech VR.
Once you have downloaded the app, you need to download the videos of the desired quality on your PC and then transfer it to your Phone. Once you are done with that you need to launch the videos in the VR Player.
6. SexLikeReal
SexLikeReal is a VR porn website that has a pretty amazing concept. While most of the other sites have the option to pay monthly for the membership, on this website you can pay a few dollars per video.
To be accurate, you are only going to pay a few cents per video and you can download as many full-length videos as you like that way. This concept is not seen in any other VR porn site making the SexLikeReal website unique.
If you are someone who would love to pay for adult content per movie then you should definitely check out the website.
Apart from the brilliant payment method, the videos are premium HD quality as well. The models are amazing and the zoom-in quality is superb.
If you are looking for a nice way to chill and watch one or two porn videos without having to sign up for the monthly membership then the SexLikeReal website is the right choice for you.
You even have a membership on this website which you can choose to go for if interested.
They even have an app so if you are using your mobile phone to watch VR Porn then this might be the best website that you can choose from all the paid sites mentioned above.
So, put that VR headset on and check out the amazing content available on this website.
7. VRHush
VRHush is another amazing website where you are going to find some really amazing models performing in HD definition.
The whole website has only 3D 360-degree videos for different VR headsets, hence most of the videos are compatible with multiple VR headsets.
VRHush is pretty similar to WankzVR in terms of the quality of the videos but honestly, I would have to say that we liked VRHush a bit better.
The quality of the performers is just way too good and you can pause and zoom into the video whenever you feel like it.VRHush has a pretty huge library so you are definitely going to enjoy the videos as they are colorful, good quality and the entire watching experience is highly immersive.
VRHush has a summer offer where you can get their monthly membership for just $15 so go ahead and lock that price for yourself!
8. Naughty America
Naughty America is another amazing website when it comes to finding some premium VR content. They have really high-quality videos and some really great pornstars as well.
If you are looking for different kind of memberships that you can possibly get then Naughty America is probably one of the best websites for that.
It has a four-day trial membership along with one-day trial membership so you can choose among them to see if you like the content on the website and then continue with their monthly memberships.
Something that we really liked about this website was that it is really clean, easy to navigate and you get high-quality videos. This is one of the famous websites, however, it is not one of my personal favorites because of their crap customer support.
9. Virtual Taboo
If you have not checked out the Virtual Taboo website then you need to do that right away as the video quality is top-notch on this website. The models look pretty hot and the movie which we saw eas well shot and had amazing quality.
The overall look and feel of the videos felt premium and classy like the ones you would find on BadoinkVR. The membership on this website is slightly expensive in comparison to others but if you look at the quality of the videos, you might actually be willing to pay that for the premium membership.
Like SexLikeReal, you have both monthly/yearly membership offers or you can pay per video. Paying per video is much cheaper in SexlikeReal but the quality of the video in Virtual Taboo is excellent so you might actually end up taking up the monthly membership.
From amazing sets to models, this site has got it all, check out Virtual Taboo and let us know what you think in the comments down below!
10. Sex Babes VR
The SexBabes VR is another premium website where you would be finding videos more towards the role-playing section. The videos have some really sexy babes in the cast and the name of the website totally makes sense if you look at the models.
The videos are 3D 360 degree so you can enjoy a really nice view in any VR headset and the videos have a really nice quality so you can even zoom in and view your favorite model.
The best part about this site is that in every movie you feel like the female performer is actually doing things to you which is pretty amazing.
If you are a woman then you might have a difficult time finding porn videos from the women's POV but if you are a man then you actually have a ton of amazing content on this website that you should definitely consider this website.
The website has a membership very similar to Virtual Taboo, so if you are okay with the pricing then you should definitely get the premium on this website. However, I would prefer BadoinkVR any day over this website, just saying!
7. HologirlsVR
Holo
8. WetVR
WetVR is one of the best websites on the list because of the quality fo videos that you get on the website. You are not going to regret going premium with the site as the quality of videos on the website is excellent and something that can keep you hooked for hours.
The website has full-length videos that can be an hour-long, so you get all the uninterrupted fun just make sure that you download the video before you get started with watching it as that could create a couple of issues.
You have videos with different resolutions so you can choose accordingly. The higher the resolution, the better the view is going to be in VR making it worth your time.
There are different formats for different headsets for each video, so you can choose the format depending on the VR headset that you would be using to watch these videos.
The best part about the premium membership of these websites is that the videos are going to be full length and not.a 4-5 minute clip where you just get a glimpse of the video.
The quality of the videos and the actors on the website is amazing. You have different categories to choose from as well making it one of the best websites that we have to include in the list.
This is one of the best websites to watch VR Porn content and hence I would definitely recommend you take a look at the website.
9. VRConk
VRConk is a premium website where you get high-quality videos and you are not going to be disappointed with the quality of content that you get on this website.
The website has some really amazing full-length video and
I would suggest that you download these videos as they have excellent quality and online streaming might cause a lot of buffering that would hinder your VR Porn watching experience.
Using a sex toy while watching the amazing videos on VR Conk is just going to blow your mind. The experience gets so real that it is unbelievable.
Using the  KIIROO Onyx 2 or the Fleshlight Launch on an automatic mode, while the video plays, is just going to take you to another world. Adding a sex toy to the mix makes the whole experience immersive and you feel like you are in the video banging one of the stars.
There are many categories to choose from with this website which makes it one of our favorites.
You are not going to regret going premium with this website so without wasting any more time, check out the official webpage of the website and let us know what you think in the comments below!
10.  SexBabesVR
11. DDFNetwork VR
12. Stuffed VR
13. JVR Porn
14. VirtualPornDesire
Conclusion
Honestly, our favorites have to be BadoinkVR, VirtualRealPorn and SexLikeReal App, these three websites have it all and if you get their membership you would not feel the need to look elsewhere as they ahve some amazing content that you can browse.
These three websites are amazing and in the case, you want to go for more than one subscription then you can look around at the other options in the list but the three websites mentioned are pretty good.
VirtualRealPorn and BadoinkVR have an affordable membership as well in comparison to other websites so it's like a win-win situation where you are getting amazing content at a really good monthly membership price.
Instead of wasting your time watching poor quality porn videos, you should definitely invest in a premium membership that can cost you as much as $0.10 per day.
We have covered most of the websites, however, if you want more recommendations for porn websites then check out theporndude.com where you can find tons of different premium sites rated on the quality of adult content. They even have a list of Free adult websites so if you want other options than the ones we recommend then do check out their site.
These are the best VR pay porn sites and in the case, you feel you know a few good sites then leave your recommendations in the comments down below!
Like the post? Share it on social media!