Watching Porn on a VR headset is the best way you can probably enjoy your adult content. The visuals are so realistic and the experience is so immersive that you are going to never miss the old days where we saw 2D Porn videos.
Oculus Rift is a really good VR headset for watching adult content as the OLED lenses give you the perfect color balance and resolution in VR that is needed to enjoy adult VR content.
If you own a Rift and want to give VR porn a try then this post is a must read as we are going to explain how you can easily get the right software for FREE to play adult videos and even recommend a few websites where you can browse some amazing adult videos for no monthly membership at all.
Even though the FREE adult videos have their own downside, it is a pretty good way to get started and understand if the adult VR content is really something you like or not!
How to watch Porn on the Oculus Rift?
Let's discuss how you can watch downloaded videos as it is probably one of the best ways to watch adult content. While online streaming you might have to wait to watch a buffered video which is the major reason we would not recommend streaming VR adult videos online.
It's much easier to download a video and then use a player that gives you many options to customize the video the way you want it to and even zoom in the video as and when you like.
The easiest way is to download a media player like the DeoVR or the Whirligig Viewer or some dedicated media player from the premium porn sites.
TIP- Before we get started with the total list of different media players that you can use let us see how you can install the K-lite codecs pack in order to make your videos of different formats compatible with different video players that are discussed below.
Usually, if you are using the media player of the same website as the downloaded video then it should not be a problem but if you are using videos from other sites to play in a third party video player then you might want to download this software.
Let's look at how you can watch porn with a few popular media players and the rest we would leave it to you to decide which media player is the best.
1. DeoVR
• Download DeoVR from the Oculus Store.
• If you haven't already downloaded the videos then go to the best premium porn site and download videos for the Oculus Rift.
Make sure that the videos are high resolution and meant for the Rift since if not then they can end up being a blurry mess which is not ideal for an immersive VR experience.
• Now, launch the Oculus app and go to Oculus Home.
• Next, launch the DeoVR player that you have installed.
• A folder option is present on the screen, so click on that option and select the file that you downloaded in order to start playing it.
If you for a premium site like BadoinkVR and VirtualRealPorn then they have their own media players which are pretty easy to use with the videos you download from their website. However, they are free too and even Deo VR works really well when it comes to watching adult content on the Oculus Rift.
Sources for FREE Adult Content
If you are looking for FREE adult content then a few sites that we can suggest would be VRPorn.com and VR Smash. They have trailers from all the premium websites like BadoinkVR, Wankz VR, Virtual Reality Porn and Naughty America.
There are tons of FREE adult content sites and it even includes PornHub now as they have increased their library for VR Porn videos.
However, the major complaint that remains with all the FREE sites is that either the video is just a few minutes long or the models are not that impressive.
The resolution and the zoom in quality are not that great in free adult videos as well, so in the case you want to try out premium websites, you can do that as well since they really do not cost that much.
You could directly sign up for membership on premium websites like BadoinkVR and Virtual Real Porn for great quality videos. The trial membership is just $1 and if you go monthly you pay less than that.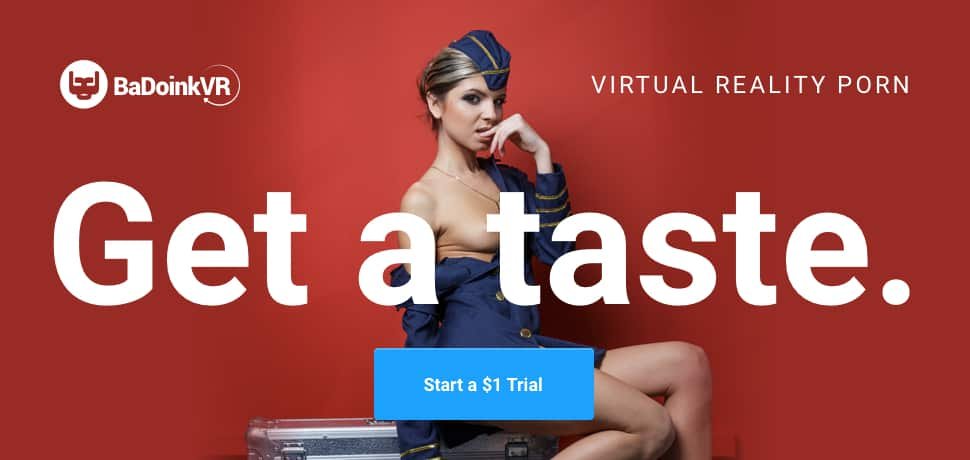 It may not be free but it is definitely worth it and in the case you just want to watch porn for a day, you can pay and a dollar and download all the videos you want to and then do the same the next time you run out of videos.
You might want to change the account though, so this trick won't work after a while, LOL.
If you want to get a list of all the VR porn sites where you can get content for free then you should check out the Porndude blog as they have a really good list of recommendations which is constantly updated.
This is something I do, so if you are not interested in paying monthly or yearly then the trial periods are the best as you can download a couple of videos.
However, if you are into streaming videos and like to watch them every now and then you can go monthly.
Conclusion
If you are into porn then watching FREE adult content on the Oculus Rift is really easy. There are tons of different apps out there that help you to easily stream adult content on the Oculus Rift for FREE.
If you are looking for FREE adult content then VRPorn is another great website that you should check out as they have videos from premium websites.
The only downside is that the videos are short but nevertheless, you do get to experience adult content in Virtual Reality.
If you have any other free websites that you love, you can leave your thoughts in the comments down below!