Watching a Porn movie on a VR headset is getting popular by the day. I mean who would not like to watch an adult movie in Virtual Reality where you feel like you are in the room and the model is right in front of you.
The whole experience gets even better when you add some accessories to it making it interactive and very realistic. The amazing part about VR porn is that you have tons of content now and you can easily enjoy watching porn in VR.
The apps that we use to watch them on the PlayStation VR is free and there are tons of sites where you can browse Free adult VR content.
If you are new to watching adult content on the PSVR then do read up the detailed explanation on how you can browse Porn on your PS VR headset.
How to watch Porn on PlayStation VR
What you need- PlayStation VR and PS4 console.
The only point that you need to take care of is that the Media Player Application of your PS4 is upgraded to the Version 2.50 since that is what is compatible with most of the porn websites.
Without wasting any time let's get on to the step by step process you need to follow in order to get started with watching you VR videos online-
1. Go to any website of your choice where you can download some good adult VR content compatible with the PlayStation VR headset.
2. Now download the videos and move them to a USB flash drive.
3. Insert the USB flash drive into your PS4.
4. Open the videos using the media player on your PS4 and make sure that you have updated it to the version2.50.
5. Now wear the PSVR headset and go to VR mode in options with the help of your Dualshock 4 controller. Enjoy your VR content.

Alternate method- Using the LittlStar App
In this method, you would be specifically using the LittlStar App in order to watch the adult content in 3D 360 degree format so that the experience is more immersive.
Most of the free content providers have 180-degree videos which is really annoying because when you turn around you see a black background.
In order to avoid that from happening, I would suggest that you go for the 3D 360 degree videos as they are shot in a way such that you can turn your head in any direction and you would feel that you are actually seated in a room without giving a black background beyond 180 degrees FOV which usually ruins the immersive experience in VR.
One of the best websites that we would recommend for the best immersive VR 3D 360 degree content is BadoinkVR, so make sure to check out the website for very immersive adult content.
1. Once you download all the videos from a website, transfer it to a flash drive that is compatible with the PSVR.
2. Now go to your PS4 browser and look for the LittlStar VR Cinema App. Download this app as it is one of the first apps that lets you watch 360 VR porn content in 3D format.
It is probably one the best media player out there as it can play out content from most of the premium VR sites on the PSVR.
3. Now insert the Flash Drive and make sure that you have all the videos in a folder.
Another point worth mentioning is that you have to name the videos in this given format videoname_180_sbs.mp4/ videoname_360_sbs.mp4 or videoname_360_ou.mp4.
4. Now play the videos on the Littlstar app with your PSVR headset on and enjoy the VR experience.
This media player is the reason you can now enjoy 3D 360 degree VR porn on PSVR. DO check out the Littlstar app and let us know how the app worked out for you in the comments below.
Best Porn websites for VR Adult Content
There are a ton of websites out there that would give you some free VR clips, however, nothing can beat the quality of videos from websites like BadoinkVR.
We personally love the website as they have very high-quality videos with gorgeous actors. The experiences are really immersive and the library is pretty huge so you would always have a new video to watch.
Another website that is similar in quality is the Virtual Real Porn, the membership of VRP is cheap and you get some really great VR Porn videos for the price.
Overall, the two websites are amazing when it comes to giving you an amazing 3D experience. You can even zoom in the videos and watch teh models as the videos on these websites have a high zoom in quality
Both the websites offer a trial membership for $1 and in the case you go monthly you would end up paying less than $1 per day which is a pretty good deal.
P.S.- We have a limited time offer where you get 40% off on the monthly membership using this link. Make sure to check out the offer and save some money!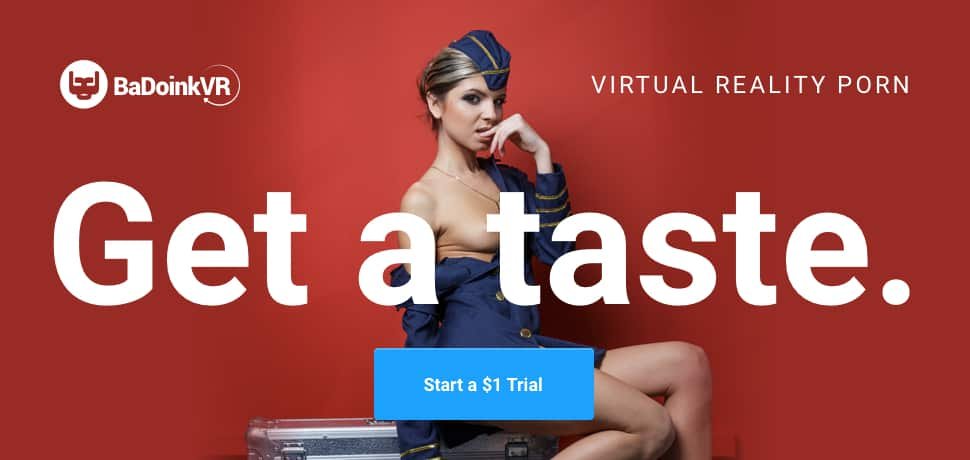 It may not be free but it is definitely worth it and in the case you just want to watch porn for a day, you can pay and a dollar and download all the videos you want to and then do the same the next time you run out of videos.
If you want to get a list of all the VR porn sites where you can get content for free then you should check out the Porndude blog as they have a really good list of recommendations which is constantly updated.
You might want to change the account though, so this trick won't work after a while, LOL.
This is something I do, so if you are not interested in paying monthly or yearly then the trial periods are the best as you can download a couple of videos.
However, if you are into streaming videos and like to watch them every now and then you can go monthly.
Conclusion
If you are into porn then watching FREE adult content on the PlayStation VR is really easy. There are tons of different apps out there that help you to easily stream adult content on the PlayStation VR for FREE.
If you are looking for FREE  adult content then VRPorn is another great website that you should check out as they have videos from premium websites.
The only downside is that the videos are short but nevertheless, you do get to experience adult content in Virtual Reality.
If you are looking for more VR adult toys then do check out the KIIROO and Fleshlight Launch products which are pretty much the best selling VR sex toys.
If you have any other free websites that you love, you can leave your thoughts in the comments down below!