The PlayStation VR is getting all VR enthusiasts excited for its release on October 13,2016 and one of the games that we would get to play on this VR headset is the Classroom Aquatic. There are a few games which can be enjoyed only in the VR environment and this game is one of them.
The game revolves around a foreign exchange student who joins the school of dolphins to spend an entire semester there. He gets a lot of unexpected tests which have to be answered and being new to school does not help his situation. In order to pass these tests, he tries to cheat and get all the answers from the other dolphins who are answering their papers.
The game doesn't end there, the dolphins in the classroom are very smart! Once they find you are trying to copy answers from them, they might try to hide their answers or even complaint to the invigilator(who is yet another dolphin).You have erasers on your table which could be used to distract the teacher invigilating.
As you keep progressing in the game you get different teachers and the methods adopted by them is different for a different situation. This increases the challenges you face to complete the test without being caught and is a really fun game to play with the PlayStation VR.
As you go up the levels, the methods employed to catch the cheater would be more severe and they would start with desk dividers and rearranging the classrooms to make copying a difficult task. You even have a Career Counsellor who will ask the other Dolphin students to complain if anyone is copying which just increases the heat of the game. There will even be another Dolphin student who will try to out-cheat you.
This game has a campaign full of different levels and each level takes about 5 minutes, so I'm hoping that we are covered with tests for an entire semester.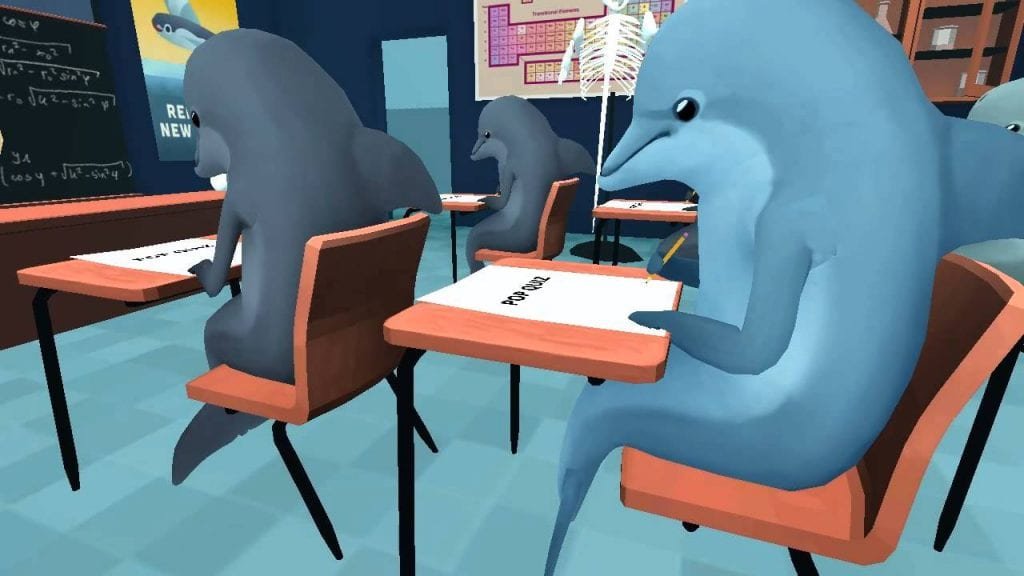 The game really tries to bring a real life situation in a game where you sometimes might end up cheating a question or two(not the entire paper) which is interesting and like other VR experiences it lets you do something in VR which you may not have ever done in real life.
The simplicity of this game and the fact that it is so relatable to our situation especially in a few college tests makes it much more interesting to play. With the increase in difficulty level with each game, the game should be a lot more interesting than we actually expect it to be.
This is one of the VR games which I feel would be really difficult to incorporate in a normal console game as the head tracking and peeping inside other's papers is pretty well replicated with the VR headset and is something that could be perfected only by using the power of VR.
This game seems really immersive as you feel totally involved in the game while trying to get the answers and making sure that you are not getting caught by the teacher and the fellow dolphin students who try to cover their answers or maybe blab about you to the teacher.It is very relatable and it reminded me of my college days where a few of us did adopt this method when there was a surprise test 😛
Can't wait to try this game on PS VR which is releasing on October 13, 2016. You can check out this game on Gamestop if you wish to make a purchase.
Have you ever copied in a test? Leave your stories in the comment section below.
=D
Source: www.blog.us.playstation.com