Gigabyte has come up with a series of gaming laptop which includes the GIGABYTE P35X v3 and this laptop here is a successor of the latter. Is it any better from the previous P35X model, keep reading to get to know the specs and my detailed review on this laptop.
Specifications
Screen Size: 15.6 inches
Max Screen Resolution: 1920×1080 pixels
Processor: 2.6 GHz Core i7 6700HQ
RAM: 8 GB
Graphics Coprocessor: NVIDIA GeForce GTX980M
Storage: 1000 GB 7200 rpm
View Price: www.amazon.com
Amazon Ratings: 4.3/5 stars (16 customer reviews)
Display and Design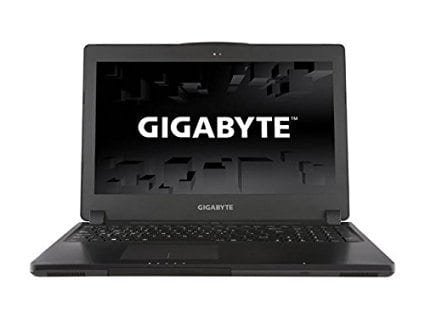 The laptop has a really simple look and it doesn't scream gaming laptop at all. It looks like a notebook with a decent plain black cover along with GIGABYTE written across it. I really think they could have worked a bit on the looks of this laptop as it literally looks like a notebook due to lack of designs or logos. It looks more like a laptop you would take to work though it has this really simple and elegant finish.
The display on this laptop is great as it has a maximum resolution of 1920×1080 pixels which gives a quality display.The matte display in this laptop is a perfect blend of colors and it isn't like those dull matte displays. It has the IPS display which makes sure that the visuals of this laptop are more than perfect.
Keyboard and Touchpad
The keyboard is comfortable but there have been complaints on not recording the inputs given correctly. It is backlit and that makes it comfortable to use in certain situations, however, the keyboard could be much better although this isn't a deal breaker, as you would find these flaws only under rigorous use and that is very rare in most of the cases.
The touch is quite okayish and there isn't anything great about it, it is more like the touchpad on any other laptop. I must add that the touchpad is not disappointing but in this price range, you can actually go for many other laptops which give you better quality when it comes to keyboard and touchpad quality.
Audio and Webcam
The audio in this laptop is good but not great, I have serious concerns when it comes to the feature and the price balance in this laptop because I think Acer Predator being in the same range has way better features than the Gigabyte P35X series.
The webcam has average HD quality recordings and you can use this laptop for recording HD videos and video editing and well as editing pictures.The webcam feature is nothing great but just one of those features which are just "there" in the laptop and doesn't stand out with any exceptional quality.
Gaming and Graphics
This laptop is powered with NVIDIA GeForce GTX980M which is one of the best graphics cards that you could get a gaming laptop. Gaming is easily possible on high settings and that makes the laptop one of the best choices when it just comes to gaming and GPU specs. However, playing graphics demanding games can be a little difficult. In ultra settings, not all games can be played easily since the rate of fps will be low. Though, the GPU is the only feature that puts this laptop back into the game as most of the games are playable at maximum settings.
However, playing graphics demanding games can be a little difficult. In ultra settings, not all games can be played easily since the rate of fps will be low. Though, the GPU is the only feature that puts this laptop back into the game as most of the games are playable at maximum settings.
The performance in this laptop is really good, you have the option to upgrade the RAM to 32GB max. You have SSD storage and 1TB HDD so that sorts out any storage issue you might come up with.The laptop is fast and can handle multi-tasking easily, it has high file transfer speeds and can make your work happen much faster which is an added advantage in a gaming laptop.
Battery Life and Overheating Issues
The laptop has a really less than average battery life and while normal browsing it may go up to 4 hours, in the case of gaming it will last for around 1hr 30 minutes which is not that great in case of a gaming laptop.I usually expect at least 3 hours battery life when it comes to gaming but the battery here is below average.
The laptop can get hot and it heats up sooner than many other gaming laptops in the same price range.I really think there are laptops battling the overheating issue way better than this laptop. The laptop does heat up quick though the fans try to maintain the temperature to an optimum level as much as they can.
Ports and Warranty
The ports included in this laptop are HDMI 2.0, mDP, VGA, 3x USB 3.0, USB 3.1 Type-C
Ethernet, SD card reader, and 3.5mm mic + headphone ports. It does include an optical drive as well and when it comes to communication the laptop has LAN:10/100/1000Mbps Ethernet, Wireless LAN- 802.11ac/b/g/n and Bluetooth V4.1.
This laptop includes 2 years warranty from the manufacturer.
Bottomline
This gaming laptop has a really good display though there are a few downsides to this laptop as well. The graphics, storage and the overall performance of the laptop are really good. As a gaming laptop, you can try checking it's feature on amazon but in the same price range you could find much better laptops from MSI(though not all are that great) and Acer which is not disappointing on various levels like this one.
There are a few GIGABYTE gaming laptops which are considered extremely great for gaming but this laptop has a few features which could be much better. It is a portable laptop than those heavy gaming beasts which are quite heavy and difficult to carry, although the weight aspect is compensated in the form of battery life and heat in the heavy gaming laptops.
This laptop can be your choice if you really want a laptop that offers to game on the go and has features which just perfect for gaming. If you stress for perfection in a gaming laptop then you might want to reconsider buying this P35X series laptop.
In the case of any further questions or queries you can leave them in the comment section below and I would be happy to help.