This post is going to be about how you can watch VR porn on Oculus Rift and how easy it is to access Porn on Oculus Rift without going through long steps of downloading different apps and media players that are not needed.
Oculus Rift has been used to watch the adult content since the time the development kits were released.
There is nothing wrong when it comes to viewing porn with Oculus Rift, although it can be a little tricky to figure out where you go to browse it and how you play the VR content on your Oculus Rift.
For many people out there, this might be the only reason that they going to get a VR headset and no one can blame them because the VR technology is way too good to say no to.
There are a few ways you can watch porn with Oculus Rift and here are the few ways that you can go about watching adult content on your Oculus Rift VR headset.
There are a couple of posts out there that instruct you to go through the painful method of Virtual Desktop but if you are using the BadoinkVR site then things get really easier.
There is nothing wrong with using the Virtual Desktop but I just find the entire process tedious. So if you are looking for a way to watch VR content without buying and downloading the Virtual Desktop then go right ahead and follow the steps mentioned in the next section.
The money you spend on getting the Virtual Desktop can be easily invested in getting premium adult content from Badoink VR(Just saying). The quality on the videos is good, the membership is pretty affordable and you have some excellent zoom in quality.
Watching Adult content on the Oculus Rift
It is a no-brainer that you can download porn videos from any adult content site and then watch them on your Oculus Rift, however, the real problem is the kind of player that can be used in order to watch those videos.
There are quite a few media players out there that work decently well with the Oculus Rift and the best part about a few of them are that you do not need to go to your PC controls every now and then to make changes and you can select your favorite VR content using your gaming controller.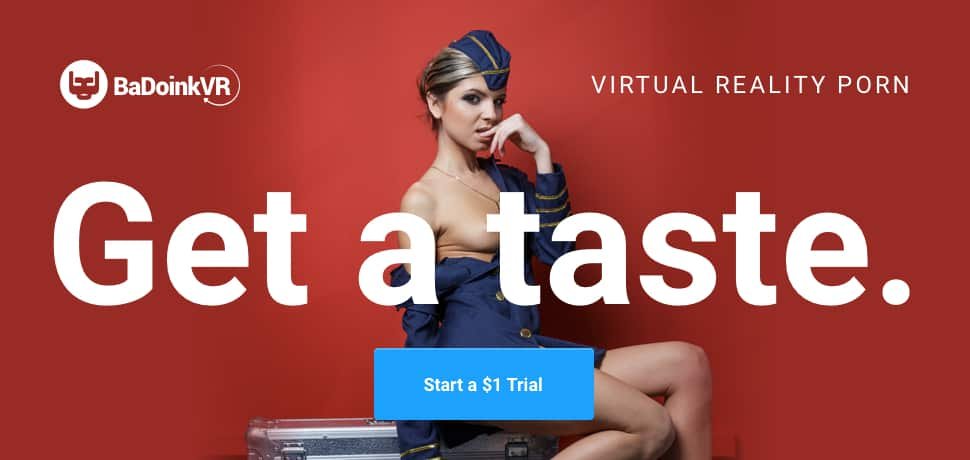 There are many ways out there to watch VR adult content on the Oculus Rift and this one is the easiest method. You do not need to go through the tedious method of setting up a virtual desktop as the site Badoink VR makes it really easy with their FREE VR player.
The Steps get really easier with Badoink VR and it is one of the best sites out there that you could access in order to watch quality VR adult content.
So, without any further ado, let's look into an overview of how you can access adult content if you Own an Oculus Rift-
1. Setup the Rift: In this step, all you need to do is set up your Oculus Rift in order to get started with watching VR content.
2. Download videos to watch: Now you need to download high-quality videos in order to watch them on your VR headset.
Make sure that the videos are high resolution and meant for the Rift since if not then they can end up being a blurry mess which is not ideal for an immersive VR experience.
You can download the video at 60 fps for you Oculus Rift from the drop-down menu option available at Badoink VR on every video.
3. Download a media player: If you are watching VR content from Badoink VR, then you can always download their media player which is easy to install and use.
Otherwise, you have alternatives like the DeoVR and the AutoPlay VR that work well.
These three media players work really well and they definitely reduce your work a lot in comparison to the virtual desktop method.
4. In the last step, all you need to do is play the videos using the downloaded media player.
This step is different for different media players, however, in most of them all you need to do is drag and drop the file in the media player which is pretty easy.
The website has a great support team so if you have any issues you can always send them an email and they get back to you as soon as possible.
You can use any media player that you find is best for your needs and in the case you have any recommendations do let our readers know by mentioning it in the comment section below.
Use High-resolution videos
Well, if you are looking for a nice 360 3D VR experience then it is really important that you go for premium sites. Honestly, the membership does not cost much and the quality of porn is taken to a whole new level and you would feel like you are actually doing it while all the time you just have your VR headset on!
Coming to the membership, best sites like BadoinkVR and VirtualRealPorn have a starter membership of $1 and even if you go monthly it would cost you less than $1 every day. So it is not as expensive as it sounds!
Badoink VR is probably the best in the VR niche at the moment so you should check out both the websites if you do not want to get disappointed with your VR adult videos. The website has some really gorgeous models and a really nice immersive studio.
Another website that has an affordable membership and some really good quality video is VirtualRealPorn, the website has some amazing zoom in quality that lets you zoom in videos in VR and view the models close up.

So, if you want to get videos of the best models in the industry then BadoinkVR is definitely the best sites that you could go for.
It has some amazing detailing when it comes to their videos and has several categories including cosplay. The media player on the site is one of the best and makes watching adult content really easy on the Oculus Rift.
Another reason why I would recommend joining a paysite is the quality of the videos in VR. It is extremely important to have a high-quality video as the zoom in image quality is not good on all the adult sites.
Free sites just don't give you the same quality and that is a bummer!
Have any more questions?
Well, since there can be many questions related to this topic and there are many forums out there that can help you out or give you recommendations on which site is the best. If you really like to get an ultimate guide then do check out this subreddit.
Apart from that if you have anything else you want to share with our readers then leave your thoughts in the comment section below.