Virtual Reality has come a far way and apart from just using this technology to play games, there are people who would love to leverage VR in order to watch VR porn on Android phones.
This may sound like you are watching the adult content in 3D but honestly, it is way more than that.
Watching adult content on your VR headset helps you have a more realistic experience and many people who do watch have claimed that the experience is shockingly real.
The models are going to be close up your face and you can look around and change the direction by tilting your head just to get a better view of things in the VR world.
This post is going to deal with a few questions about watching adult content in VR and they are-
1. Steps on watching adult content
2. Best Adult content available online
3. Best VR headsets that you can use to watch adult content
How to watch VR porn on Android Phones
Here, we are going to understand step by step how to watch adult content on an Android phone in VR and look at the Free media players that you can easily install without paying a dime from your wallet.
1. You need to download Free VR Player in order to view content from one of the best VR sites is Badoink VR.
This site has a pretty easy way to download and store all your adult content files and that is the reason I would recommend it to anyone out there.
2.  Now once you have downloaded the app, you can download a video from the Mobile LQ or the Mobile HQ option in Badoink VR.
Choose the quality you prefer and once you are done downloading it on your computer you need to transfer it to your phone.
3. In the case of an Android phone, you need to save all the downloaded videos in the Movies>> Free VR folders.
So, once you are done downloading the files on your computer, make sure you transfer it to the desired folder in the Free VR player.
Another easier way is to browse the site on your mobile phone then the downloaded videos will be directly saved to the Free VR Player. This way all your content is going to be stored in one place.
4. Launch the Free VR PLayer and place your phone inside the VR headset in order to get ready for an immersive and interactive VR experience.
Best Content for Adult VR
There are tons of FREE videos out there that you can watch but when you go premium you can see the difference in the quality of the video.
I could clearly see a difference when I joined BadoinkVR and if you have not gone premium on an adult VR website then you are missing out on a lot.
If you haven't joined premium yet then you are missing out on a lot. Not only do you have realistic videos but you also get full-length movies which star the best actors and you even get to choose from different categories.
Another aspect that really matters is the way you can turn around and look everything in the video. The zoom in quality of the video is amazing as well.
You can bend and look at the model in every possible angle which gives the experience a much immersive feel, now not many VR adult content sites do that well and a few that do are VirtualRealPorn and Badoink VR.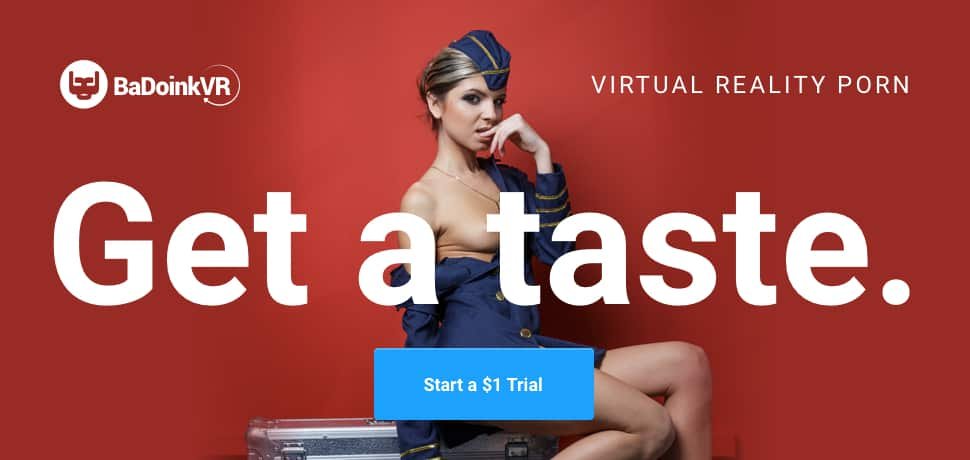 Something that I have experienced with BadoinkVR is that the video quality is amazing and even when you zoom into a scene the image doesn't get pixelated and it still retains the quality.
This is one of the best qualities in both the VirtualRealPorn and the Badoink VR and that is the reason these sites are something I make sure to recommend to my readers.
The entire experience gets really immersive when you are checking out adult content from a premium site as they have better models and there is no compromise in the video quality.
Best VR headsets to watch adult content
There are plenty of VR headsets out there and to be honest, you can start watching adult content for $1 in BadoinkVR as they even send a cardboard VR headset which you can use in order to watch porn.
However, if you want to go for the premium VR headsets then you might want to choose from the various VR headset options that are available in the market.
The Daydream VR and Gear VR give a really great VR quality but since they are on select phones, something that would go with every phone would be the Homido V2 VR headset and the Merge VR. Do read the detailed review on these headsets and go with your buying choice.
These two are probably the best options you have out there in order to watch adult content.
These headsets are going to offer you with a quality VR experience and the FOV on both the VR headsets is pretty good to have an interactive and realistic experience.
P.S. There are a few free porn sites out there but I had to skip them as the quality of videos were not as good. Most of them are trailers and do not offer good clarity.
Let us know if you have any additional thoughts in the comments section below! If you found this post helpful then do share it on social media!