HP Omen 17 laptop is the new VR ready gaming laptop by HP. It is certainly one of the best gaming laptops that HP has launched considering all the laptops in the past which were not that great. The Omen gaming laptop series have been good but it just didn't make it to the list of the best gaming laptops under a certain price range.
With the ever growing VR market, HP too has incorporated the new Pascal edition GPU in their laptops which make them VR ready. Keeping HP aside, if we try to look at all the other gaming laptop brands, everyone is coming up with new launches which consist the VR ready GPU inside them. By this holiday season, we would see a lot of cool gaming laptops that would support VR headsets such as the Oculus Rift and HTC Vive, ultimately filling the top tier of the gaming laptops section.
All the buzz around the new HP Omen 17 intrigued me to see for myself if the laptop was good enough or not. So, without further ado let's get into the detailed review.
Specifications
Display: 17.3-inch diagonal anti-glare (3840x 2160)
Memory: 16/32 GB RAM
Hard drive: 2TB SATA HDD+ 128GB SSD
Graphics: NVIDIA GeForce GTX 1070 (8GB GDDR5 dedicated)
Product weight: 7.39 lb
Processor: Intel Quad Core i7-6700HQ
Operating system: Windows 10 Pro 64
Best Buy: www.amazon.com
My Ratings: 4/5
Design and Display
This HP laptop has a very soft and subtle design and the entire laptop sports a color combination of red and black. On the laptop cover, you have the Voodoo PC logo which is the only interesting thing you find on the laptop apart from the rubber pattern found on the entire cover. I think HP thought of making the laptop look subtle and rather focus on the hardware to make it one of the best gaming laptops.
The display is amazing which is obvious when you see the 4K resolution mentioned in the specifications. Although the previous launches of the Omen laptops had the same screen resolution but with a GPU which was not as powerful, the awesome screen quality was more or less worthless when it came to gaming.
Hate screen tearing? Hate input lag? There is an end to our worries when it comes to screen tearing while gaming. It is extremely annoying when you have different parts of your characters splashed across the screen. Yikes!! I hate those times. A solution to this is the G-Sync technology that has been incorporated in this laptop where there is no input lag and screen tearing whatsoever.The G-sync technology has been adopted by most of the VR ready laptops that are launched this holiday season.
The laptop is light compared to its 17-inch competitors and relatively slimmer which makes it portable and easier to travel with when compared to the other laptops which put you through a little bit of weight training while being lifted.
Keyboard and Touchpad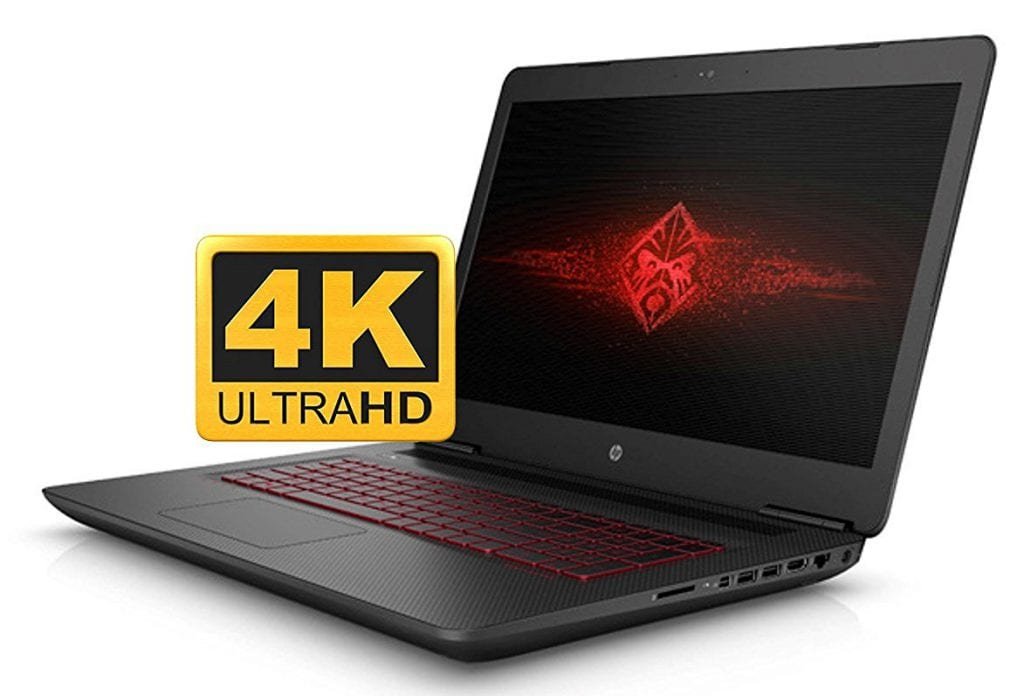 The keyboard is pretty decent, it has relatively smaller key sizes but nothing annoying that would make me not buy the laptop. The keys have red back-lighting which goes well with the entire black and red theme of the Omen series of laptops. As such there are no issues one could have with the keyboard.
Moving on to the touchpad, it might not be as sensitive as the ones you have on Dell laptops, although it is just a matter of time and you would get used to it. It can possibly get annoying at times when you really need to put some pressure so that you have your touch recorded, otherwise it is relatively okayish and most of the touchpads are something you ultimately get used to.
Audio and Webcam
The audio isn't great but then it didn't turn out to be bad either. You can be disappointed if you are an audiophile otherwise you would be fine unless you go ahead and compare it with other gaming laptops with great audio quality. It has an audio quality good for gaming but not good enough for a home theater unless you want a gaming laptop for that.
The laptop has a pretty decent HD camera and you can use it for skype and even make a couple of videos (provided there isn't too much movement involved).The camera is enabled with RealSense Technology which implies it would get hold of gestures in a much better way due to the Depth Sense technology involved.
Gaming and Graphics
Being powered by the new Pascal technology inspired NVIDIA  GeForce GTX 1070, this new gaming laptop is unbeatable when it comes to gaming and graphics. With the previous Omen models, it was the GTX 965M which is okay for a mid range gaming laptop and they did have the 4K resolution screen as well. The 4K resolution is no good with that GPU but this time the Omen series have gone straight to GTX 1070 which not only promises great gameplay but also makes the laptop VR ready.
Among all the VR ready laptops that we have, this laptop by HP does have a good stand in the competition. With the overall hardware, it is a better than the Acer Predator when it comes to gaming and performance. This is not bad at all for a gaming laptop which has been recently launched. You can get different memory combinations for this laptop. Like always I would suggest going for a minimum of 256 GB SSD and RAM that is 8 GB or above. You could choose from some pretty great combination that they have here for storage.The overall performance of this laptop is not at all disappointing.
The speed on this beast is pretty good, although calling it a beast would be a little too much looking at its size and weight. However, one simply cannot ignore the features this laptop has to offer for the given price range which is way above average. The Pascal  GPU architecture makes this laptop one among the best VR ready laptops that we have for this holiday season.
Battery Life and Overheating Issues
The laptop has an average battery life which would last for around 3-4 hours during normal usage and this was expected with a 4K resolution laptop. While gaming, it won't last for more than 2 hours and that should give you a pretty good estimate about the battery life on this laptop.
The laptop has a lot of vents for cooling in case it gets overheated. However, it has been working quite effectively for hours and even though it may have some rise in temperature, it takes a lot of time for this laptop to reach very high temperatures which ultimately make the laptop uncomfortable to use.
Ports and Warranty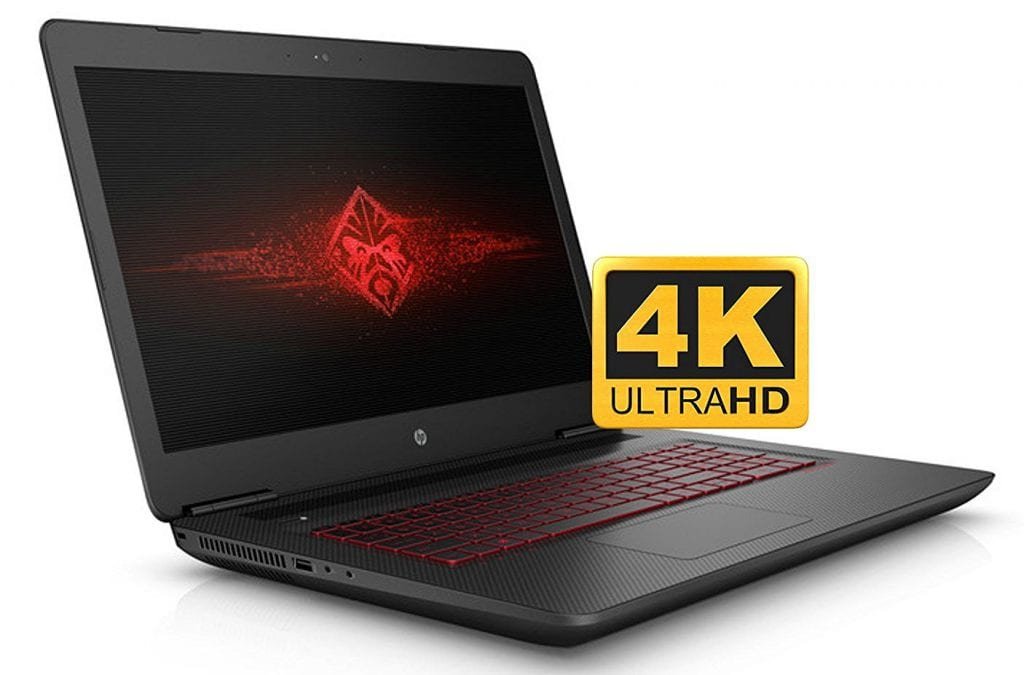 The ports on this laptop are not as much as you usually see on any MSI laptops, so if you are expecting a bunch of ports on either side then you need to look around for a while a bit more. The laptop includes USB 2.0 port, Headphone/Mic, Gigabit Ethernet, HDMI, USB 3.1, a total of 4 USB ports and an SD memory reader.
The laptop comes with 1 year limited warranty from the Manufacturer.
Conclusion
The HP Omen 17 is fast and an amazing laptop and can be used both as work and gaming laptop. With the  latest GPU installed this beast is going to be one of the best HP designed gaming laptops. The screen resolution could be taken full advantage of due to the GPU power of the laptop. The keyboard and the touchpad are average quality but still better than many other gaming laptops.
The battery on this laptop is average and it really depends on the resolution , brightness and the display settings you opt for, but the overall battery quality would come out to be average.With all the gaming beasts out there, you should watch out for this laptop as it can possibly be one of the best gaming laptops that you might be want to pair up with your Oculus Rift.
In case you have any further questions, leave them in the comment section below and I would be happy to help.