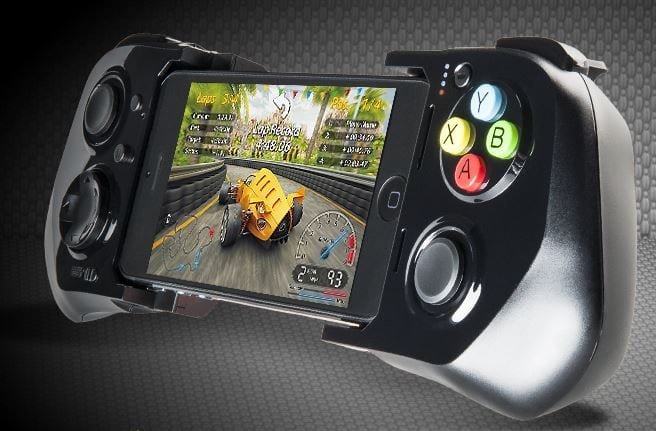 When it comes to Bluetooth controllers for the Virtual Reality headsets, Moga Power series is definitely one that comes in my mind and it has this range of controllers for both android and iPhones widening its market and making it even more popular.
In this review you would see the Moga Power Series which includes the the Pro and hero for the Android phones and the Ace for iPhones.
Moga Ace Power Controller
This is the Moga controller for iPhones and goes well with iPhone 5s, iPhone 5c, iPhone 5, or iPod touch (5th generation) .It has adjustments in order to use it with your iPad so that is soughted out in this Controller!
What I liked about the Controller
1. There are many things to like about the controller starting with the basic fact that while playing games it is better to interact with something more than the iPhone touch screen.
2. It is spring-loaded and has a smart lock that prevents the phone from falling and can even prevent the controller from opening up when travelling in your bag hence reducing the chances of breakage.
3. All the buttons are cool in it, it has two analog controllers, a direction pad, a display  lock button, pause button(it doesn't go well with all games, a few games do not pause with this button and with time it is only going to improve), it has the bumper triggers on the left and right making it a perfect controller for gaming.
4. It has an inbuilt charging system which implies that you could charge your phone while playing with it! All you need to do is slide the charging button and your phone starts charging, however when the battery of the controller reaches 25% then it goes on a power reserve mode and you can't charge your phone but could still use the controller.
5. The charger and all the micro USB comes in the box with the controller so you can charge your controller.
6. Coming to the speakers, they are right in the front and hence the sounds just hits your face which I think would get mixed reactions from people because I like it loud while playing games so it was a Yay! from my side, however you could always reduce the volume but it does have a nice sound amplification because of the design.
What I did not like about Moga Ace Power
1. Well coming to its look, it does have a gloss on top but is a scratch magnet and doesn't give that much of a premium feel for the money that you pay.
2. The A,X,Y,B controls are pretty close so if you aren't used to that or have huge hands then that could annoy you a little bit or may take time to get used to.
3. You may need to reset in some cases as there is a reset button behind the controller.
4. It is a value for money controller, however if you really want the high end controllers you could opt for them as well. But this one just does the job as well.
4. All in all I did like the controller apart from the looks and it does a really good work with the iPhone and one of my favorite games has to be Ocean horn , which is more like the Nintendo game Legends of Zelda, the game play of this game just blows the touch screen out of water after having the physical controller.
=> Buy the Moga Ace Power here
Lets see the Moga Power Controller for Android phones!