Choosing the best VR headset for iPhones can be a little challenging. The entire idea behind this post is to inform you about the various choices you have in VR headsets that get along well with the iPhones. From the best premium VR headset to cheap Google Cardboard, here are the top 5 VR headsets which you should consider purchasing to use it with your iPhone.
1. Merge VR
View Price: www.amazon.com
The instant I used it, I fell in love with it. This VR headset is made up of a polymer which gives it a deformable texture. You can drop it, smash it, even throw it and still end up with a perfectly working VR headset (although that does not mean you throw it off a cliff and test its durability.
The material that the VR headset is made up of is no doubt interesting and the VR headset does have a lot of quality content and other apps to support it. There is a lot of content to be seen in the Merge VR and the dedicated app of this VR headset is pretty awesome as well.
It has a pretty great Field of View which gives you an excellent immersive VR experience. It may be slightly expensive compared to the cheaper VR headsets but is totally worth your money. If you are really a VR lover and want to go ahead with gaming in VR through your iPhone then Merge VR is the first premium VR headset you should check out. Do read the complete review here.
=> CHECK OUT DIFFERENT COLORS IN MERGE VR

2. Freefly VR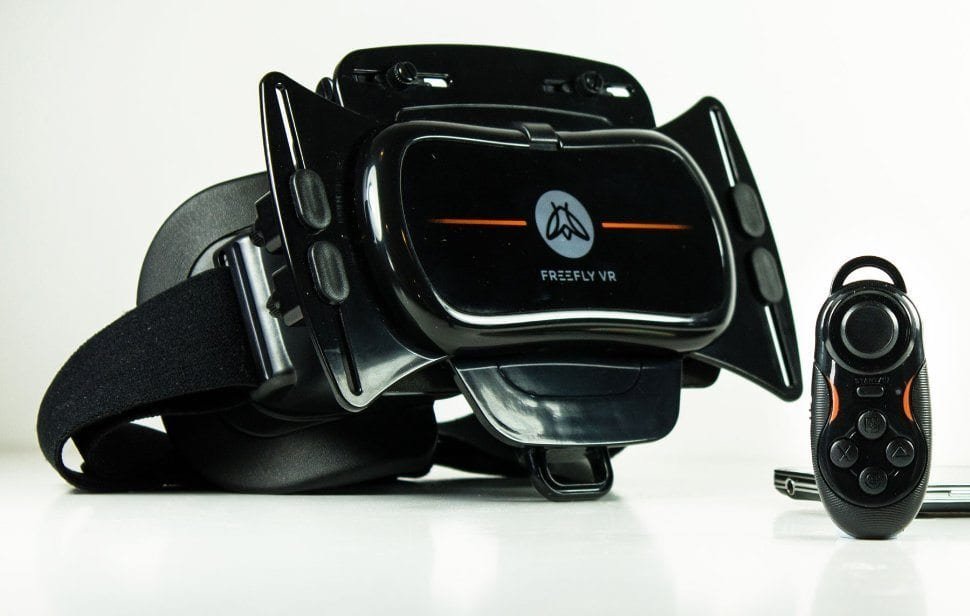 View Price: www.amazon.com
The Freefly VR headset is pretty amazing and it has too many features. There is so much to explore with this VR headset since it is loaded with features. I had seen a few people using it to sync the camera with their drones and viewing the VR world. Although I have never figured out how to do it (lack of time ) but if you interested then you too can go ahead and do that.
Apart from the hi-tech stuff, this VR headset does give a nice VR experience and it comes with a glide controller which can be used to select the menu options on your phone when it is inside the VR headset. There have a few cases where the glide controller has failed many of its customers, however, I would say that is some manufacturing defect and you can easily exchange the headset for a new one.
This VR headset has a good FOV and it the next premium VR headset that I would recommend you should go for if you are not happy with the Merge VR or have any complaints about my #1 Recommendation. This VR headset does come with a controller and you can read the complete review here. It is available on discount on Amazon, so do check it out.

3. Homido VR headset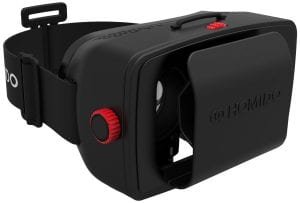 View Price: www.amazon.com
This is another premium VR headset which has great comfort, however, I was not really impressed by its features. This can be one of your options if you really want to get started with the VR world. It is better than the other cheap Chinese VR headsets that are available in the market and has a lot to offer.
There isn't anything great about the Homido VR headset but the fact that it is easily affordable and provides a really great price/feature value is the reason that this VR headset makes it fourth on the list. The Homido VR headset has a pretty good VR headset quality and should be considered while choosing the perfect VR headset for your iPhone.
It does have a lot of features but the only setback that turned me off was not so great the FOV. It may not be prominent if you are using a VR headset for the first time but it can be a turn off for someone who has been using Gear VR. You can read more about this VR headset in my review here, and do check it out on Amazon

4. Noon VR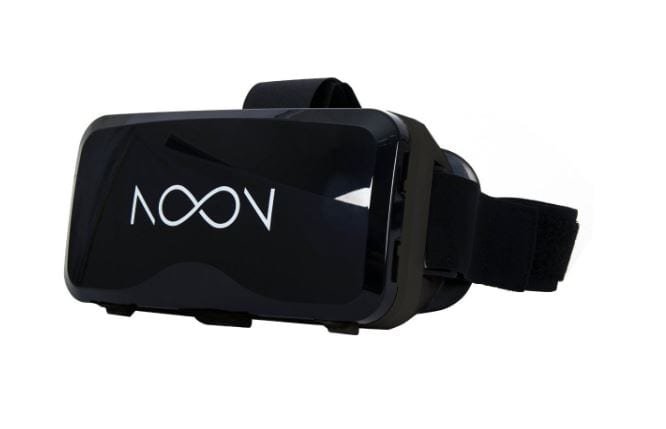 View Price: www.amazon.com
Noon VR has been one of the best VR headsets when it comes to providing a quality VR experience. It is a premium VR headset and has been always one of the best VR headset options in the smartphone VR headset section. It may have limited gaming options but other than that this headset is perfect.
The Noon VR headset does provide a quality VR experience and there are a few reviewers that claim it to be as good as the Gear VR. The only setback you might have with this VR headset here is that there is limited content available on the app dedicated for the VR headset. However, there are a lot of other free apps and content that you can browse through this VR headset so it does not put you in a bad situation.
This VR headset uses an eye tracking system for navigation through the menu and even in most of the games making it a pretty cool feature in a VR headset.You need to order a case for iPhone which you would use to insert the phone in the VR headset. In the case you want to know more about the VR headset then read the complete review here.

5. Xiaomi VR headset
View Price: www.amazon.com
Xiaomi VR headset is one of the cheap and affordable VR headsets that you can use with your iPhones. The recently released VR headset is comfortable and a good value for money VR headset if you are looking for something to get started with. It may not have as many features as the premium VR headsets but it is one of the best VR headsets if you are looking for one in that range.
The VR headset makes it a pretty good option for anyone who wants a taste of the VR world and it is an affordable option for most of us since it is relatively cheaper than the other VR headset mentioned here. The VR headset created a rage when the first few headsets were sold for less than $1.
The Xiaomi VR headset was created so that VR would reach a wider audience and people would be able to experience VR at a decent level. These VR headsets are soon to be available in different colors as well. Do read the complete review here.

Recommended Page: Best VR games on iPhones
Do you liked any one of them? 
Did you find the post helpful?
Leave your opinions in the comment section below!