Mattel View-Master VR Viewer
Mattel creations have been a famous name in the toy industry for kids and has been ever growing since the time it has been set up. The Mattel View-Master VR Viewer is yet another creation for the kids which has been specialized for virtual and augmented reality. The only good thing is this VR headset is that it best suits the kids and it is a better alternative to Google Cardboard as it is a more sturdy and is made out of good quality plastic so it would definitely last longer than Google Cardboard (especially in the case of kids).
I found this while searching for another alternative for the Google Cardboard and I like the fact that Mattel did invest some thought in creating a VR headset for kids as well where in you do introduce them to the new concept of VR and technology.
All about the View-Master VR
Item Weight: 1.3 pounds
Manufacturer recommended age: 7 – 15 years
Price: $17.17
Best Buy: www.amazon.com
Amazon Ratings: 4/5 (703 customer reviews)
What I like about the View-Master VR
Well, View-Master VR is pretty simple and easy to use, all you need to do is pop in your phone into the slot provided at the front of the headset and you are ready to go.
You need to download the associated app and as soon as you start it you need to scan the pass card as a proof of the purchase, and then you can get started with the VR experience.
Once you are in the app, you can easily view around 360 degrees and interact with the surroundings in the app and you can play games on your Android or iPhones.
You have some circular disks which when kept on the table and viewed through the VR headset helps in getting into augmented reality.
It does have a plastic button which when clicked you could navigate in the app and hence makes navigating through an app easier while you are in VR.
What I do not like about the View-Master VR
This VR headset has no bands to secure the headset, that would have made things much easier.
You cannot plug in headphones as the VR headset does not have any provision where you can plug in the headphones while the phone is inside the headset. So, you are dependent on the speakers of your phone for the audio which makes it less immersive.
The design of the headset can hurt your nose a little, but I think it will not be the same for kids, though I would appreciate if there was a little cushioning in that area.
This is a headset for kids so looking from that point of view I have not too many complaints it is safe for kids and I like the fact that it does include all the basics that the VR headsets have.
Are VR headsets safe for kids?
As mentioned by the manufacturer, the VR headsets can be used by kids above the age of 7 and they have sought the advice of an ophthalmologist to ensure that the VR headset is optically safe for kids.
After a little bit of reading up on this issue, I have figured out that there are no specific health issues that kids will have using this headset, the effect it has is similar to the effect any other VR headset might have on an adult.
Your kid can be prone to motion sickness which is something common with the VR headsets but choosing what the kid watches with the VR headset can help you avoid that. Most of the first person games which create a sense of being inside a fast moving car or roller coaster can induce motion sickness, so avoiding such games would be preferable.
If a kid or an adult gets motion sick in real life situation and when he/she experiences the same situation in VR it is expected that they would get motion sickness. So, you need to avoid such games which make you motion sick in real life.
In the case of any further doubts, it is better than you consult your doctor before using the headset with your kids.
Benefits of the View-Master VR
You can download all these apps in the View-Master VR .These apps do provide kids with educational value and it is really a good option for all the parents who are interested in making learning much more interesting for kids.
The VR experience with all these apps is something unique on this headset and it really makes the headset kid- friendly.So if you were worried that your kid would end up just playing games on the headset then you need to consider the educational value that the VR headset has to offer through these informative and interesting apps that have been included by the manufacturers.
Conclusion
Mattel View-Master VR is a good buy  if you want to give it to your kid and introduce him to the VR world, I do like the fact that it is easy to use and compatible with phones between the sizes 4.7 to 6 inch and it does come with an adapter for the iPhones and hence making it usable with both iOS and Android.
It isn't as good as the high-end products but definitely, is another alternative for google cardboard and I like the fact that you can  use it along with your kids allowing you to interact with them. Well, you can check the reviews of other Google Cardboard like VR headsets.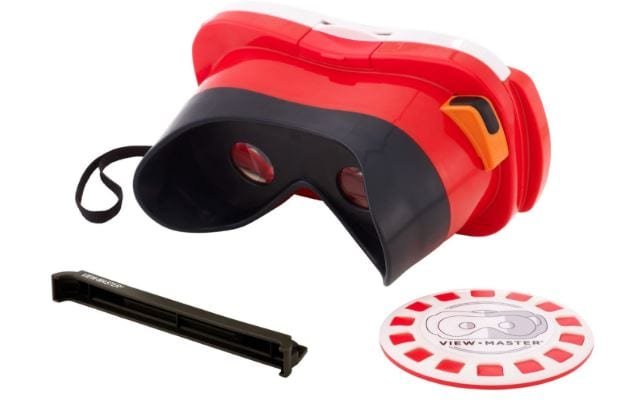 => Click here to Check the Mattel View Master on Amazon
PHOTO CREDITS: www.amazon.com