When VR Latina started out in early 2018, many VR porn users were excited. The site was flocked with many users to discover what the platform offers.
VR Latina is a VR Porn service that shoots scenes exclusively in Latin America. Unlike other amateur sites, VR Latina offers professional models with exceptional skills.
Scenes start like other sites where the girls show off their bodies. With twirls and some dances, we get to the exciting part.
The scenes proceed to the usual blowjobs and then full penetration to satisfy you within a few minutes. Averaging 40 minutes long, the videos are sure to please your fantasies.
With a wide variety of models to choose from, scenes, and tags, VR Latina is one of the most engaging VR Porn sites out there.
I tried the membership for a month to see what it looks like and found out that it has a lot to offer. Find out what I discovered with this full and detailed review.
About The Website
VR Latina is perhaps one of the easiest porn sites to navigate. I have been on websites that have small fonts that I can barely read and VR Latina spared me from that.
With clear and straightforward titles along with previews, I was able to just scroll around until I found the VR Porn video that I was looking for.
If you have not subscribed yet, VR Latina has teasers for you where you can just hover your mouse over the video you are interested in and it will show teasers.
Once you click on the video, the site will bring you to a preview page where you can watch some of the highlights of the video. Most previews are 2 to 2 and a half minutes long.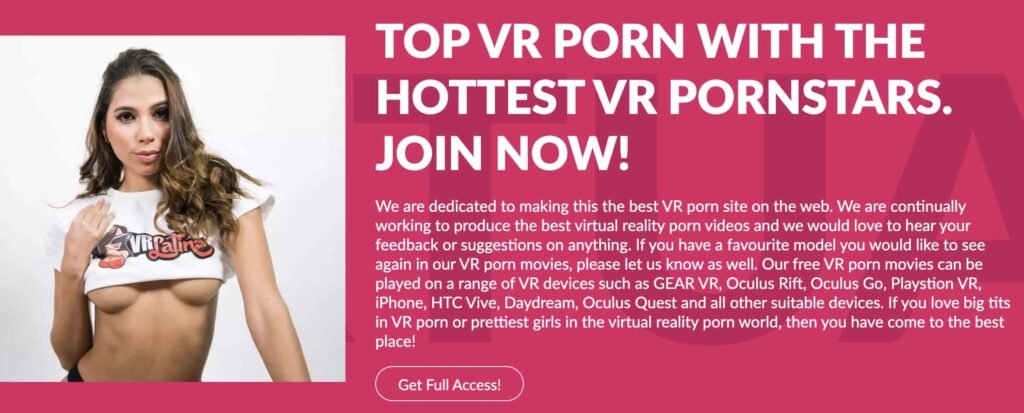 Enough to get you engaged in the video but also lacking to make you want for more, I mean that is the purpose of these teasers and previews, which they clearly accomplish.
Another thing that I liked about the website of VR Latina is that there are no overwhelming amounts of ads and buttons.
Other sites I have visited bombard me with different categories where I get lost instead of just looking at the videos that are presented right away on the main page.
Perhaps the only irritating thing about the website is the spread out in-site ads of encouraging you to join the membership, which is still justifiable in my opinion.
When I clicked on one of the many "Join Now" buttons, I was brought to the subscription page where they show the 4 membership options.
Along with that are the benefits you get when you are a member that was basically the features of the page or what they can offer you when you subscribe.
Features That Set It Apart
Here's the thing, up until I subscribed to the membership, I thought that VR Latina was pretty basic. The automatic dark mode for privacy, pink highlights on buttons, just common VR porn site things.
Then I get to register for the membership, which was really straightforward, might I add. This is when the exciting parts started to pop out.
The experience was exceptional and I really do recommend getting high-end VR headsets like the Oculus Quest 2 to enjoy and fully immerse yourself in the videos.
While some of the features like the previews, teasers, and the whole website looked pretty much the same as other VR porn sites, here are a few of their unique features.
No Filter Boxes
There are no filter boxes on VR Latina's website because they are just not needed. You are presented with scenes that star only the hottest Latina girls.
I found this really helpful because I no longer needed to flip through different genres and see models and videos that I do not like and are sometimes not even matching the said genre.
If you want a more general compilation of the videos, you can click on the TAGS button at top of the page to see the categories that you might like.
The Website Is Very Simple – Which Is Good
Some users prefer to have websites that already have categories on the left side but also need tags and labels on top. Those websites are just not for me.
The VR Latina website is the perfect combination of simplicity and discretion. It allows me to easily hover through the page and click on the labels and categories I want.
It works pretty well and is really simple. The large thumbnails on the videos also allow you to clearly look at the teasers and click on the icons you want.
This, for me, is a time-saving feature that most porn sites refuse to do to overwhelm you with the videos they have, which can be frustrating.
Compatibility With All VR Headsets
The site mentions that the videos they provide are compatible with ALL VR headsets. I still recommend using the best high-end VR headsets for the full experience.
If you do not budget, you can still use your smartphone to access the videos that you want. Playstation VR is also compatible with any of the videos.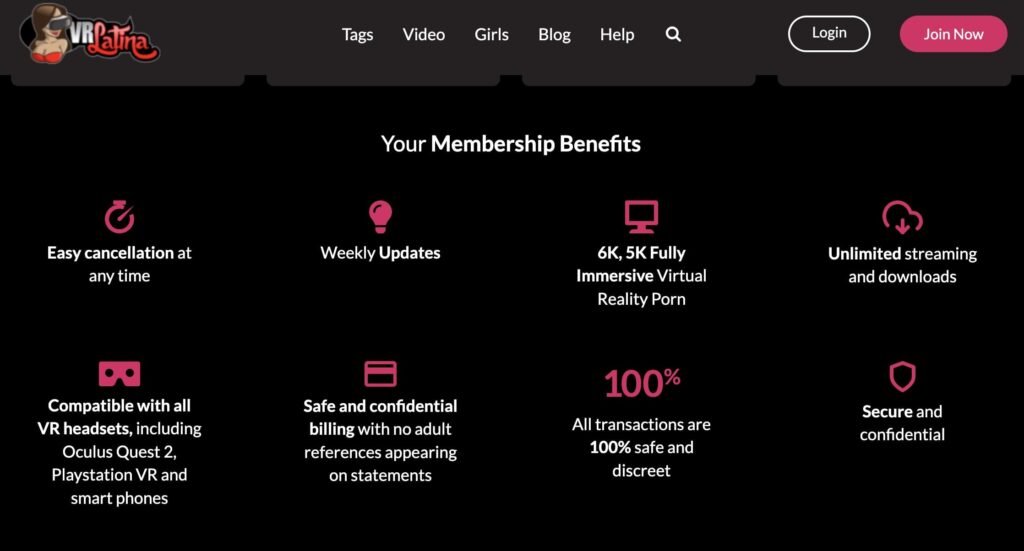 To get the full immersive experience, I recommend using VR headsets like Oculus Quest 2 and other headsets with 5K resolutions or more.
Unlimited Video Downloads
When you are a member, you get to watch any of the videos that you see on the website. What makes VR Latina different from other sites is that they allow this on all memberships.
For instance, the cheapest membership they offer is the 1-day membership for $2.99. This is only a one-time non-recurring payment and it gives you access to all the videos.
Most sites would limit such memberships to certain videos that they think will keep you engaged so you subscribe to the monthly membership or other more expensive subscriptions.
With the one-day membership, you can download any video you want. On average, the videos are 40 minutes long and are 5 to 6GB.
Some resolutions will need more storage of like 10GB, which is available better and more on the pricier VR headsets.
With over 200 videos to choose from, you will surely find what you like.
Cancellation And Confidentiality
VR Latina allows you to cancel your membership any time you want. You also have the option to change your subscription which is really common with members that subscribed to the one-day membership.
This is a great feature as some sites would give you long policies that you are not even interested to read about and do not allow you to cancel until the next payment or so.
Another thing I liked about this site when you subscribe to their membership is that they send e-mails with updates and confirmation of payments in a confidential manner.
There are no sexual innuendos or adult references on any of the e-mails that they send, which helps when you want to be discreet about the membership.
Other Notable Features
Weekly updates
6K resolution videos (new additions)
Videos are shot exclusively in Latin America
Content Quality
You might find other reviews that say the highest resolution on VR Latina is only 5K but those reviews might be outdated.
The best videos on VR Latina have a 6K resolution which means that it might not be the most realistic and most immersive content but they are really great with good VR headsets.
There are over 200 videos as of now and they have weekly updates. Most videos that you will find are 40 minutes long with others being 20+ minutes or over an hour long.
If you choose to download the video you want, prepare to have at least 5-10GB of storage. You can easily click on the large Download button beside the video and choose the resolution.
There are also download files for different VR headsets. So whether you are using your smartphone, Playstation VR, Oculus Quest 2, or other high-end headsets, there is an option for you.
The 5K and 6K resolutions are really great. You get fully immersive with the video and the videos are always well-lit so you can clearly see what is happening.
Perhaps one of the few downsides is that the videos are quite repetitive. I noticed this after sweeping through a lot of videos so it may be best to take your time and enjoy every video.
Personally, I like the Hispanic language and accent in the video. I find it really sexy even though I do not understand most of it. Lol.
Some people might find that distracting or even irritating, but it was not that big of a deal for me.
Overall VR Porn Experience
In my remarks where I said the videos were pretty repetitive or similar, take note that I was only watching through the screen of my computer, I did not have the full immersive experience.
Once I put on my VR headset, there was a whole different world. The 6K resolution scenes were amazing as you get full details on the body and movements.
Pair your headset with a stroker or a sex toy and you are in for a ride. This was one of the best experiences that I have ever had with VR Porn.
What I noticed most is the simplicity of the scenes. The room is usually empty and no objects distract you from watching the actual sex scene.
Aside from some messy bedsheets, clothes, and pillows all over the place, nothing was distracting me from getting fully immersed in the video that I am watching.
I also tried the videos through my smartphone using Google Cardboard, which was still really good. You still have this 3D illusion which contributes to the realness of the experience.
What I think is the downside of the videos from VR Latina is that there are no 360-degree angles. I was limited to 190-degree view spans so I hardly turned to look around.
It would have been even better if I could take a look at the whole room instead of just the 190-degree field of view.
The only reason I wanted a 360-degree view is that after maybe 30 minutes, I got bored with the same setting and the simplicity of it.
Overall, the VR experience was the best way to watch and immerse me in the videos so I totally recommend it even with the HD and 5K resolutions.
Membership And Pricing Details
There are 4 membership options on VR Latina and you can choose any of the 4 so you can have full access to the videos that are offered on the site.
The first one is the 1-day one-time payment membership. Here, you only pay $2.99 and can download any VR scenes on the website.
You can also go with the monthly membership of $14.99 a month. This is if you pay monthly, which I think is not the most value-for-money option.
If you decided to go with a longer subscription, you can get the 3-month membership. You will be billed $24.99 which is basically $8.99, $6 less if you go with the one-month membership.
Finally, you have the last membership option which is the one-year subscription. Billed at $67.49, you basically have access to all videos at only $5.62 a month.
All of these subscriptions allow you to download any of the VR content on VR Latina. The yearly subscription is the best value as you pay 63% less compared to the monthly subscription.
| | | | |
| --- | --- | --- | --- |
| Membership | Access | Price | How Much You Can Save Vs Monthly Subscription |
| 1 Day | Download any VR scene | $2.99 | 0 |
| 1 Month | Download/Stream any VR scene | $14.99 | 0 |
| 3 Months | Download/Stream any VR scene | $24.99 | 44% |
| 1 Year | Download/Stream any VR scene | $67.49 | 67% |
If you are now decided to subscribe to VR Latina, you have many payment options to choose from as well.
You can either pay with PayPal or via credit cards like Visa and Mastercard under a CC bill or epoch.
Overall Review Of VRLatina.com
After going through tens to hundreds of videos, my final verdict about VR Latina is that it is for a specific audience and it will not be pleasing to everyone.
The videos and VR content were great. However, some people would prefer if there were other ethnicities aside from Latina girls that were in the video.
There are also categories that I know most people would love. It is a really straightforward VR porn site so you have everything you need within your grasp.
6K resolutions are the best options you have and I truly recommend them, especially watching them through a high-end VR headset.
Hispanic girls are gifted with both beauty, incredible bodies, and that slight tan that makes them even hotter so I have no complaints with the models.
However, some people might get bored with the scenes that were pretty much repetitive since there are no storylines in most videos.
Others would prefer it since some just want hardcore sex and would rather go straight down to business instead of watching a corny scene that might turn them off.
The membership itself is one of the smoothest transactions I have placed when subscribing to a VR Porn website.
There are few details included on the membership but all you need is there. You can then proceed to the payment where you can pay with any of the payment options available.
The cancellation was pretty straightforward but there are some glitches on the site at times where I could not click the cancel or change buttons.
Overall, VR Latina is a great site for VR Porn and I would give it a solid 7 out of 10 since I really loved it but I think there is still room to improve, which I think they will certainly do in the future!
RELATED POSTS-
Best VR Porn Sites- A complete guide
Badoink VR Review
KIROO Keon Review- Best VR adult toy for men?
KIIROO Onyx+ Review- VR Sex toy for men