The VR real Feel is one of the best VR headsets for kids. This VR headset comes with a steering wheel which connects to your phone and makes the racing gameplay immersive. This VR headset is perfect for kids and since they are a budget model headset they are affordable as well.
What I liked about the VR headset
1. The VR headset is really simple and does not involve too many complications. It is perfect for kids and with the Bluetooth steering wheel that is compatible with the VR headset, it gives a really immersive VR experience in racing games.
2. It is compatible with Android and iOS phones and can even be used with iPhone 7. The cradle that is used to hold the phone is pretty flexible and you can use it with phones of almost any size.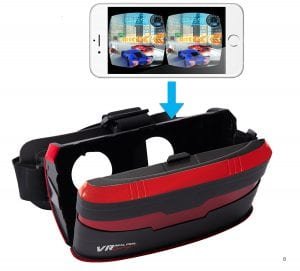 3. The VR headset has a foam lining which makes the VR headset quite comfortable for long gaming sessions.
4. The system is graded for kids of age 8 and above.  This is a perfect gaming toy that you can get for your kids and it would keep them busy for a while. It is even a great way to amp up their gaming experience by introducing them to Virtual Reality, unlike the normal gaming experiences.
5. Most of the other VR headsets require you to tilt your head in the racing game, while this may be interesting in the beginning but over time it just becomes a pain in the neck. This VR headset uses a Bluetooth steering wheel which can be synced the phone in order to give you a more realistic racing game experience.
6. Even while racing if you bump into another car you can actually feel the vibrations. This is a pretty advanced feature which would make the VR experience immersive for the kids.
7. Apart from racing games, you can use it for all the other Google Cardboard games and apps that are available out there.
8. The VR headset is pretty easy to use, all you need to do is download the app on your iPhone or Android phone and then place it in the VR headset and since the steering wheel with the phone. This is a pretty easy way to get all the apps running.
9. This is one of the many controllers that you would get with the VR Real Feel and there is news that there would soon be other controllers that would be available the VR headset at the same price point.
10. You can use the headset to even educate your kids with some educational VR apps and make it a fun VR learning experience.
Cons
1. Since the phone is running an app and is connected to the steering wheel via Bluetooth, the battery drains pretty quick.
2. Your phone might get overheated and you should use cooling pads against the phone to buy more gaming hours.
There are going to be new products that would be released in the fall this year and they are going to be on the similar lines of the VR Real Feel Racing Virtual Reality headsets, a few of them that are going to be released soon are-
1. VR Real Feel: Alien Blasters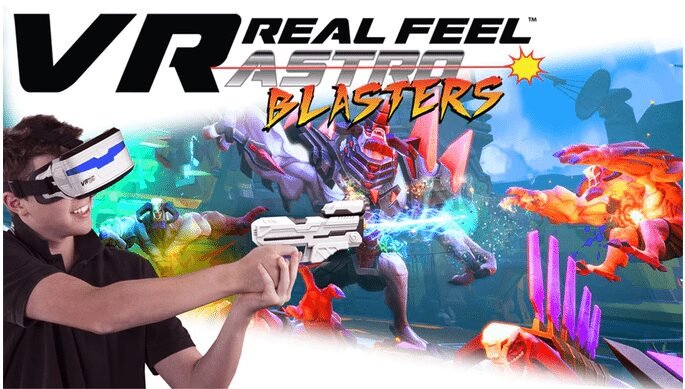 2. VR Real Feel: Fishing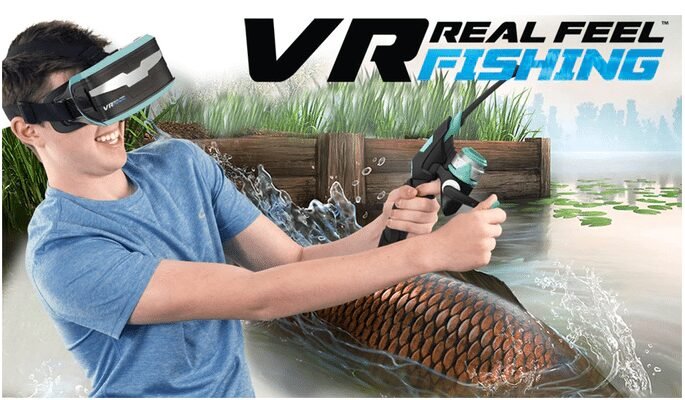 3. VR Real Feel: Grand Slam Baseball
4. VR Real Feel: Motocross Racing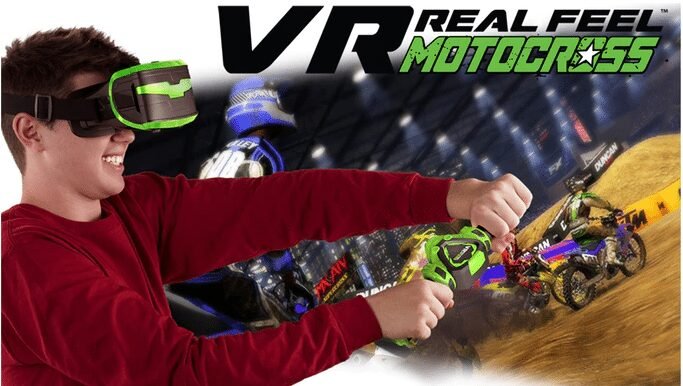 Conclusion
The VR headset is perfect for someone who is on a budget and want to see how VR looks like. It is more like an upgraded version of Google Cardboard just that it is made up of a solid material and has some upgraded features from the Cardboard VR headset.
The headset is great for kids who are into racing and love VR racing games, this can be a perfect gift for a kid above 8 years of age and you should definitely check this out if you planning on gifting this to a kid or maybe even want to try it yourself in order to get a taste of the VR world.
If you have any questions leave them in the comments section below!
In the case, you have already purchased the VR headset, do share your experiences with us!