Finding adult games on the Oculus Go can be a task especially if you are someone who is looking to play PC VR games on the Oculus Go.
Now, if you have just started using the Oculus Go then you might be wondering if you can play SteamVR games or other PC VR games on the Oculus Go.
The answer to that question is, YES.
You can play most of the PC VR Games on your Oculus Go and if you have any questions on how you can do that then do go ahead and read our post on How to play adult games on Oculus Go.
The process is pretty simple and easier than you think. Although there might be times when the controls of your Oculus Go Remote might not work well with the game and in that case, you can connect your PC keyboard with the Go.
So, you are going to find a ton of ways in which you can connect your PC to your Oculus Go so you can enjoy almost every VR game that you are used to playing on your Vive or the Rift.
So, the adult games that we recommend for the Oculus Go are-
1. Honey Select VR
This Hentai Game is probably one of my favorites and if you have not played it yet then you are missing out on a lot. JList has some really nice interactive Hentai Games and they make the VR games so realistic that they are worth the money.
The graphics and the audio in the game make it feel so realistic that you are going to fall in love with everything about the game.
There are different sex scenes and positions in the game that you can choose from. The whole experience feels like having sex in VR with an anime character so if you are in love Hentai characters then this game is going to be your favorite.
The game is addictive and you might want to close the room while you are playing it. You can play this game using Virtual Desktop on the Oculus Go.
2. Custom Order Maid 3D
Another gem that is from the JList website is Custom Order Maid 3D. If you have not played this game then head over to the JList website and see the clips which look really promising.
The grpahics on the game is amazing and the sound quality is pretty good as well. Although we must agree, that the quality and graphics of games on JList are by far the best and you are going to love everything about it.
The custom maid allows you to interact with the pretty maids in the game and you can select your character including the features and clothes.
You have different sex scenes that you are going to find yourself in and the amazing graphics just makes everything look so realistic.
If you have a thing for such games then you should head over to JList and check out this game right now!
3. WRITHING PLAY
Another website that has some really good Hentai Games is the Dlsite. They have some really good quality Hentai Games and one of them is the Writhing Play.
The writhing play has two girls and a boy as their character and an engaging storyline. You can choose to enjoy different scenes with the three characters in them and the entire experience seems amazing in VR.
The game is affordable as well so you can go ahead and download this game without any issues. DLsite is another good websites when it comes to Japanese Hentai games.
Personally, I love the quality of the games on Jlist and even if they are a bit expensive, the graphics are amazingly realistic.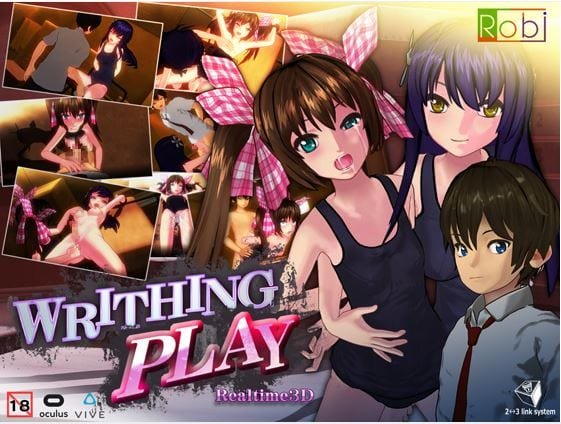 4. Cat Girl Playroom
Another Hentai game that you can play on the Oculus Go is the Chat Girl Playroom. It revolves around a girl and how you are going to customize her looks and later on play with her.
The girl can go from fully dressed to completely naked and you would be interacting with her in her room. The overall gameplay and interaction with the girl, both are pretty interesting.
The game is pretty interesting for someone who is looking to spend a lovely weekend with an anime character. You can spend hours playing this game and it is definitely going to be a fun experience.
5. VR Kanojo
This is a SteamVR game and you can easily stream this on your Oculus Go. Playing this game is pretty interesting as you are going to be inside the room of a school girl interacting with her.
You can ask her to do things for you and you could slowly build up the relationship. There are different scenes in the game that you can choose and you do have the options of having sex with the character in different positions.
The game takes VR adult content on the Oculus Go to another level and if you have not played this game on your headset then you should definitely do so.
There are many games out there that are similar to VR Kanojo but this particular game works really well on the VR headset.
6. Elven Love: Naughty Rituals
If you are into erotic magic and puzzle solving then Elven Love is the game that is going to perfectly fit the category. In Elven Love, you have female elves and you would be interacting with them in the VR world.
The detailing in the game makes it look so realistic that you are going to instantly fall in love with everything. There are different toys that you can use in order to complete the naughty rituals in the game.
There is some puzzle solving as well that keeps you engaged in the game. Basically, if you want to see the elves nude then you have to solve the puzzle so that you can unlock and complete more sexual rituals.
There is going to be a lot of nudity and action in the game so if you are planning to play it make sure you have your room door locked to save yourself from any embarrassment.
7. Love Fuck!
This is basically a series of games which is similar to the Custom Maid series but in this game, you are going to be interacting with a school girl and doing various things with her.
You are going to 'Punish' the girl and whilst you are at it you would find the girl in various comprising positions that would tempt you to continue playing the game.
If you like some hardcore action then this game might be one of your favorites since the graphics and sound quality is just amazing.
There are so many chapters in this game so you can spend your entire weekend playing them without giving you headset a rest.
I would highly recommend this game to anyone who likes Hentai and I'm pretty sure you would end up buying all the games in the series as it is really addictive.
So, these are all the games that you can actually stream to your Oculus Go using the Virtual Desktop and ALVR apps. There are so many ways in which you can play PC VR games on your Oculus Go and there are many tutorials on this on YouTube.
However, you need to have a PC that meets the system requirements that is needed by each one of these games. You should check the PC requirements for each of these games before buying them.
Do let us know which game would be your favorite in the comments down below!
If you liked the post then do not forget to share it on social media!