These times have been all about modernization, entertainment has not been backtracking as well.
It has advanced and now, we have all the platforms to look for something to entertain us.
More and more ways have been developed in order for consumers to enjoy their time alone at home.
Inclusivity has long been an issue with these, however. 
But now, more than ever, we have the best games that allow people who identify themselves out of the binary gender-identification system, and we are glad that they have.
This post may contain affiliate links, which means I may receive a commission, at no extra cost to you, if you make a purchase through a link. Please see my full disclosure for further information.
Virtual reality has been booming ever since its introduction to the world.
Now, we have games that most of us can play and adult entertainment is also keeping up with the trend.
With that being said, most of the adult content and games that are developed for virtual reality are inclined mostly to male audiences and some for female users.
That is why more people are searching for content that will not offend other genders or at least include the other genders in the game so that everybody can enjoy the gift of virtual reality.
There has not been a lot but considering the times, more and more websites and online stores are including content that will allow gay people to join the trend.
Here, we have listed the best games for Gay VR users that will surely entertain them.
Inclusivity is no longer an issue and every one of us can enjoy technological advancement.
So if you are bored and are looking for something to spend your time on, then we recommend that you look into this list and find the best game that you can play.
1. Creme de la Creme
This game is probably not the most popular but it deserves to be on this list because of its unique approach to gaming and a very rare interface that will surely entertain you.
Unlike most games that require advanced hand-eye coordination, this game is a chill story game that includes a 440,000-word novel by Hannah Powell-Smith.
Here, you have control over the story.
Your choices will affect how the novel will proceed so although it does not require too much, you need to prepare for the game's consequences.
The story starts with you getting into this school called Gallatin College.
In this school, you will learn about manners and social graces that you will need to master throughout the game.
==> Check out the Game on SteamVR
You will be surrounded by high-class people that you can learn from.
So basically, you are banished from your family because they are treated as a disgrace.
So it is up to you to decide whether you want to enroll in this school or not.
Most likely you will need to because it is the only way to secure your future and restore your family's dignity.
You can choose any gender that you like and from there, you are free to do whatever you want.
You can go with a more subtle approach and graduate or be around scandals.
The game will progress according to your decisions. Have sexual interactions with your peers, no strings attached, or build friendships and even destroy one.
This is a game that you will surely enjoy as it brings thrills and pure story despite the lack of graphics and other components that we usually see in other games.
2. Negligee
This one is a game that will appeal to women. It is an interesting game that will allow you to interact as a female-attracted-to-female character to appeal to gay girls.
If you are looking for something that will give you adventure as well as sexual interactions with the same gender, then this one is probably one of the best choices out there.
Just like the first one on the list, this game lets you decide from different choices, and with every choice that you make, the game will proceed accordingly.
Basically, your character has become the manager of a lingerie shop called 'Negligee' so your decisions will determine the fate of the shop as well as the fate of other characters.
Negligee is a rich game with personalities that are as curious as you can be while containing enough sexual content that will let you play the game with more interest.
==> Check out this game on Steam VR
You can also be friends with other characters and co-workers.
Depending on your play style, you are going to see the nude of your choice and other erotic content.
So if you want to go for something that is a little bit sexier but with enough story and diverse personalities, then this game is going to be perfect for you.
3. Hustle Cat
This is another friendly game that you can play in any gender you like.
You have the freedom to choose your gender from he, she, or they pronouns to get as much fun as you like.
If you are into sexy and mysterious games, then Hustle Cat is the game for you.
It contains the right amount of intimacy and adventure to keep you up at night.
The game starts off with your character by the name of Avery Grey.
You are looking for a job and luckily, you get employed in a nearby cafe called Hustle Cat.
In this shop, you will find a book that contains words that you cannot understand.
So based on your character's curious nature, you proceed to look for answers.
There are 6 routes that you can choose from and each route will bring you to a different ending so be careful which you choose as it will determine the fate of you and your companions.
==> Check out this game on Steam VR
You can interact with equally attractive characters such as the shopkeeper who is a jolly character but seems to know more than they ought to.
There is also your boss that is as mysterious as the shop.
So eventually, you are going to defend your turf from bad witches and the endings can be either good or terrible.
So pick your adventure and make the right choices. Anyway, you can go back to the start of the game and choose the other options to see the other endings of the game.
4. Coming Out On Top
From a closeted high schooler, you are coming out and you figured that you need to make up for the lost time. In this game, you are allowed to do that and you have friends to help you.
If you really want to get into the erotic substance, you can play this game and it will not disappoint.
The game starts with you as the main player in a school.
Once you have figured out that you are attracted to the same gender, you will be helped by your loyal roommates to get the best date from the campus.
There are six different routes that you can take and each route ends with an unforgettable date.
You get to choose the date that you are going to and you can explore each and every one of them.
It has a total of ten dates with 18 different hot guys that you can choose from and you can get as close as you want. You can see everything that you want and it is so much fun.
You can also customize your character and put on a beard, abs, and other body features that you want.
You also have the choice to customize the other characters in the game.
Here is a bit of a spoiler. There is one secret route that you can take but we will leave it up to you to figure out where that is.
This is a very fun game that the gay community will surely enjoy. It packs a lot of hot guys and interactions that span from hilarious to sexy ones so it is a definite choice.
5. Looking Back
This is another game that will let you decide how the story goes.
As the player, you are going to get inside the life of Kris as a Ph.D. student and you get to deal with his daily problems.
The main challenge in this game is to finish Kris's thesis.
You will need to develop your Physical, Mental, and Emotional health as well as the skills that you are going to need.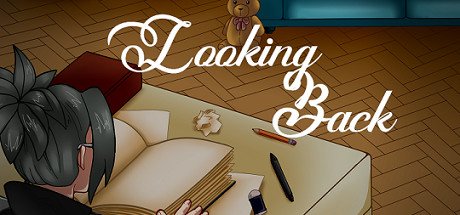 This game deserves to be on the list because of its unassuming nature.
It is like a game like any other that you need to hone skills but instead, you have a unique way to do it.
So instead of fighting off demons or monsters, you develop your skills and abilities by interacting with other students and figure out the way through gaining the degree together.
You are going to make decisions that will determine the flow of the game.
Some are simple choices like deciding which breed of dog you want to own.
But some choices are going to be much harder such as deciding which friend you are going to save and sacrificing the other in order to go forward with the game.
Nonetheless, the decisions that you make will affect the game no matter how small that decision may be.
You also get 10 friends that will help you on your journey.
There are also memories that are scattered throughout the place so you can go and take a look at them in order to get a better understanding of the game and the goal that you need to attain.
This game is really interesting as it adds up adventure, romance, and other challenges that you need to conquer as a student plus you get to choose your gender preference as well.
6. A Little Lily Princess
A Little Lily Princess is another novel-based game that allows you to play as the main character of the game.
You are going to be the rich girl, Sara Crew.
The game is included in this list because it is a story of a girl attracted to another girl.
Of course, there are challenges since her parents are rich and are traditional.
It starts out with you being transferred to England to study while your rich father is on his business trips.
So in school, you are treated like a royal, just because you can pay for it.
That means that you get to have all the perks and privileges that you want since your father can pay for it.
You literally are treated like a princess in this school.
But in the middle of the story, your father dies a tragic death in a diamond mine.
Check out this game on Steam VR ">==> Check out this game on Steam VR
This is where you are going to be stripped of all the privileges that you have and you become a servant.
So the game still sticks to the story from the novel.
Anyone who has read the book will be happy that the game was loyal to the story in the book.
However, there are some tweaks to the story in order to make space for the players.
So you get some decisions to make in order to progress in the game.
You get to schedule the time of Sara and of course, have interactions with other characters and since Sara is down, she gets comfort from a friend which she eventually gets attracted to.
The game is pretty straightforward and you can play it easily.
The game does not have too much sound so you get to use your imagination for an immersive experience.
Conclusion
If you are looking for a more inclusive game to play with your VR headset, then the ones listed above are definitely going to be the best choices for you.
These games are very interactive and they do not stick to the sexual part. You get to experience a full tory plus adventures that you cannot find in other games.
While giving you the freedom to choose your gender and preference, the games do not bore you with stories alone as they have all the interactions that you need.
The mystery and adventure that you will experience with these games are beyond amazing.
They pack a lot of choices that you will make and will decide the game itself.
So when you want to have a good time while playing a game, then you can go ahead and look at the ones listed above to get the best Gay VR games.
RELATED POSTS-
KIIROO Keon Review- VR SEX Toy
Autoblow AI Review- It is worth the money?
Pulse Solo Interactive Review