In this KIIROO review, we would have a sex toy review that is probably the best male sex toy. When it comes to male masturbators there are a lot of hits and miss and in this KIIROO Keon review, you would know if this one is a hit.
KIIROO has attempted a lot of things to make their users satisfy themselves in the best way possible.
So far, their products have done nothing but that and so this will be no different, so let's dive into the world of sex toys.
The KIIROO Keon seems like a replacement for the famous fleshlight launch which was discontinued not long back.
The new Keon sex toy is one of the most innovative sex toys for male users. It is a new toy that was released this year and it has already garnered a lot of praise from its users.
That is why I got curious about it and so I figured it was only right to try it myself. 
This review will let you know about the functionality and the features of this amazing sex toy/masturbator.
There are more sex toys meant for female users but the industry has slowly become more inclusive and more and more male sex toys are being developed which is truly great.
KIIROO is one of the pioneers of fully automated sex toys and the new Keon masturbator is one of the best in the industry as it is able to produce one of the most realistic strokes ever.
It is a pretty large sex toy that weighs a little over 4 pounds. So it cannot be completely independent as you are going to need to hold it to keep the large compartment stable.
Nonetheless, it is one of the sex toys that do not require much from the user. So if you are curious about how it really functions and how it feels, then this review is perfect for you.
We will be talking about how you can use it along with some tips and tricks. This review will also include the experience when using the sex toy to give you a better understanding of the product.
How To Use The KIIROO Keon (Manual Mode)
Just like most sex toys for male users, there are different ways to operate the Keon masturbator, you can use it with only hands. There is a manual option where you have manual controls, so you do all the stroking to get to the right pacing.
There is also the interactive mode which we will be talking about later on. The first thing you need to know about the manual mode is that it has two functionalities.
First is the mode of stroking. There is not much about the stroking as it can only be varied by its depth so you can select the depth by pressing one of the 4 buttons on the compartment.
The other feature that helps you get in the mood with the manual option is speed. You can alter the speed depending on how slow or how fast you want the Keon masturbator to go.
Select between 6 strokes per minute up to 230 strokes per minute. The fastest speed means that the masturbator can go for almost 4 strokes each second, which can sometimes be harsh.
The manual mode gives you more control when using the Keon. In my personal experience, you can use it as a manual stroker and this interactive toy will work best with your partner's toy.
This gives immense penis pleasure and there was this ease of use when using the control buttons that instantly made it a favorite.
This is good so you can slow it down or make it go faster if you want to, but it does have another mode that brings the element of surprise.
The KIIROO Keon easily gives an hour of use on a full charge which is not much battery life and could be better but it is fine depending on the intensity you use it.
When you are using it for the first time make sure you charge it completely.
Interactive Mode
This is where you can use the KIIROO Keon with other people. This gives control to other people so you can feel what they want to do and how they want to do it.
The first thing that you need to do is to download the FeelConnect app. Using feel connect app is pretty easy making KIIROO Keon an automatic masturbator where you can go hands free.
Once you do that, the Keon masturbator will automatically connect to your smartphone.
From there, you can select between three modes. This feature is best for long-distance relationship or you can even watch porn video while you have the toy in this mode.
This means that you have 2 options on who can control the KIIROO Keon for you when you are using it.
Website Connection
The first option on the interactive mode is where you can connect the Keon masturbator to the content that you are watching on your smartphone. It is a lot like virtual sex interaction.
This is where you can tune into virtual reality and watch interactive porn using adult toys. The best toys is from KIIROO as they are interative and work best with interactive content.
There are also options here where you can connect the Keon to the content you are watching to recreate the actions of the performers or go full-on with webcams for a live experience.
It connects well with VR interactive adult content and it does so well. I tried it with websites such as BadoinkVR, VirtualRealPorn, and VRPorn. and it syncs with the videos.
The delay is there but it is hardly noticeable. You can feel the delay more when you use the Keon with the webcam option as it waits for the video and the signals at the same time.
If you want to use this option, connecting the Keon is very simple. All you need to do is scan the QR code of the product and the website does the rest, just lie back down and get ready.
The only downside of it is that you need to have a mobile VR headset as only that way you can connect this toy to a video.
Use With Partner
This option is becoming more and more popular with interactive sex toys. Even though this is a KIIROO KEON review where we focus on how it is a great male masturbator, it is worth knowing that you can pair it with female sex toys/ your partner's toy.
This is where you can connect the sex toy with other KIIROO products or sex toys that are FeelTechnology-enabled.
You also have two options in this mode. First, you can either connect it with other KIIROO products that your partner is using to get in sync with what your partner is doing.
This will require you to both connect each other's sex toy to the app in order to feel the actions of each other. 
This is pretty easy and practical but there is also another mode for this.
You can connect the KIIROO Keon to your partner's device by an app-to-app connection and have complete control of their device.
This is where your partner can control the Keon even if they are far from you.
This is perfect for long-distance relationships. 
The app also supports a chat and video call function so you can see each other's actions while you are using sex toys.
App Control
Last but not the least, the third mode of the Interactive function comes with another type of personal control. You can control the strokes using the app on your smartphone.
This is where you can alternate the patterns and strokes quickly by using the app. 
You just need to hold the Keon in place and move it with your other hand through the app and create your own patterns.
KIIROO says that they are developing a feature where you can use the sex toy with music. This will allow the toy to move according to the sounds and beats of the music that you are listening to.
How Does It Feel When Using The KIIROO Keon
Since KIIROO changed the sleeves from Fleshlight to their own sleeves, I expected the Keon masturbator to feel a lot more different but that was not the case.
In fact, the feeling of the sleeves did not change much. 
The sleeves are still made with silicone and so the sensation felt like they are just like the other KIIROO products with Fleshlight.
The ridges outside the sleeves felt good as they pressed down to the shaft of the penis. 
They were great but they can still be improved as they are irritating when used in high-speed mode.
Other than that, the Keon really felt good.
The varying speed and depth of the strokes gave a lot of sensations that you really feel like someone is under there doing the job for you.
The masturbator is pretty large so you will need something to hold it in place when your hands are busy. 
Putting pillows on its side did the job for me and it stayed in place.
If you love this mode where you do not want to hold the Keon with your hands, the app comes in handy as you can switch both the speed and depth of the strokes pretty easily with it.
The interactive mode still had some delays but it was understandable. It is still being developed so we should expect something better with the upcoming models of sex toys.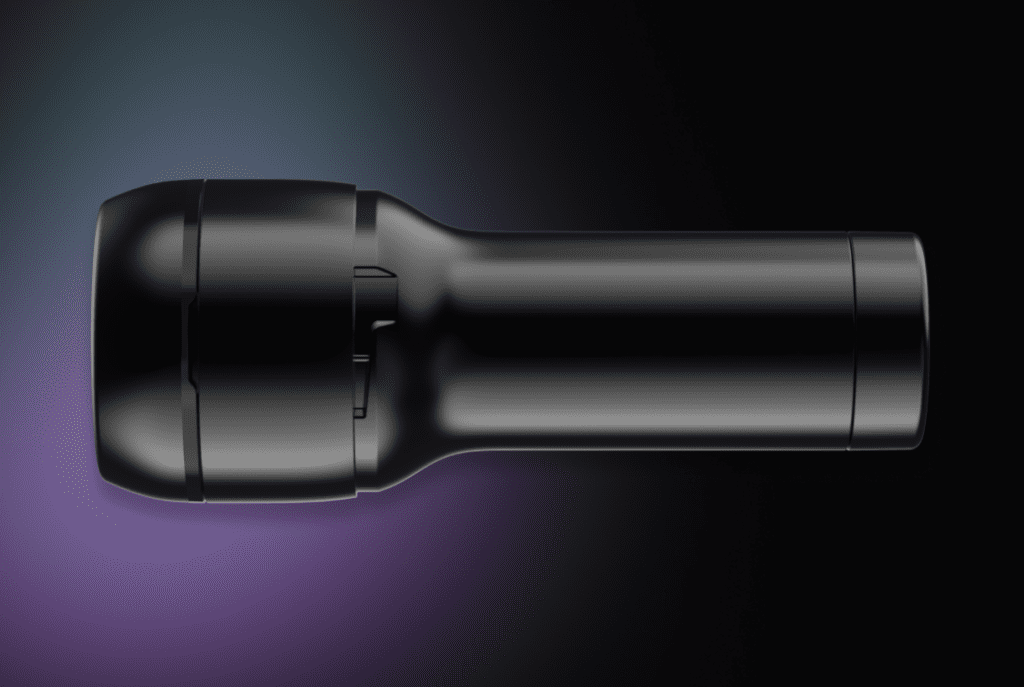 Does the Keon Work With Fleshlight Sleeves?
KIIROO no longer advertises Fleshlight as their partner. In fact, they have created their very own sleeves so now many users are wondering whether it is still compatible with Fleshlight.
The answer is yes, with a little bit of reservation. Looking at the casing of the Keon masturbator, it seemed like it was small but the common Fleshlight sleeve fitted without any issues.
Ofcourse we love the fleshlight silicone sleeve and the feel stroker combo that gave the real skin-like texture making it the best sleeve out there.
It just gives a more pressing action which only intensifies the strokes. 
When I compared the Fleshlight sleeves with the Keon's original sleeves, it did not feel like there was a major difference.
So if you have a lot of Fleshlight sleeves with you and you want to change the sensation of the Keon's sleeve, then you can switch it with those sleeves that you already have.
Cleaning the KIIROO KEON
The KIIROO Keon looks very durable when you first look at it. It is a large device made out of plastic on both the casing and the moving parts so it does seem strong.
There is a 1-year warranty for this device so it is really meant for long-term usage.
The sleeves are made out of silicone so they are sure to last for a long time.
S for the cleaning part, it is obvious that you should never put the plastic parts near water. 
They have all the electronics so you should wash them just by wiping them with towels.
The sleeves can be cleaned just like any Fleshlight sleeve. Run it under warm water and then wipe it dry before putting it back into the Keon compartment.
You can use soap with the sleeves as they will not absorb it. The silicone is pretty smooth so if you rinse it thoroughly, you will be able to remove the soap on it.
Some Tips When Using The KIIROO Keon
Even though these are just tips but they are points to know and the KIIROO Keon review would be incomplete without this.
So, the KIIROO Keon is a large male sex toy and it moves a lot so expect it to make some noises. 
So make sure that you use it in private if you do not want anyone to find out what you are doing.
The strokes of the Keon are made by the two plastics being driven by a motor. 
So the noises are pretty loud and so you need to know how to use it and when to use it.
First things first, make sure that you are alone and your room is locked so no one can come barging in while you are in the middle of using the Keon masturbator.
The product also comes with lubes that you should also use properly. 
There is a warming lube that is meant to be put inside the sleeves before using the Keon.
When you put the warming lube directly on the penis, you might feel some irritations.
However, if you put it in the sleeve and you apply water-based lube on your penis, it works perfectly.
After just a few strokes, the warming lube will come into play and it feels so great. 
It is better than using a cold sex toy when you are masturbating as that might remove some sensation.
KIIROO KEON REVIEW
In the final KIIROO KEON review verdict, it is impressive that KIIROO never fails to produce a male masturbator that is always better than its competitors. 
The Keon masturbator is one of the most advanced male sex toys currently available on the market.
The Keon masturbator is a large sex toy that has its own stroker. 
This means that you no longer need to hold it and do the stroking yourself, plus it can be controlled through an app.
You can just lie down and put the Keon in place while you control it with your smartphone. 
It does make some noises so make sure to keep your privacy when using the sex toy.
It is perfect for people who want something different from their sex lives. 
You can use it with your partner from afar or watch your favorite VR porn videos with it.
This is one of the sex toys that are technologically advanced and it will surely not be outdated any time soon. 
It offers a lot so you should definitely consider getting one of these.
If you like the post then do not forget to share it on social media!