The new KIIROO Onyx+ has landed, and as soon as this new version of the KIIROO Onyx landed, the predecessor KIIROO Onyx 2 went out of stock.
If you are interested in getting a premium KIIROO toy for yourself, then you might be wondering how different is the Onyx+ from its previous version and if it is going to be the same or even better.
In this review, we are going to talk about this new launch from KIIROO and how it is better than the previous KIIROO Onyx 2 and if the toy comes with all the exciting and useful features like the Onyx 2.
KIIROO is one of the best male sex toys out there, and you can even use it with interactive VR videos or 2D vides.
The company has some amazing sleeves, which when wrapped around the manhood, feels like a real vagina.
So, if you are planning on getting the KIIROO Onyx+ for yourself, then make sure that you read this review so that you get an idea of all the different ways that you can use this toy and pleasure yourself.
Design of KIIROO Onyx+
The design of the KIIROO Onyx+ is very simple; the toy is made up of the hard black case, which is sleek and looks classy.
The sex toy looks like a Bluetooth Speaker, hence it is discreet, and no one could look at once and identify what it is.
The sex toy comes with a Real Feel sleeve, which is amazing as it gives you a very realistic feel when used with the toy.
The lid on one side of the sex toy comes out, and you need to put the sleeve inside it to get started with the toy.
The toy is about 10 inches long so it can fit even the well-endowed males, and the hole opening is 5 cms, which is good enough to insert your manhood into the toy.
The size of the toy is pretty decent making it good for traveling. The toy is lightweight as we'll hence it is not going to add any significant weight to your luggage.
Working of the KIIROO Onyx+
The KIIROO Onyx+ comes with all the features that one would need in a male masturbatory device. The toy comes with a super soft sleeve, which is perfect for your skin down there.
The device has ten contracting rings on the sides of the device that move in an up and down motion to give the feeling of stimulating intercourse.
The sleeve feels super soft and real on the penis, and when you switch on the device and get the contracting rings into motion, then you realize how amazing life can get with this toy.
The toy has a powerful motor but at the same time, it is quieter than the KIIROO Onyx 2 making it easier to use especially if you are living in a flatshare situation.
Onyx+ can reach up to 140 strokes per minute and even while it is going that fast, the toy continues to remain quiet which was not the case with the Onyx2.
The toy can be controlled via Bluetooth; hence you can get a hands free experience while using the device.
Also, you can give the controls of this device to your partner, who lives in another part of the world.
So, this works pretty well with people who are in a long-distance relationship and still want to have some fun with their partner.
The battery life on the device is about an hour and the charging is still going to take you a while.
This was the only con that I could find with the device but if you can get past that then you are not going to be disappointed with the device.
How does it feel to use the KIIROO Onyx+?
The sensation that you get from using the KIIROO Onyx+ is definitely amazing.
You are going to absolutely love everything about the toy does to you and the 10 different rings that are present in the toy are going to give you out of the world sensations.
Once you get the toy, you need to insert the sleeve inside and lube it up and use it along your shaft.
You have three different modes in which you can use the toy- Automatic mode, manual mode, and interactive mode.
The touchpad on the toy helps you increase and decrease the intensity of the vibrations of the toy-making it really easy to operate the device while you have your penis inside the toy.
The toy is extremely easy to use and you can even connect it with your phone and control it from there in order to have a hands free experience where you do not need to touch the toy every now and then.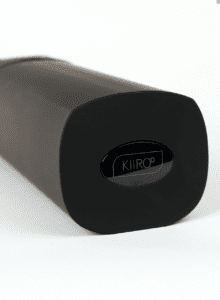 The rings on the toy give you a really nice message on your shaft along with the up and down motion that makes you feel like you are having sex for real.
The sex toy doesn't make a lot of sounds which is so much better than the other male sex toys out there that make it pretty evident that you are using a vibrator.
Overall, the use and sensations on the toy are pretty amazing and you are going to love everything about it.
If you are planning on investing in something that would keep you busy on your weekends then you are not going to regret getting the Onyx+ for yourself.
Using the Device Solo…
You can use this device solo or you can use it with a partner. The device is compatible with KIIROO Pearl (1 or 2), KIIROO Onyx (1, 2 or +), OhMiBod Fuse, OhMiBod Esca (1 or 2), Fleshlight Launch or any FeelTechnology-enabled compatible device.
You need to pair them up with your lover's devices and soon after that, you and your partner can control each other's devices.
The device is good either way and you are going to explore a lot of new ways to spice up your sex life with this toy.
If you are using it solo then you are going to be busy for a few days exploring different functions and vibrations on the device.
This third-generation toy from KIIROO is going to end up being your favorite either way and you are going to love and enjoy everything about the toy.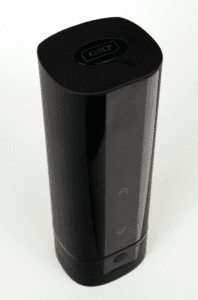 The toy can be connected via the internet and even if you are partner is staying in another country, you can still have some intimacy with her, with the help of the Onyx+
This makes this toy an ideal choice for lovers who keep traveling or if you do not have a lot of time on hand but still want to enjoy some nice pleasurable moments.
There are so many people who even use it with cam girls, I mean I'm not judging but it can come in handy in so many ways and the possibilities with this toy are just unlimited.
Using the device to watch VR Porn content
If you haven't dived into VR Porn content then you are missing out on a lot. The most immersive experience has to be watching VR Porn on a headset.
This device is capable of syncing with VR interactive videos where the device is going to replicate the thrusting motions done by the actress in the movie on you.
This way your VR Porn watching experience is not only going to be immersive but it would also get interactive. There are some really amazing full-length high-quality VR videos that you can sync with this device.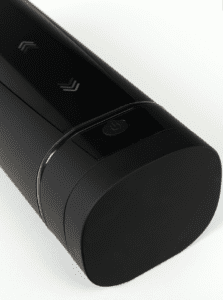 The Onyx+ only supports mobile VR headset and that is a bummer for someone who is using Oculus headsets.
However, if you want you can use leave the device on automatic mode and go back to watching your VR adult content.
The toy gives you such fulfilling experiences in Porn that it can get even better and interesting than actually having sex with people.
You are going to be immersed in the high-quality videos that the best Porn websites have to offer and along with Onyx+ doing its job. I personally love to recommend high-quality websites like BadoinkVR, VirtualRealPorn, or VRPorn.
This way you do get an interactive experience and trust me it is better than doing all the work yourself and getting everything messy.
So, you are not going to regret investing in this sex toy even if you plan on watching some amazing VR videos while you used this toy on yourself.
Conclusion
The Onyx+ is definitely a better version of the Onyx 2 in so many ways. From the sleek body design to the interactive touchpad everything about this device works perfectly well.
The Onyx+ comes with a few changes from the previous KIIROO onyx 2 device and that makes it better altogether.
You are going to love all the improvements and things just get better from here.
The device can be paired up with other KIIROO devices and you and your partner can use them to spice things up in the bedroom.
The fact that you can control this device via Bluetooth and the internet gives you so many different possibilities.
The battery life on this device is an hour hence it can last for 2-3 uses and charging it is going to take you about 4 hours.
This might seem like a really less battery life but a toy with so many features and functions is definitely going to drain the battery a lot.
If you use a stronger motor then there would be a lot of noise and that wouldn't be ideal for a sex toy as well.
So, the KIIROO Onyx+ is the best toy with all the different features and combinations that are included.
If you are looking for a sex toy that would help you in your long-distance relationship, make your VR experience more immersive, or just help you play with yourself on a weekend then definitely get this one for yourself as you are not going to regret your purchase.
Check out the Onyx+ and let us know what you think in the comments below!
If you liked the post, then do not forget to share it on social media!