If you are looking for an amazing addition to VR sex toys for women then the Ohmibod Fuse by KIIROO is the one that you are looking for.
The Ohmibod Fuse is probably one of the most interesting sex toys from KIIROO for women and in a while, you would know the reason as well.
Personally, I do like interactive toys and the Fuse looks like a typical rabbit vibrator that one would use on their lonely nights.
The Fuse can be connected to your phone via Bluetooth so you can control the device through your phone making the experience hands free while you are wearing the Ohmibod Fuse.
There are a lot of things that you can do with the Fuse and one of them being you can pair it up with the Fleshlight Launch and make it a couples toy.
Yes, it would work similar to the Onyx 2 and Pearl, so if you are looking for some quality alone time then do read this complete review on the Ohmibod Fuse.
What do you get inside the box?
The Box comes with an instruction manual, a charger, the device itself and a dust bag. The dust bag comes in handy if you are traveling with this device.
The box that the device comes in is pretty compact and discreet. No one would get to know that you are getting a VR sex toy shipped to your place.
Something that you might want to consider is that you do not get a lube packet or tissues in the box, so make sure you have it beforehand.
Ohmibod Fuse Design
With great packaging, the Fuse comes in with product information printed and guides written in several languages. This includes English, Spanish, German, French, Chinese, etc.
The Fuse is compatible with all Bluetooth devices developed by KIIROO, you can use it with your partner and by yourself as well.
There are a variety of porn videos that you can choose from with the use of the Fuse. aside from it being compatible with VR porn, you can also use encoded 2D videos and the Fuse can synchronize with the video.
It measures 7.1 inches long and a diameter of 1.3 inches. It weighs 131 grams
The rabbit-style sex toy has a monochromatic modern black color for the main body. The curved shaft has two ridges that run smoothly along the body of the shaft which stimulates the G-spot.
You would not have the trouble of controlling the Fuse as it only uses a single button for all modes. It is located at the bottom of the handle.
How does it work?
So, the Ohmibod Fuse is a black device and it comes with a really nice luxurious feel to it. Once you receive the device make sure that you have it completely charged.
The white light glows when the device is completely charged and once it is ready to use, make sure to use a water-based lubricant with it.
The Ohmibod Fuse is a nice luxurious sex toy that would go well with only water-based lubricants. Any other kind can ruin the sex toy in the long run so make sure to only use water-based lube.
Now, the Fuse has three different modes, one being the manual mode, touch-sensitive mode, and Bluetooth mode.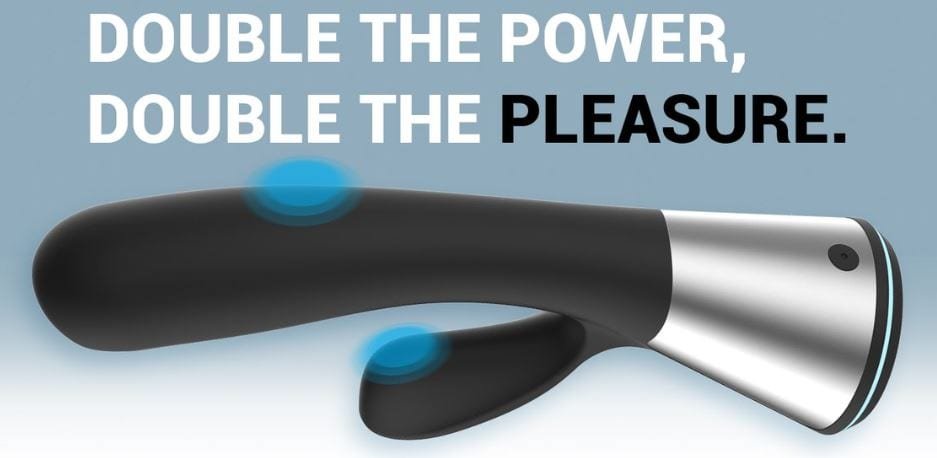 In the manual mode, you can press the button at the bottom of the device and you would be circulated around different patterns and intensities. To control the intensities better make sure you have connected the device to the FeelME app.
Now the next mode is the touch-sensitive mode where when you insert the device inside yourself it would start to vibrate. Basically, when it comes in contact with touch, the device is going to start vibrating.
This mode is pretty good for someone who wants a hands free experience and if you are watching a VR video and do not want to get into the sync feature then you can definitely use this mode and have a hands free immersive experience.
The next comes the Bluetooth mode where you or your partner can control the device from anywhere in the world. You can even use this device in tandem with the Fleshlight launch making it a couples device.
You just need to download the FeelConnect app and you are good to go. It is easy to connect since it automatically launches the Bluetooth mode once you turn it on, you just have to touch the button to change into other modes.
So, if your boyfriend has the Launch then you can get the Fuse and have a nice playtime even when you are in a  long-distance relationship.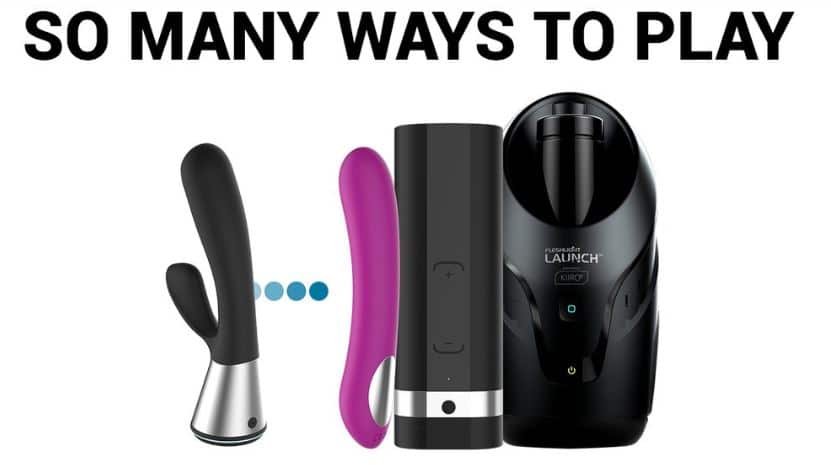 You can even sync the toy with VR videos. Yes, you can watch an adult video in VR and get all the actions that are being performed by the actor in the video to be replicated on the device.
This just makes the entire video immersive, so you get a lot out of the device. I would definitely suggest that you check out the device with a VR video as the experience is amazing.
The Fuse does lack some features that you may find in other sex toys. For example, it does not have the ability to sync with music beats, voice command, and pattern customization so you have to deal with the preset features.
The lack of the mentioned features is not a big deal for most users, however. So you can enjoy as much with the Ohmibod Fuse without asking for more.
What I also liked about this sex toy is that it tells you when you are running out of battery. The LED light flashes red lights to indicate that it has a low battery and needs charging while the white light (with no blinking) indicates that it is fully charged and ready to use.
The 2 hours of pleasure that the battery gives is great for 1-3 uses. I would like it even more if it had a longer capacity so I do not have to charge it every now and then but 2 hours is more than enough for a single session of pleasure.
The LED light also indicates what mode you are in. the light turns deep blue when it is connected with a Bluetooth device and the touch-sensitive mode gives the light pale blue color.
So, overall, there are a lot of ways in which you can use the Fuse.
How does it feel inside?
Honestly, when I inserted this vibrator inside and had it on the automatic mode, it just felt amazing. It was a really nice way to slowly get there and if you are not a fan of Gone in 60 seconds then you definitely need to try this mode.
If you want to come quickly then you can try the other mode where you control the device settings from your phone. But when inserted the device felt amazing.
The touch-sensitive feature of the Fuse really gets you going. When you insert it deeper, the vibration intensifies or depends on the pressure that you apply to it.
The vibration then softens when you slowly pull it out. It is a very teasing device in a way that when you pull it out, it makes you want to come back inside deeper with the softer vibrations.
It is perfect for G spot stimulation and the smaller shaft works really well on the clitoral stimulation giving you a pretty amazing overall experience.
The device is recommended for both beginners and advanced users solely because you can control the power and intensity of the device in a way you like.
The interactive feature of the device is great as well. It lets you feel what your partner is doing and vice versa.
As long as you have a strong WiFi connection, the experience will be as immersive as it can get. You can control your partner's orgasm and they can control yours as well.
It is the perfect device for long-distance relationships that want a closer, more sensual feel of each other.
So what is it really that differs the Ohmibod Fuse from any other female vibrator?
I felt the clitoral stimulator was a little too soft but I was surprised that it was the perfect texture and movement that I needed.
Usually, the clitoral stimulators of other sex toys are either too hard or too soft. As for the Ohmibod Fuse, it does not just bump into the clit as it vibrates with the shaft.
There is also no need for frequently removing the device to change the mode because you can do that with one touch of a button.
The Ohmibod Fuse allows you to continuously feel good by switching the modes without removing the device itself. There are not many devices in the market that allows you to do this.
Once you get familiar with the device, you will notice the changes in the LED indicator to know which mode you are currently on.
Although that would not really matter if you are enjoying yourself already.
Pros of the device
1. The device is really easy to use and setup. Once it arrives, charging it completely takes about 2 hours and it can give you around 2 hours of usage depending on the settings on which you are using the device.
2. It is easy to use and maintain. Once you have read the manual, you are going to navigate through this toy like a breeze.
3. You have an automatic mode that gives you a hands-free experience.
4. You can sync this VR toy with VR videos which is an added bonus for someone who is looking for a VR sex toy.
5. The device is splashproof so you can clean it with lukewarm water.
6. You have some really intense vibrations with the device so when it comes to the patterns and intensities you are not going to be disappointed. Personally, I was pretty impressed with the performance of this device.
7. The Ohmibod Fuse is compatible with both Android and Apple operating systems with the use of Bluetooth.
8. The Ohmibod Fuse is made out of a very smooth material that requires only a small amount of lubricant.
Cons of the device
1. It is not waterproof so you cannot use it in the bathtub. It is just splashproof so be careful and do not drop it in water.
2. It is not too distracting but a little loud for a sex toy with its size.
3. It has a single motor which means that the clitoral vibrations are residuals of the shaft. It would be better if the clitoral vibrations were a little bit stronger since it also has a soft and flexible clitoral stimulator.
Conclusion
So, the Ohmibod Fuse-powered by KIIROO is pretty much an amazing sex toy that you can get for yourself and finally, we have something for women which is as good as Fleshlight Launch for men.
Having the Ohmibod Fuse means that you upgraded your masturbation to another level. You get to involve your partner with pleasure which is a huge plus for people in long-distance relationships.
It is the best and closest thing to having a partner with you even if they are not physically beside you. There are a few flaws such as the clitoral stimulator having a low performance due to the single motor, but it performs well nonetheless.
If you and your partner are looking for a way to enjoy yourself even if you are miles away from each other, then the Ohmibod Fuse together with the Fleshlight Launch is the perfect toy to achieve pleasure.
Personally, this toy is perfect for me because it matches my preferences so it might be a personal standard that this toy has achieved but since it can perform with different modes, I guarantee you that it would not let you down either.
The different modes on the device are amazing and you are going to enjoy using the device in every mode. Honestly, I can get a lot of use from this device alone and it would save a lot of time and money as I would not have to invest in disappointing men.
Things just got better:
Use the coupon code ULTRASEXY to get an extra 10 percent off!!
Yes, sex toys really help you stay away from one night stands or if you are someone who is waiting for the right person to come along and just want to manage till then with some toys then you are going to appreciate the Fuse.
Do check out the Fuse if you want to fill in some excitement into your lonely nights and do let us know what you think in the comments below!
If you have used the Fuse then do share your experiences as it can immensely help our readers!
Liked the post? Do not forget to share it on social media!
RELATED POSTS-
KIIROO Keon Review
KIIROO Keon Vs Titan
KIIROO Titan VR Experience Review
KIIROO Keon Vs KIIROO Onyx +- The Best Male Masturbator for 2022
KIIROO Onyx + Vs KIIROO Titan
KIIROO Onyx+ Review
KIIROO Titan Review- Is it the best device for Interactive VR Porn?