Homdio V2 headset caught my eye as it looks sleek and more like a premium VR headset. The Homdio V2 headset has come a long way after a few updates on the old Homido headset.
Well, Homido is one of the leading VR headset companies that is focusing on accommodating phone of different sizes in its VR headset and removes the exclusivity barrier that is seen with VR headsets like the Samsung Gear VR.
Apparently, with time Daydream VR might be compatible with all android phones but that is a long way to go and till then we have Homido that has been making massive improvements in its VR headsets since the Homido VR Virtual reality headset is way better than the previous Homdio VR headset version.
Let's look into the detailed review of the Homido V2 Virtual Reality Headset Review-
Specifications
FOV: 100 degree
Compatible Phones: Almost all Android and iPhones
Inside the box:
– 1 pair of lenses
– 1 soft carrying case
– 1 strap
– 2 contact foam
– 1 cleaning cloth
– 1 user manual
Impressive changes in the Homido V2 Virtual Reality headset
1. In the previous VR headset, Homido had a pretty average build quality and it looked like a mediocre VR headset but the new Homdio V2 headset has got the premium look and slightly resembles the Gear VR.
You can see a massive change in the design and the overall look of the headset is pretty amazing.
2. Homdio has built the VR headset keeping in mind that it goes well with phones of all screen sizes and hence they have made their lenses adjustable.
You can move the lenses closer or farther away from the phone screen in order to have a better viewing experience.
3. The headset also helps you set the interpupillary distance since different people have different interpupillary distances and once you adjust that it is more comfortable to use the VR headset.
4. The new Homdio VR headset has an action button on the top that would help you to select menu items and even for gaming or using the Google Cardboard apps.
Homido has its own gaming controller which seems pretty dope. Although, I must admit I haven't still tried it I have read some good reviews about it.
So, if you too have tried it then do let me know your experience in the comment section below( I personally use a GameSir G3s gaming controller).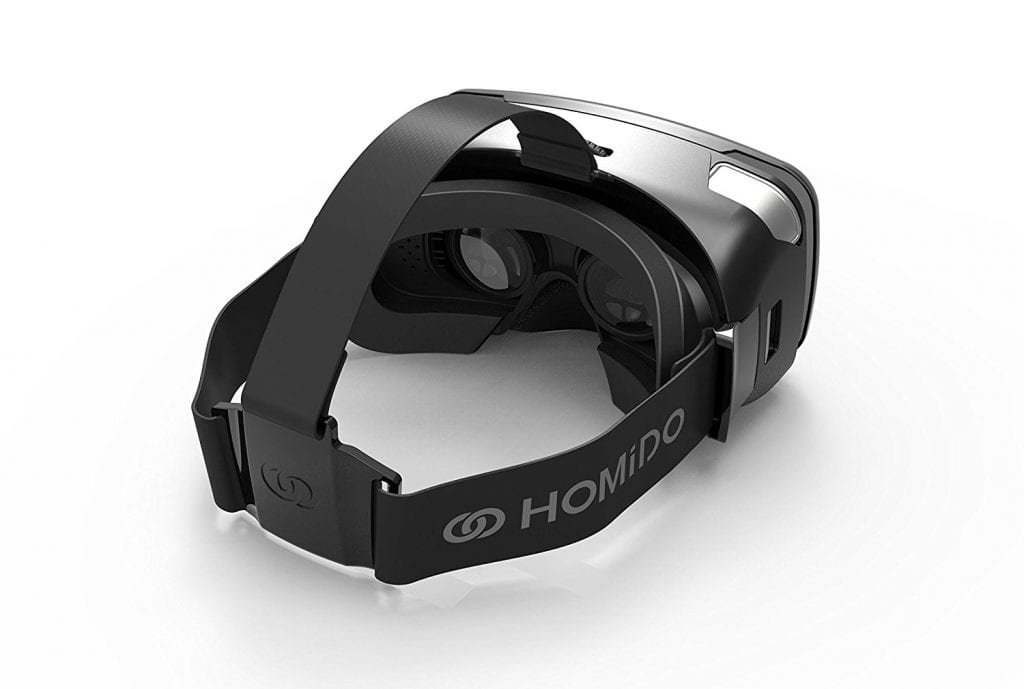 5. The face contact foam is interchangeable and it really blocks out all the light along with cradling the face in a nice manner.
It is one of the best features of the VR headset and it helps you to have an immersive experience without having any unnecessary leakage of light from the corners of the VR headset.
6. You have a slight gap in the headset which helps you slide your charger through it hence making it easier for you to charge the phone while it is still inside the headset.
It even helps you have enough space to push in your wired headphones although using a Bluetooth headphone might not create any such issues.
7. If you wear glasses then you may have to remove them while using the VR headset since it may create problems with most of the wide frame glasses.
However, it really depends on your frame but in most of the cases, you might have to remove your glasses and instead adjust the VR headset lenses to accommodate your eyesight problems.
What I did not like about the Homido V2
1. Many people have received the VR headset with a defective action button, well, I highly suggest that you pair a Bluetooth gaming controller with your phone if that is the case.
Even a cheap Bluetooth controller would work pretty well or even better if you go through my best-recommended controllers.
2. There are a few people complaining about a few defective headsets on Amazon if you think that yours is defective then exchange the product for a new one since there can possibly be some manufacturing defects.
However, this is a real inconvenience but apart from that, the headset is actually amazing if everything works right with your headset.
Gaming on the Homido V2
The gaming content has only increased from the last time that we had reviewed the Homido VR headset.
The official app for Homido has added more games and content which shows that the company is actually serious about growing their VR market and trying to make their apps more user-friendly.
Apart from the games on the official app, there are plenty of other Android apps that you could try with this VR headset.
The Google Cardboard app and games also add on to the list making the list of different types of content really long for this VR headset.
The content seems to be ever growing for the smartphone-based VR headset since new VR apps and games release every day. So, content is no longer an issue with any VR headset as long as you have a Bluetooth controller to play all the games.
Conclusion
From the Homido V2 Virtual Reality headset review, it is easy to conclude that this VR headset is way better than the previous Homido VR headset which was just another smartphone-based VR headset.
It is way more comfortable and you could wear it for longer periods of time making it the best choice for gaming.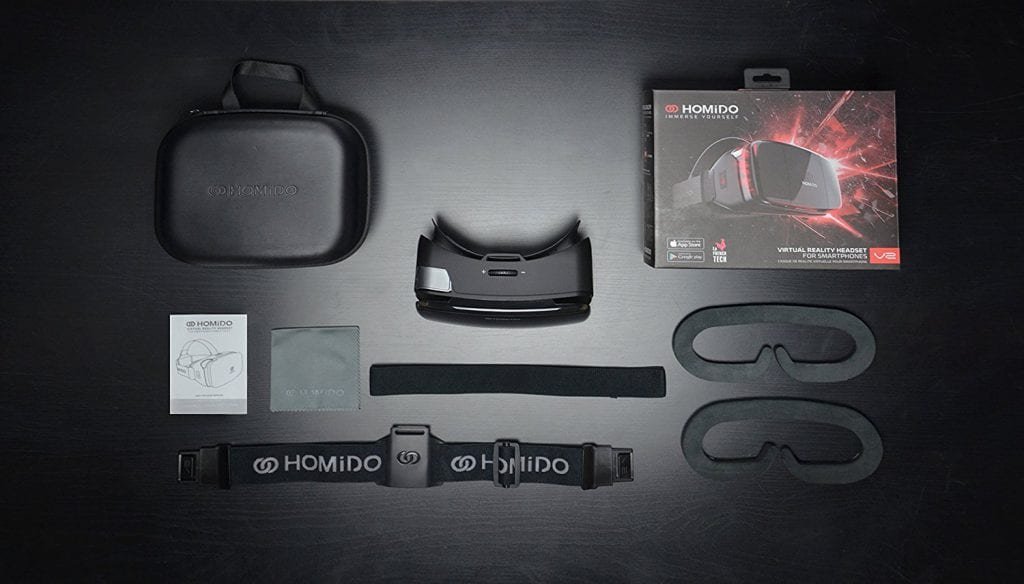 This VR headset is really comfortable and does offer an immersive experience for anyone that is looking for a VR headset in this range.
Although you might find the Samsung Gear VR slightly cheaper, this VR headset is more compatible with phones of different companies and sizes making it a slightly better option.
However, the limelight might be stolen from Homido V2 Virtual reality headset once Daydream VR headset comes out as being compatible with a majority of the Android phones.
Is it worth the money? Not really. If the action button works well in your headset, then yes, otherwise you need to invest in a controller which are additional costs.
For all readers in Europe, you could check out the official Homido website to buy the product.
I would still find the Merge VR a slightly better option since it is cheaper and does leave you some money to buy off a controller. Check out the different colors in which the Merge VR is available.
If you have any other questions let me know in the comment section below.