Homido is a Sino-French venture which introduced its VR headset with the intention to turn your smartphone into an ultimate VR device. Homido VR headset has created a buzz in the VR market as it caters to iPhones and almost all Android phones. It is interesting how they have looked into the details of this product rather than just creating a Cardboard look alike and putting it in front of the consumers. So, without any further ado, let's get into a detailed Homdio VR headset review.
You can check out the new updated version of the Homdio VR headset which is Homido V2 here.
All about the Homido VR headset
Item Weight: 1.4 pounds
Amazon Ratings: 3.3/5 (99 customer reviews)
Current Price: View price here
1. The headset like any other VR device has straps that help in positioning the headset onto your face making it comfortable to wear.It further has straps which go over the top of your head to further distribute the weight evenly.
2. Coming to the overall look, it is sleek and looks great with the red detailing. It is made up of a good quality plastic material and has a really interesting overall design.
3. The manufacturer did provide vents on top of the VR headset so that there wouldn't be any fogging inside the headset due to prolonged usage(Hacks to overcome Overheating issues).
4. When it comes to pixelation, that is something which is inevitable in most of the VR headsets and in the case of a mobile VR headset it majorly depends on the resolution of your phone.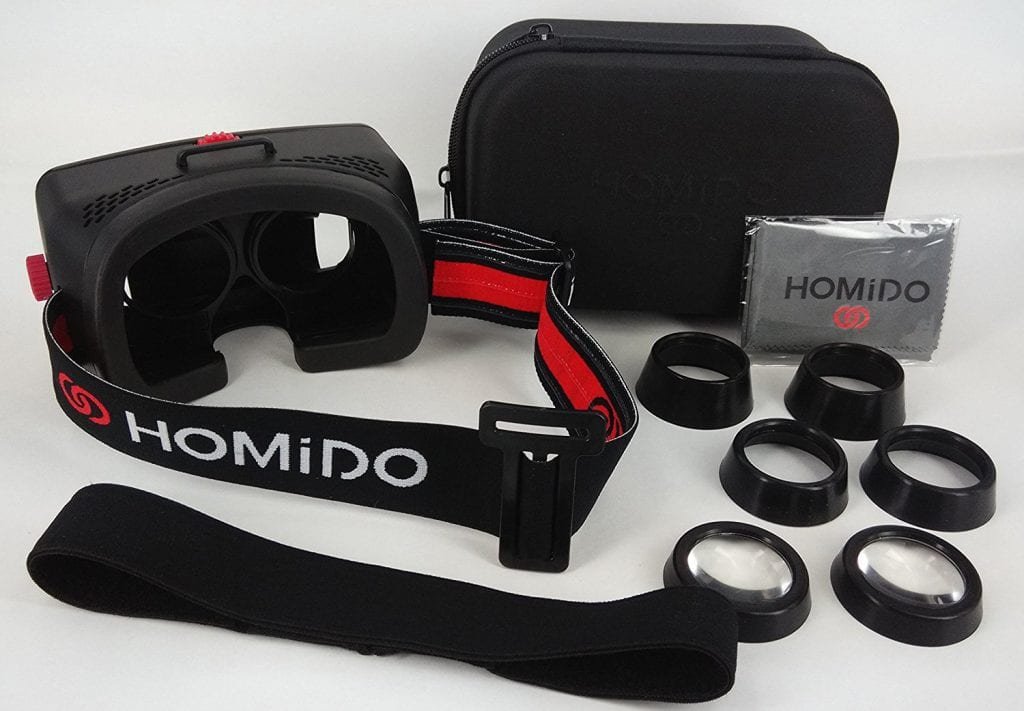 5. The manufacturer does offer a 100-degree field of view which is pretty good for a VR headset of that range and makes it look good in front of the Noon VR.
6. All you need is to have a phone whose screen size is between 4-6 inches and it would perfectly go with the headset. However, a few people did complain that they faced some issues when the screen was larger than 5.5 inches. Apparently having the correct orientation of the phone became a problem with phones having screen sizes more than 5.5 inches.
7. Personally,  I'm not a big fan of the way you insert the phone since it does make you uncertain of which way to keep your phone screen so that the lens could focus on it. I mean, the exact position is very quizzical to figure out. There are chances that your phone might get scratches in the process of inserting it into the slot.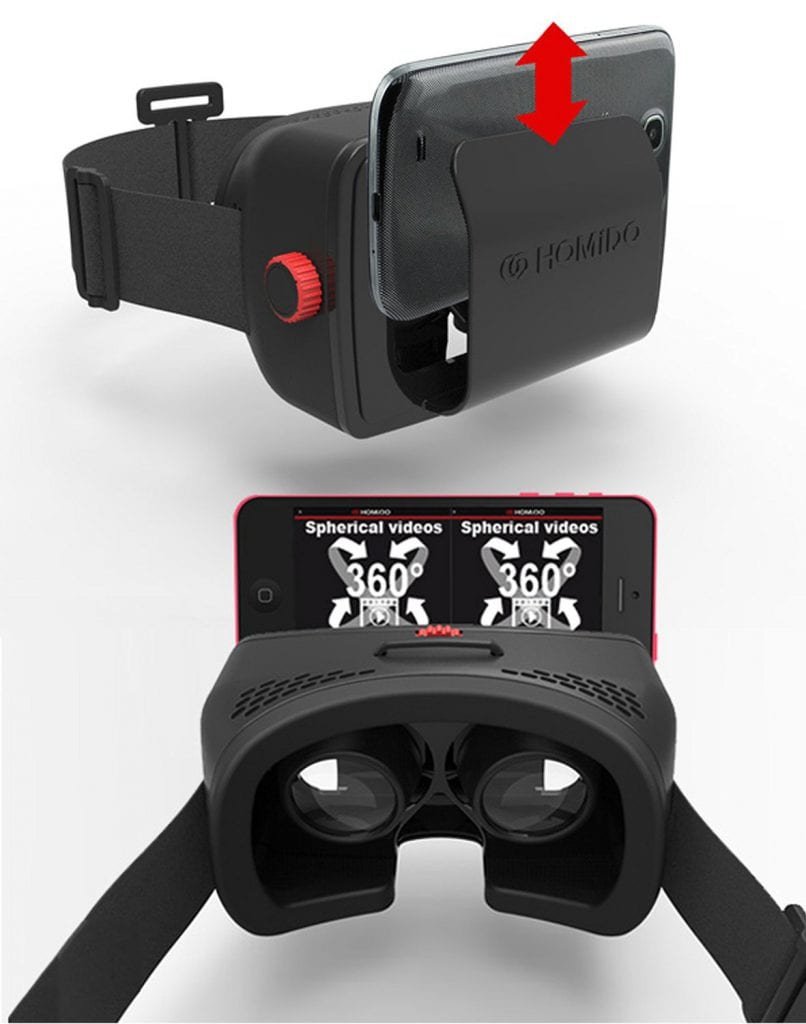 8. Moving to lenses, they do provide you with lenses for people who have farsightedness and nearsightedness along with the focal adjusters, so they did put some mind in solving that issue, and they do come with adjusters on top of the headset which could help you adjust the lenses according to your needs.
Games on the Homido VR
You could stream a lot of videos and play a couple of games but I must say there isn't a lot of interesting content and if you are a hardcore gamer this can be a pretty boring buy(I might be comparing it to the PC VR headsets here otherwise I think the games are pretty okay while compared to the mobile VR headsets).
On the positive side, it does have a few games which might get you interested in the entire VR concept as it is a much better improvement on the Google cardboard.
More importantly, it needs a Bluetooth gamepad which needs to be bought separately. You might need to adjust the smartphone well in the slot so that you do not see the edges of the phone.There are various games that the Homido offers which even includes streaming your PC games on your headset.
Homido updates its app every week with new content and that is impressive. The VR apps these days need more content and better games in order to make the  VR experience much better.
Can I stream PC games to my Homido VR headset?
Yes! You can now stream PC games to your Homido VR headset, but before that make sure you meet the following requirements.
Required hardware:
Nvidia video card, Kepler generation or better (above 650GTX)
Wifi N or AC router using the 5GHz band
A smartphone running Android 4.2 or later, and in any case equipped with at least a dual-core processor clocked at least at 1.2GHz
Homido VR headset
Required software (PC):
GeForce experience
Latest Nvidia drivers
Tridef 3D
Trinus server
Required software (smartphone):
Even though this is one of the great features that this headset provides, I really do not think the experience will be that immersive because there will be a lot of lag due to the low refresh rates.The PC VR headsets have been struggling to avoid the lag feature for a really long time and have succeeded as well, apart from them, I do not see any other headset doing well on that front.
For the detailed procedure to connect your Homido VR headset with your PC, visit this page on the Homido website.
Who is the Homido VR for?
Well, it is worth the buy if you focus on the fact that it has a lot of options when it comes to compatibility.It is compatible with your Android phones,iPhones and you can even stream PC games on it.But the headset does lack in providing an immersive experience.
If you are too ambitious and want a really awesome high-end experience on your phone then you must go for the Samsung Gear VR, however, the limitation of Gear VR is that you need to have a Samsung Phone. From the Homido VR headset review, it is pretty evident that the Homido VR headset is relatively a cheaper alternative to the premium quality VR headsets like the Merge VR and the Freefly VR.
For a high-end VR experience in PC games, you have to go for the top contenders of the Virtual Reality headsets which are
Oculus Rift
, 
Project Morpheus
, and
Vive
.
Will I buy the Homido VR headset?
For the price I find it on amazon i.e. $39, I think it is worth a buy if you new to the VR world, it is definitely a big upgrade from the Google cardboard and does give you a feel of the top notch VR headsets in the market. However, I would also suggest not to expect an extremely high-end quality immersive experience, I would rather suggest you go for the Gear VR or maybe even Merge VR. After the massive price drop in the Gear VR, I think it is a way better option than any other smartphone VR headset. Do check it out and leave your comments on how you like the product.


Have a Samsung phone? Then, have a look at my take on the Samsung Gear VR.
Did the Homido VR headset review help you?
If it did, then do not forget to share it on social media!