Freefly VR headset has been popular among consumers even after having one or two minor setbacks. I was initially skeptical about this VR headset being any good in comparison to the Samsung Gear VR but after a lot of observation and research on it, I have finally come up with a detailed Freefly VR headset review. Without any further ado, let's get started:
Specifications:
FOV: 120 degrees
Phone screen size: 4.7-6 inches
Phone compatibility: It is compatible with any phone having Gyro and with a screen size varying between 4.7-6 inches.
Warranty: 1-year warranty
Best Buy: www.amazon.com
What I liked about the headset
1. It does have a nice cushioning and the nose area where most Chinese headsets offer discomfort, well in this one it is pretty good and you won't hurt your nose which is a common occurrence with the Chinese headsets.
2. The phone needs to be inserted in the headset by pushing a button which releases the wings and pulling the front latch down that opens up the cover of the headset.Phones of sizes from 4.7 to 5.7 inches can easily fit in the headset.
3. The field of view here is promised to be 120 degrees and when used practically it provides a slightly lower field of view that the Samsung Gear VR. Even then, it is not a deal breaker as it does give an immersive experience.
4. It does have lenses of focal length 42 mm and they are good quality lenses and there is nothing inferior when it comes to the quality of the lenses.
5. The weight of this headset is kind of closer to the face and hence making it much more comfortable to wear for longer period of times.The overall weight of the headset is less than the Samsung Gear VR and it is more comfortable to use.
6. The Freefly VR is compatible with both android and iPhones, and all you need to do is download content from the Freefly website to get started with the VR experience.
7. It does come with a nice little Bluetooth controller and it is useful for navigation or while playing games.This inclusion of the controller can let you play games from other VR apps as well and increasing the overall content available on this headset.
What I did not like about the product
1. It fogs up pretty quick, this maybe because of the design of the VR headset or any other issue but it does fog up very soon. However, I have discovered a few hacks to combat this problem(click here), so that makes this issue not a major pitfall for the Freefly VR.
2. There are no individual adjusters to adjust the interpupillary(eye gap) distance as you can in the other VR headsets. Although you can slide the viewing chamber to make a few adjustments.
Content on the Freefly VR
The content for the Freefly VR is really great, I think it comes next after the Merge VR where you can find so much of good and original content for both the android phones and iPhones.
Initially, I was  a little skeptical about the Freefly VR headset but going through the various VR content that it has to offer, I'm pretty sure anyone would feel tempted to try on this VR headset.`
It has a great collection of 360 videos, games compatible with android and iPhone and you can even play Google Cardboard games on it, with the help of the Bluetooth controller.`
A few of the experiences and games that are offered by the Freefly VR include: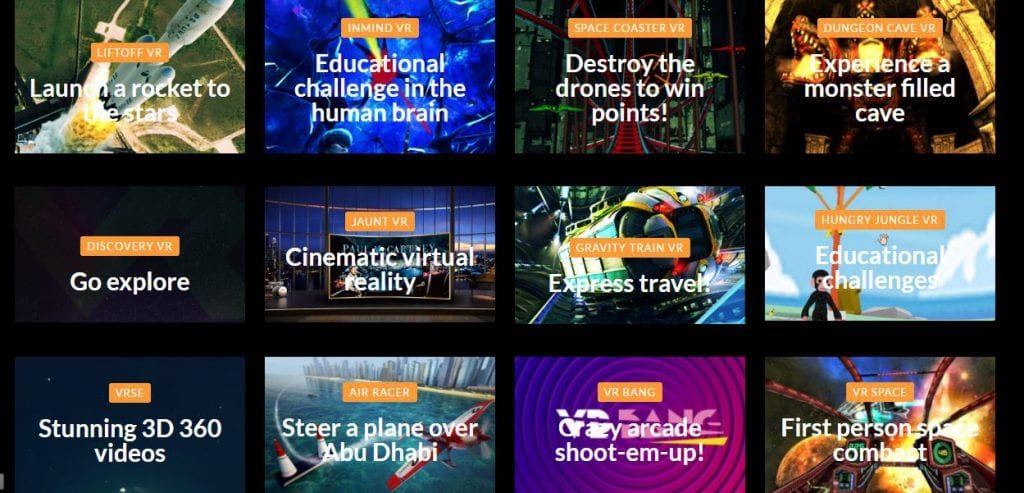 `Though it does not have a magnetic trigger for the cardboard app, most of the games can be played using the Bluetooth controller which comes along with the headset. There are tons of great content that are compatible with the Google Cardboard and can be used along with other VR headsets as well.
This gives every VR headset owner more content to use with their respective VR headsets. There have been a few issues with the controller that comes along with the Freefly VR headset, so you better have a Bluetooth controller that pairs well with your phone or you could choose one from the recommendations we have for the Best controller for Samsung Gear VR.
Guide to setup the FreeflyVR
This video provides detailed steps on how you can use the Freefly VR and how you need to position your phone and other specs. They also mention the various apps that can be used with android and iPhones which will give you more insight on what exactly the Freefly VR headset has to offer.
Freefly VR remote not Working?
This is a problem that I have been seeing on a few Reddit forums, however, the glide controller that comes along with the Freefly VR headset seems to work pretty fine in most of the cases but there have been a few controllers that do not work at all! In such a case you either exchange the VR headset for a brand new one or if you have any Bluetooth controller try using it.
The headset would be no good without a great controller so it is really important that the glide controller that you get along with your Freefly VR headset works without any issues. I have a Bluetooth controller just in case things go wrong but they did not in the case of Freefly VR.
There have been a few users complaining about the glide controller and that is the reason I thought it is important to let you guys know that they are very random and in the case, you get a defective controller then feel free to get the VR headset exchanged for a brand new one.
It does come with a warranty so there is no reason that you should not trust the quality of the VR headset. This is one of the VR headsets that I would highly recommend to anyone who is interested in gettting a great quality VR experience.
Conclusion
The Freefly VR headset is definitely better than the basic Chinese VR headsets and actually does way better than them too. From this detailed Freefly VR headset review, you may have gotten an idea of all the minor setbacks that you could possibly face after getting this VR headset for yourself.
I had my initial favorites as the Merge VR and the Gear VR but if these two options do not convince you then the Freefly VR might be your next stop. I really liked this headset for the field of view and at times a few apps were really immersive. It is a good buy for the price you pay.
Comparing it with the Noon VR, I think the Noon VR might feel more of a premium quality headset but just because of lack of content the Freefly VR headset is much better than the Noon VR. Freefly VR has many plus points and is definitely going to be one of my Top 5 VR headsets for iPhones.
DO check it out on amazon and let me know how you like it, for further questions leave it in the comment section below and I would be happy to help.
Have you tried the Freefly VR headset yet? 
Let us know your experiences in the comment section below!