If you like watching VR Porn then Badoink VR Review is going to help you understand if this VR Porn website is worth the money or not.
If you are still wondering how this website compares with the other VR porn sites then go ahead and read this detailed review on Badoink VR.
BadoinkVR is probably the first VR Porn website that I paid for when and till today I like its membership. 
They keep adding new videos and the quality of the videos overall is excellent.
Let's get into a detailed BadoinkVR review-
About Badoink VR
BadoinkVR is one of the earliest VR porn sites and it was established in the year 2006.
The VR site is known for some really good products along with colorful high-quality sets and beautiful porn stars.
The site later partnered with Pornhub in the year 2016.

The site Badoink VR is one of the best sites if you want to get started on Adult VR content.
They provide you with a trial membership that gives you a free tour which is good to get to know if you want to go ahead and get a monthly or yearly premium with these guys.
You can get full access to the videos once you pay for the monthly membership as the trial offers only last a few days. They do have a special offer during black Friday.
They add new VR porn movies on a weekly basis and you can use their free VR player to watch movies on PlayStation VR, oculus quest 2 or oculus go.
Initially, when this website was launched they even gave our mobile phone VR headset which was a free Google Cardboard headset but I do not think they do that anymore.
You have some free video which is a sample or a short description of the full VR porn movie that you can watch only after you sign up.
I have always liked the site as they have the best support team, so in any case, you have issues they get back to your questions within a few hours.
The entire team is kind unlike a few other premium VR sites out there who do not care to reply to your emails regardless of your problems.
We have always recommended this website and till date could not find any major complaints or problems.
So, till date, this has been one of the best sites when it comes to quality and value for money.
Value for Money
The subscription scheme of the website is as follows-
1. One month – $24.95
2. One-year subscription– $90
If you are just getting started and want to see the insides of the site and know if it is worth the money or not then you should definitely get started with the trial membership for $1.
The site also offers to send a basic Google Cardboard VR headset for FREE for US users so you should definitely avail of this offer if interested.
Apart from the basic trial membership, the quality of the videos is so good that you are definitely going to go monthly in case you want new adult VR content all the time.
The site uploads new videos every week and once you sign up for the premium membership, you can also check out the Cosplay VR which is amazing all with the 18VR.
Wait a bit, you can also browse high-resolution VR Porn videos from other sites that Badoink VR has networked with, and trust me that means access to thousands of videos in different niches from different sites.
You are getting all of this for just $24.95 which is pretty amazing.
If you are skeptical, you can always check out the trial membership and then go monthly if you like the site.
The yearly membership also saves you a lot as you are just paying less than four months of the monthly membership.
To be accurate, you would be paying $0.25 per day if you go with their yearly, and in my opinion, that is not bad for a premium website.
Especially when you know you have stars like Jill Kassidy, Adriana Chechik, Anita bellini, Brett Rossi, Aletta Ocean, and hot girls with big tits giving you the perfect porn experience.
These models have the highest quality exclusive content only on Badoink VR that gives you the best VR porn experience and the whole website has a great user experience making you want to take out your credit card immedietly.
BadoinkVR is a great option and it is one of the top sites in the adult industry with the best new scenes every week and compatible with most VR devices and has a great reputation amongst viewers.
If you are into big ass then you have exclusive models that make Badoink VR's site colorful and probably it has a different VR porn niche that promises you the best virtual reality sex and virtual experiences that you can get in the VR space.
The website also has theater mode and vr cosplay x videos and the list of videos and new content every week just keeps increasing. You have to know that the files can be huge and you might need a hard drive with a lot of storage space.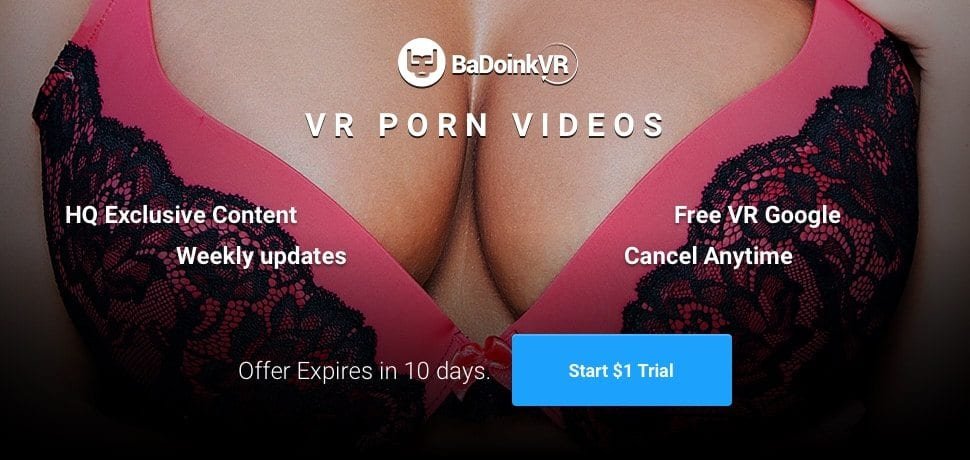 Quality of the videos
This would not be a BadoinkVR review if we do not discuss the top-notch quality of VR Porn videos that we get to see on BaodinkVR.
Some of the best VR porn videos to date are from BaodinkVR. In the case you have any doubts, you can check that yourself by heading over to their site or by getting started with the trial membership.
The production quality and direction are amazing and when viewed from a VR headset, it looks like the actions are being performed on you.
This is the most immersive any adult VR immersive experience can get. Another great feature about videos from BadoinkVR is that they have excellent zoom-in quality and have high-quality VR movies.
You can easily zoom in and view the video without the images getting too blurry.
The models in the videos are better than the ones you would find on the FREE VR adult sites. 
Not saying anyone is bad, but it is just that you can see a difference in the performance and if you are not impressed with the quality of content on a FREE site then you might try to sign up for this site here.
Compatibility
You can use this site with probably any VR headset that you can think of at the back of your head. A few of them are-
1. Oculus Quest 2
One of the best experiences of watching VR Porn from BadoinkVR is watching it on an Oculus Quest 2.
This wire-free VR headset has amplified the fun that one can have while watching VR Porn. Since your hands are free you can move them around and please yourself as you like while watching the content.
You can move around while watching some high-resolution VR porn videos making this headset the best choice to watch VR Porn.
If you know how to watch porn on Oculus Quest 2 then you should definitely get the BadoinkVR membership.
2. Daydream VR
Daydream VR headset is a premium VR headset that was released alongside the Google Pixel. In the case you own a Daydream VR then you should check out the post on How to watch Porn on Google Daydream VR for more detailed and well-explained steps.
Daydream VR is definitely one of the best VR headsets that we have out there and in the case you are planning to get one then do read more on the Daydream VR Review.
3. Samsung Gear VR
Gear VR is one of the best VR headsets out there and if you already have one then you can easily use it to watch VR content on BadoinkVR as the website is compatible with this VR headset as well. You need to choose the right format while downloading the video and you are good to go.
In the case, you want a detailed explanation of how to watch the videos then check out the post on how to watch porn on Gear VR. 
4. Oculus Rift S
Oculus Rift S is a PC VR Headset and if you own one then you should go premium with BadoinkVR as it works best with both the Rift and the Vive. 
You can find the detailed explanation on How to watch porn on Oculus Rift S and the overall resolution of the headset and the resolution of the videos from BadoinkVR just compliment the way they should.
Using Oculus Rift S headset to watch porn makes it the second-best after the Oculus Quest 2.
In the case you want to get a new Oculus Rift headset then you can read the Oculus Rift review.
5. HTC Vive
Another PC VR headset is the Vive, although there are attempts at making it wireless, the Vive is probably the best premium VR headset we currently have out there. In case you are wondering, yes it is compatible with Badoink VR and you can read the detailed steps on the post How to watch Porn on HTC Vive.
In the case you have any further questions, you can leave them in the comments down below.
Who is the Badoink VR for?
If you are looking for a great premium-quality site with the best models and amazing zoom-in quality, then this site is worth joining.
It is more like the other premium VR sites but with 100 times better video quality. Along with the VR videos you also get to browse normal 2D videos from the network sites of BadoinkVR.
It is probably a site with the best deals and special offers, so if you want to get started with BadoinkVR, head over to their site.
I have considered BadoinkVR to be one of the best VR porn sites and if you are looking for a final verdict in this BadoinkVR Review, then I would say go for the website.
You are not going to regret your premium membership as the website has some of the best VR porn videos.
If you use have any information to share then leave it in the comments down below!
Like the post? Share it!
RELATED POSTS-
Best VR Headsets for VirtualRealPorn 8K Videos
Why VirtualRealPorn Is The Best VRPorn Website
VirtualRealPorn Review -Best 8K Resolution Videos
Best VR Porn Sites For 8K Videos
Is VirtualRealPorn 8k Resolution Videos Worth It?
VRPorn.com Review- Most affordable Premium Website?