Gear VR porn is something that was interesting when the Samsung Gear VR released and it continues to be interesting even now.
The VR porn experience seems to just get better with the updates and enhanced features in the Gear VR.
When the VR headsets were released, many of us were interested in how things would change in terms of watching porn in VR.
To be honest, it is an amazing experience if you have the right VR headset and a premium membership to one of the best VR porn sites.
To answer the question of how to watch porn on Gear VR, I have to say with the room locked.
But otherwise, if you have been looking for the best way to watch adult content on the best premium sites then this post is definitely a must read.
How to watch Porn with Gear VR?
The Basic requirements in order to get started with watching your videos are-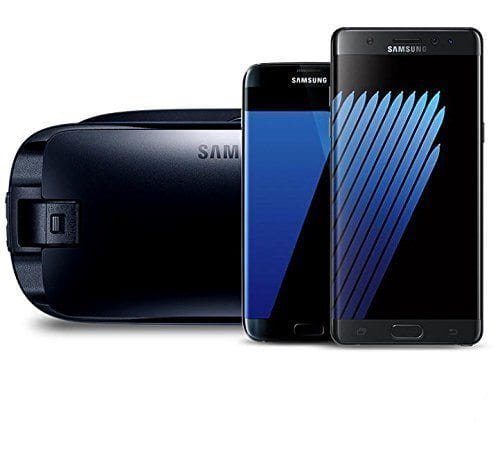 1.  Gear VR compatible phone- Samsung Galaxy Note 4, Galaxy Note5, Galaxy S6 edge+, Galaxy S6 and Galaxy S6 Edge, Galaxy S7 and Galaxy S7 Edge, Galaxy S8
2. VR Headset- Samsung Gear VR (check out the different versions here- Gear VR 2015 release, Gear VR 2016 release, Gear VR 2017 release)
3. Internet connection for downloading and running the app
The new Gear VR comes with its own dedicated controller which is way better to use while watching adult VR content. Using the trackpad on the headset was a little annoying while watching porn and hence we are glad that the controller lets us control the Gear VR with just one hand.
If you do not have any of the Gear VR compatible phones then you can get the Daydream VR or the Homido V2 VR headset and read the related posts with these headsets. There is a post discussing how you can watch porn on Daydream VR and how you can watch VR porn with any android device.
Streaming the videos on your Phone
This is a method I usually like to avoid because it is a bummer when you have a slow internet connection. The quality goes down when the internet connection is not that great which makes the VR experience- not so immersive.
However, if you are interested in streaming the adult content on your phones as this is pretty quick and requires less time then you can definitely do it by following the steps given below.
1. Go to Oculus Store and install the Samsung Internet.
2. Once you are done with that, you can enter the URL of the site and start with online streaming of adult videos. Usually, I do not prefer this method as it can waste a lot of your time while you wait for the video to load.
As we all know the battery life of Samsung phones is something we definitely need to consider, I think it would be way better to download videos on your phone or PC(transfer it to the phone) and then watch it on Gear VR.
In the next sections, we are going to discuss how you can watch porn using the media players of the best porn sites which are going to give you the best immersive VR experience.
 How to watch VirtualRealPorn Videos on Gear VR
1. Install Sideload VR for Gear VR

2. Now install the VirtualRealPlayer inside the sideload VR app
3. Now, all you need to do now is insert your phone into the Gear VR to watch these videos with the help of the VirtualRealPlayer.
4. Make sure that your videos are high-resolution videos which would help you avoid blurry images. You can even download the files and place them in VirtualRealPlayer folder and view them with your Gear VR headset.
This was on how you can watch adult videos from VirtualRealPorn website which is a pretty amazing VR porn website.
The reason I would prefer VirtualRealPorn over any other VR adult website is that they have way more affordable memberships and better quality videos. You can choose to pay as less as $7 per month if you go for the yearly membership.
This is way less than any other premium VR website and the library of this website is pretty huge in comparison to others as well. They even have a pretty good zoom in quality and stay updated on all the new releases and features.
 How to watch BadoinkVR Videos on Gear VR
Below are the steps if you wish to watch videos from Badoink VR.
1. Install the Gear VR environment on your phone and make sure that you have updated the firmware.
2. Download the Samsung VR player. The Samsung VR Player is available in specific countries hence you might need a VPN connection. You can use apps like Hola VPN which I have personally used in order to mask your location on the app.
3. Now, go ahead and download the Samsung VR video player that can play 360° and 180° videos.
4. Go to Badoink VR site on your PC and download any video you like, make sure to select the GearVR HQ format from the drop-down menu while downloading the video as that is the format compatible with the Gear VR.
5. Now connect your phone to the PC and transfer the videos to the \MilkVR folder that is located in the memory of the phone. If the folder does not exist then you can create one and then start storing videos inside it.
6. In the case, you get any notification to convert the video then skip it and click just copy.
7. Launch the video by going to the Sideload tab in the Samsung VR player's navigation menu.
 Watch them using Oculus 360 Video app
1. Download the videos in high resolution from the internet or transfer them from your PC.
2. Make sure the videos are stored in the SD card or Oculus 360 videos folder and then go ahead and watch your videos.
Samsung VR
Watching them with the Samsung VR is another easy way that you can enjoy your adult content, the steps involved are-
1. Download the videos and make sure they are in the Downloaded section to browse.
2. Put on the Gear VR headset and watch your videos by going to the section Device >> Videos.
3. Enjoy your VR content.
The new Samsung Gear VR 2017 has an updated software where you can browse the internet while wearing the VR headset. This sure must help you go to adult entertainment sites with ease and there are a couple of them which are Gear VR compatible.
However, PornHub has been one of the best sites we have for adult content but when it comes to VR most of the sites provide really low-resolution videos and they are not really worth the VR experience. Paysites like BadoinkVR, do have a monthly membership or so but they do offer high-resolution videos which are perfect for VR.
Things you need to make your VR adult experience immersive
1. Getting a premium membership
This might sound like you need to spend some money but it is totally worth it. If you are looking for a nice VR experience then it is really important that you go for premium sites.
Honestly, the membership does not cost much and the quality of porn is taken to a whole new level.
The entire time you would feel like you are in the video while you have your headset on.
If you want to get videos of the best models in the industry then BadoinkVR is definitely the best sites that you could go for. The site has some high-resolution videos and provides a lifelike experience, something that is worth paying.
It has some amazing detailing when it comes to their videos and has several categories including cosplay.
The media player on the site is one of the best and makes watching adult content really easy on any VR headset.
Another website that we can easily recommend is the VirtualRealPorn. This website has a huge variety of content and an excellent zoom in quality.
The library of VRP is so huge that you can find Gay VR Porn, Milf Videos and VR videos from the women's point of view which is really rare in any of the other new VR adult websites.
Something that I personally love about VirtualRealPorn is that the membership is pretty affordable and to be honest, it is the cheapest and at the same time has the largest VR library for adult content.

So, if you want to get videos of the best models in the industry then BadoinkVR is definitely the best sites that you could go for.
It has some amazing detailing when it comes to their videos and has several categories including cosplay. The media player on the site is one of the best and makes watching adult content really easy on any VR headset.
Another reason why I would recommend joining a paysite is the quality of the videos in VR. It is extremely important to have a high-quality video as the zoom in image quality is not good on all the adult sites.
Free sites just don't give you the same quality and that is a bummer!
2. Getting yourself those VR Sex toys
There is a whole bunch of Sex toys that you can use with your VR videos and they are just going to make your experience more immersive and realistic.
There are many users who have claimed that when they watched VR porn with some sex toy in sync with the videos, the experience was much better than real sex. It felt freakishly real and the experience can be compared to real sex.
There is a lot we talk about these VR sex toys in one of our VR porn accessories post. So, if you are interested then you can read the entire post, however, to save you some time, our top suggestions would be the Fleshlight Launch and the KIIROO Onyx 2.
These VR porn accessories are the best and you can head over to the VirtualRealPorn website to see how you can sync them with the VR porn videos available on that website.
The toys work in complete sync with the actions of the performers in the video which definitely makes it feel like you are a part of the video.
3. Using the right headphones for immersion
Use the best headphone if you want to have an immersive experience in VR. Usually, the situation can get a little tangled due to the cord on your headphones but once you have your set up done right, you won't feel irritated and it.
The reason we would recommend wired headphones is due to the battery life on a Samsung phone. We all know the battery life doesn't last long. We all know that the limited hours of battery life is such a pain when you are playing games or watching videos.
So, always choose a nice and comfortable over-ear headphone that has a good bass so that you get a good immersive experience out of your Gear VR headset.
4. Use cooling pads if needed
Once you put your phone inside the Gear VR headset, it is like a ticking bomb. The overheating issue has driven many users crazy and one of the best ways to overcome this issue would be to use the cooling pads.
There was an option of using a cooling fan but that works with the older versions of the Gear VR. Using the cooling pad is the best alternative for the new Gear VR as they are light in weight hence not adding any additional weight and easy to use.
The newer version of Gear VR has another advantage and that is better ventilation. However, we still feel you might want to use the cooling pads and they are damn cheap on Amazon.
5. Use a controller
The newer version of the Gear VR has a controller and that makes it really easy to navigate. However, if you are using the older version of the Gear VR, you might want to choose a nice Bluetooth controller with your phone.
Imagine having you touch the controls on the VR headset while your other hand is busy. It does get a little tricky and therefore you need a controller. The new latest version of the Gear VR has a controller which can be used by one hand making it ideal for watching porn.
In a way, the newer version of Gear VR much better as you do not need to use a Bluetooth connection for the controller which drains the battery even though it does help to have better control in the VR world.
A few takeaway points…
• Make sure you have read this guide and keep it open in a tab while you are accessing porn so that it would be easier to navigate between different files and folders.
• Lock your room. Yes, if you are wearing a VR headset, you would not be able to see if anyone enters the room, so even if you are home alone, it is always better to lock it so that you are not greeted with any surprises.
• Turn off your message notifications, or make sure you do not have to take up any calls from work as it is not going to feel great picking up a call from work when one of your hands is busy.
• Get a premium membership, it might cost you initially but you are going to pay less than $1 per day if you subscribe for a monthly membership in sites like BadoinkVR which is probably one of the best VR sites.
If you are just starting out in VR, they also send a free Google Cardboard headset to specific countries.
Let us know how you access VR adult content on your Gear VR. If you have any tips that would help the readers then leave them in the comments down below!
If you liked the post share it on social media!
RELATED POSTS:
1. How to watch Porn on Oculus Rift
2. How to watch Porn on HTC Vive
3. How to watch Porn on PlayStation VR