VR adult games and VR Porn are two niches that are a lot in demand and we totally understand the hype. I mean adult content is fun in 2D but in VR it also gets interactive.
If you want to enjoy VR adult content then that is a totally different niche to look at but then there are VR adult games that are no less than the VR adult content.
Honestly, I do feel that the VR adult games are way better than the adult content as they come with an interesting storyline and some realistic graphics.
Especially VR Hentai Games have taken the whole experience to a new level. Well, Japanese are known to take Porn to another level and they have done the same with VR Hentai Game.
In this post, we are going to list so many amazing VR adult games that you are definitely going to find a game that you like.
There are a few games that you can play from SteamVR and then there are a couple of games that we found out on other websites that you can browse as well.
So, if you want a detailed post on all the adult games that you can play on your Vive, Rift and PS VR, then do read this post.
P.S. You can play these games on Windows Mixed Reality headsets as well and even Oculus Go. For Oculus Go do read our tutorial on how to play adult games on Oculus Go for step by step instructions.
Best VR Adult Games
1. Fallen Doll VR
Fallen Doll VR is a game where you would be witnessing the grand opening of an erotic nightclub. You would be interacting with a female character called Ericka who is going to help you make all your dreams come true.
The game has a lot of nudity so make sure that you are above 18 if you wish you play this game(This applies to all the games in the list).
You can do whatever you choose to with Ericka, in any position that you like and if this doesn't make you love VR we do not know what will.
The graphics of this game looks pretty realistic and it has some really good audio quality as well. The interaction feels realistic making the game very engaging.
The game can easily take you to the nightclub environment and you are going to love the entire gameplay in VR. The game is on Patreon and depending on your donation you get different packages.
They even have an option where you can just play the trailer to see if the game works well with your PC, so make sure to do that before you buy the entire game.
2. Love F*ck!
Love F*ck is a series of games revolving around a school girl. She has been one bad girl and you are going to find different ways in which you are going to be 'Punish' her.
So, you are "punishing' a school girl and while you are at it you would be making it all sexual, playful and using different sex toys.
There are different scenes and camera angles that you get to choose from. Moreover, you can even zoom in and that makes the game more addictive.
The graphics and the sound quality of the game are amazing as well making it a very realistic experience.
The series has so many chapters in this game so you can spend your entire weekend playing them without giving you VR headset a rest.
I would highly recommend this game to anyone who likes Hentai and I'm pretty sure you would end up buying all the games in the series as it is really addictive.
3. Mandy's Room VR
Mandy' Room is all about this girl MAndy who stays in her room most of the time and loves to spend her time playing, dancing and doing other fun activities.
You are going to be Mandy's Diary in the game and you would know all her secrets including what she likes to do in her alone time and how she likes it being done to her.
Interacting with the character is pretty interesting and you get to do different things to Mandy which is fun.
Overall, the game is fun to play and if you were looking for something similar then you should check out the game below and let us know what you think in the comment below.
4. Elven Love: Naughty Rituals
If you want a mix of magic and puzzles then Elven love is the perfect game for you. You are going to be surrounded by beautiful elves and they are going to make you feel things for them.
The detailing in the game makes it look so realistic that you are going to instantly fall in love with everything.  You are going to be fulfilling some rituals with the passionate lovemaking and much more.
There is some puzzle solving as well that keeps you engaged in the game. Basically, if you want to see the elves nude then you have to solve the puzzle so that you can unlock and complete more sexual rituals.
Overall, this is an adventure game with a little bit of nudity. You are going to be casting magic spells with your wands and trying to understand the world of Wood and Moon Elves.
The graphics on the game is pretty good and there are quite a few intimate scenes which would be interesting if you want an adventure game to suddenly break into a passionate making out session.
There is going to be a lot of nudity and action in the game so if you are planning to play it make sure you have your room door locked to save yourself from any embarrassment.
5. Honey Select VR
This game is probably the best in the list and if you want a high-quality VR game with very realistic graphics then you can close your eyes and choose this Hentai Game.
The storyline and the character are so engaging that you can spend hours together playing it. You can create your own character and choose your scene in the game.
There are a wide variety of different sex positions and you can choose your own accessories giving the whole game a nice interactive feeling.
There is everything you can think of in this Hentai Game, from amazing visuals to the best sound effect.
Personally, I like the graphics and customization in this game so if you are someone who wants everything to their liking this might be the one for you.
Do play the game and let us know what you think about it in the comments down below!
6. Writhing Play
Writhing Play is about a girl who one day wakes up in a storage room only to realize that she is involved with someone.
In this game, you get to choose between different characters and you even choose the positions that are available. There are 9 different scenes that you can choose from and you can even choose the character.
The game is pretty interactive as you would be controlling the things that you are doing to the female character in the game.
It can get pretty addictive after a while and if you are thinking of playing the game make sure you have an ample amount of free time on your hands.
There are many other similar games on the website make sure to check all of them.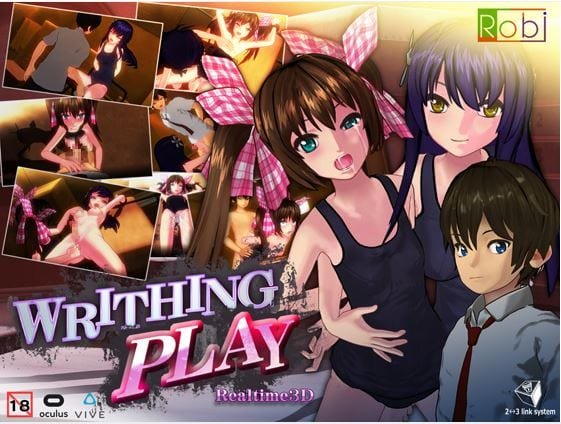 7. Custom Maid 3D
Custom Maid is a simulator game where you get to choose your maid and her clothing. You can customize the character to your liking and make her do all the adventurous things that you imagined in your fantasies.
You have different sex positions that you can go for and you can even make the character do things at different places making it feel like you living your fantasies in VR.
Overall, the whole experience of having something so realistic in Virtual Reality makes the game worth every penny.
If you are into Hentai Games and would love a realistic and interactive VR adult experience then the Custom Maid has to be on the top of your list.
8. Gal Gun VR
Gal Gun VR  makes you live your dream as you are the popular guy who has all the beautiful, young girls behind him.
The game lets you see the girls from every angle and you even have options to get a sneak peek of the girls. If you are into some naughty playful game then you will definitely like Gal Gun VR.
You need to shoot girls with Pheromone Shot in order to avoid love confessions from each and every girl and navigate through different stages of the game.
The game gets interesting as different girls have different weak spots and the reaction you get from each one of them is different.
If you like Anime girls and they are in one of your fantasies then you are going to definitely enjoy this game.
Do watch the trailer if you haven't seen it yet.
9. VR Girl Friend
Ever thought of seeing girls wearing Bikinis in VR and running around on beaches.
In this game, you would see girls wearing Bikinis or revealing outfits that are definitely going to make you curious and pause the game so that you can zoom in and get a better look.
This game has some really beautiful models as well so in the case you want some realistic experiences then you should definitely go ahead and get the game on SteamVR.
You can view the girls in shower mode and dance mode and you can choose to take pictures of them as well.
This game definitely is immersive and has a really realistic graphics.
You are going to like this game and it is worth mentioning that it is one of the best games on the list.
10. VR Kanojo
In this game, you would be hanging out with a girl and things are going to get a bit touchy. You can touch the girl and feel her inside your VR headsets.
If you have ever thought about how making out would look in the anime world then you can now experience it with a game like VR Kanojo.
This game you would be exploring all possibilities and you would even get a peek in a few instances.
Another game that would be pretty interesting to experience in VR, VR Kanojo definitely has it all. You can see the girl in different outfits and settings as well, choose your options as you move along the game.
If you haven't seen the trailer of the game, check it out down below and in the case you have played this game, then let us know how you liked it in the comments down below.
`
11. Virtual Reality Girls
If you are all in and want some nudity then Virtual Reality Girls is the game you should check out.
This VR game has different girls in revealing outfits and since you are in VR, you can interact with them as well. Although the graphics could have been better, overall the game is fine when it comes to just enjoying the experience.
You have different outfits for the ladies as well and can choose the ones you like.
However, there is going to be a bit of dancing and other activities so feel free to lock your room before you start playing this game on your HTC Vive.
A really immersive experience and you are going to enjoy it if you are into adult VR games. Check out the trailer below and let us know what you think in the comments down below.
12. Poker Show VR
A nice game of Poker against beautiful models who make the game even more interesting by removing a piece of clothing whenever they lose a game.
If you are into knowing how these models really look and then get used to winning.
This game really adds the old school twist and with the amazing graphics you can zoom into the models as they are getting undressed for you.
The game is worth a try and you would definitely be better at poker after you have been challenged this way!
Do check out the trailer and let us know, what you think about the game in the comments down below.
13. Anime Girls VR
In this VR experience, you are going to watch girls working in different profession dance wearing different costumes.
A bit different from the other experiences mentioned but the Anime VR is definitely one of the games where you can see Anime Girls dancing wearing revealing clothes.
It may not be as good as the VR Girls or other games mentioned above, but it is definitely worth checking out.
You can get the game from Steam VR and in the case, you want to know more about the game then check out the trailer down below!