VR adult games and VR Porn are two niches that are a lot in demand, and we totally understand the hype. I mean, adult content is fun in 2D, but in VR, it also gets interactive.
If you want to enjoy VR adult content, then that is a totally different niche to look at, but then there are VR adult games that are no less than the VR adult content.
I feel that the VR adult games are way better than the adult content as they come with an interesting storyline and some realistic graphics.
Especially VR Hentai Games have taken the whole experience to a new level. Well, the Japanese are known to take Porn to another level and have done the same with VR Hentai Game.
In this post, we will list so many amazing VR adult games that you are definitely going to find a game that you like.
There are a few games that you can play from SteamVR, and then there are a couple of games that we found out on other websites that you can browse as well.
So, if you want a detailed post on all the adult games that you can play on your Vive, Rift, and PS VR, then do read this post.
P.S. You can play these games on Windows Mixed Reality headsets as well, and even Oculus Go. For Oculus Go, read our tutorial on how to play adult games on Oculus Go for step-by-step instructions.
Best VR Adult Games
1. Fallen Doll VR
Fallen Doll VR is a game where you would be witnessing the grand opening of an erotic nightclub. You would be interacting with a female character called Ericka, who will help you make all your dreams come true.
The game has a lot of nudity, so make sure that you are above 18 if you wish you play this game(This applies to all the games on the list).
You can do whatever you choose to with Ericka, in any position that you like, and if this doesn't make you love VR, we do not know what will.
Of course, Ericka can be customized. She is already designed to be a sexy, beautiful character, but if it does not fit your standard, you can customize her.
You can change her hair color, clothes, body, and more. The game will have a silhouette of a male character representing you on your POV and making the game more immersive.
The graphics of this game look pretty realistic, and it has some really good audio quality as well. The interaction feels realistic, making the game very engaging.
Although the characters may look like your typical anime, the animation is far from a simple anime as it is very detailed.
You have the option to switch from night to day, your POV, the sex position, and more while you are in-game with Fallen Doll VR's amazing User Interface.
The company said that they will still improve the UI, but it is already better than most games in the market with its easy-to-navigate features.
The game can easily take you to the nightclub environment, and you are going to love the entire gameplay in VR. The game is on Patreon, and depending on your donation, you get different packages.
They even have an option where you can just play the trailer to see if the game works well with your PC, so make sure to do that before buying the entire game.
2. Love F*ck!
Love F*ck is a series of games revolving around a schoolgirl. She has been one bad girl, and you are going to find different ways in which you are going to be 'Punish' her.
So, you are "punishing' a schoolgirl, and while you are at it, you would be making it all sexual, playful, and using different sex toys.
There are different scenes and camera angles that you get to choose from. Moreover, you can even zoom in, and that makes the game more addictive.
The graphics and the sound quality of the game are amazing and make it a very realistic experience.
It is a slight upgrade of anime as the graphics are more realistic, although it did not remove the hints of it being an anime, so you can still enjoy having an anime companion in this game.
The sound in the game is just perfect, with every location setting the ambiance into a nice melody that fits the place, and the voice of your schoolgirl is not the high-pitched anime sound, so it does not hurt your ears.
The series has so many chapters in this game, so you can spend your entire weekend playing them without giving your VR headset a rest.
You get to choose from different locations so you can enjoy every place with the schoolgirl.
However, you still need to pay for the newer locations or settings, but I am sure that buying them is worth it. Besides, you get to enjoy in a different location.
In case you get bored with the same surrounding, you have the chance to change your location at a moment's notice.
I would highly recommend this game to anyone who likes Hentai, and I'm pretty sure you would end up buying all the games in the series as it is really addictive.
3. Mandy's Room VR
Mandy's Room is all about this girl Mandy who stays in her room most of the time and loves to spend her time playing, dancing, and doing other fun activities.
You are going to be Mandy's Diary in the game, and you would know all her secrets, including what she likes to do in her alone time and how she likes it being done to her.
The graphics are good but not great. There is still a lot of room for improvement as the graphics are sometimes still choppy and not as smooth as other games.
However, for Mandy's Room, the graphic is good enough since there is not much movement needed, like repositioning her the way you want, so it is good enough.
Interacting with the character is pretty interesting, and you get to do different things with Mandy which is fun.
The only thing different from Mandy's Room is that you cannot have sex with her. You only get to watch her masturbate or use sex contraptions to herself.
The thing is, you can control what Mandy uses. Since she tells you what she wants, you can get her the best machinery or toy to use for her fantasies.
You can also interact with her when she asks you a yes or no question. Depending on your answer, the game will proceed into another path.
When you go to the end of the game, you have the choice to select another version of the game or repeat the game that you have just finished.
There is one version where you get to be some sort of a guard where Mandy's father took down her door because Mandy was caught masturbating instead of studying.
You get to be the guard of the door and warn Mandy when her dad is approaching the door while she is masturbating.
Overall, the game is fun to play, and if you were looking for something similar, you should check out the game below and let us know what you think in the comment below.
4. Elven Love: Naughty Rituals
If you want a mix of magic and puzzles, then Elven love is the perfect game for you. You will be surrounded by beautiful elves, and they are going to make you feel things for them.
At the start of the game, you get to see the whole environment, and you can roam around for a bit. You will find the character at a little house, and you cannot interact immediately.
You have tasks to do before you can have fun with the character. This makes the game even more fun as you get to enjoy a real game first before making love to the elf.
The detailing in the game makes it look so realistic that you are going to instantly fall in love with everything.  You are going to be fulfilling some rituals with passionate lovemaking and much more.
There is some puzzle solving as well that keeps you engaged in the game. Basically, if you want to see the elves nude, you have to solve the puzzle to unlock and complete more sexual rituals.
Overall, this is an adventure game with a little bit of nudity. You are going to be casting magic spells with your wands and trying to understand the world of Wood and Moon Elves.
The graphics on the game are pretty good, and there are quite a few intimate scenes which would be interesting if you want an adventure game to suddenly break into a passionate making-out session.
This is one of the games with the most amazing graphics. I mean, you are being brought to a magical world so you cannot expect anything less.
During the night, the trees and the sky light up into amazing colors that you can enjoy, and you also have the daytime where you can see almost every detail that was put into place and the objects.
There is going to be a lot of nudity and action in the game, so if you are planning to play it, make sure you have your room door locked to save yourself from any embarrassment.
5. Honey Select VR
This game is probably the best on the list, and if you want a high-quality VR game with very realistic graphics, you can close your eyes and choose this Hentai Game.
The storyline and the character are so engaging that you can spend hours together playing it. You can create your own character and choose your scene in the game.
The game does not leave you to just chill with the character. You also need to complete tasks in order for you to earn points and do whatever you want.
The first task you need to do is to finish the tutorials. After doing that, you can have control over whether you want someone to get out of the bar or change the main character.
You can start the game with the default character, which is sexy enough and has been designed to arouse almost all players.
You can also design the character of your liking. There is a customization platform, or you can design your character from scratch.
There is a wide variety of different sex positions, and you can choose your own accessories giving the whole game a nice interactive feeling.
Be careful, as the character can have terrible tantrums. If you do something that she does not like, she will refuse to do anything with you.
However, if you do great or if you buy her a drink from the bar, she agrees to have sex with you, and you can both do her favorite H position.
You can think of everything in this Hentai Game, from amazing visuals to the best sound effect.
I like the graphics and customization in this game, so if you want everything to their liking, this might be the one for you.
You can control the graphics of the game with 5 selections. The last one is the best, of course.
You can select if you want to put shadows, light, distortions such as fire, fog, and many more.
Do play the game and let us know what you think about it in the comments down below!
6. Writhing Play
Writhing Play is about a girl who wakes up in a storage room one day only to realize that she is involved with someone.
In this game, you get to choose between different characters and even choose the available positions. There are 9 different scenes that you can choose from, and you can even choose the character.
There are three characters in the game, 1 male representing you and two female characters that you found in the storage.
You have the choice to dress them all, make them half or fully naked. 
People who do not like having a character representing them can change the POV and have a translucent shadow to act as your body when you use VR.
You have the controls on the camera and positions that you can alter so the actions and scenes would not be repetitive.  
The game is pretty interactive as you would control the things you are doing to the female character in the game.
The game has a real-time rendered 3D which makes the game very interactive, and you can play and see the real nature of the game.
The characters move automatically depending on your actions. These are automatically triggered motions that the camera and the character do base on your own movement.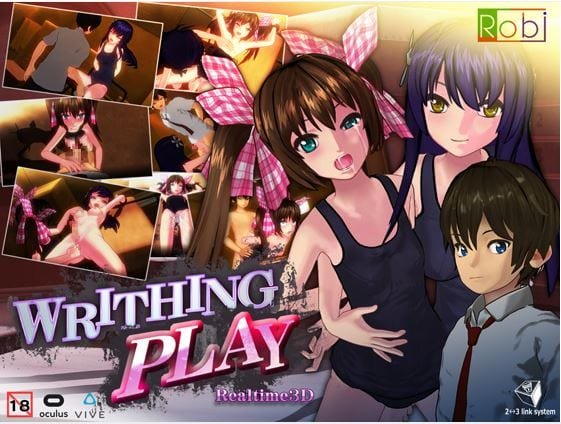 The autoplay feature of this game can give you the choice of making the game like a movie. The storyline is still in play, but you just get to watch it as a spectator.
It can get pretty addictive after a while, and if you are thinking of playing the game, make sure you have an ample amount of free time on your hands.
There are many other similar games on the website. Make sure to check all of them.
7. Custom Maid 3D
Custom Maid is a simulator game where you get to choose your maid and her clothing. You can customize the character to your liking and make her do all the adventurous things that you imagined in your fantasies.
This game has a great storyline. Your uncle brought you into this amazing hotel called the Empire Club.
He leaves you there to restore the hotel, and then as you play along, you find out that the Empire Club is in great debt.
With the help of three remaining maids, you gather whatever you need to restore the hotel. You are rewarded every day by having sex with the maids.
You can customize them and change clothes, size of boobs, and more. The maids can also learn other skills that become handy in fixing the hotel.
Skills including sex, and you can please other customers in the game with the maids. It really is a pretty dark game but a very entertaining story.
You can keep the changes as a manager, but if you choose to get into other characters such as a guest, the changes in the hotel will not show.
It will go back to the basic, in-great-debt hotel that your uncle left you. But of course, you can save the manager mode changes and go back with the same changes you made previously.
You have different sex positions that you can go for, and you can even make the character do things at different places, making it feel like you are living your fantasies in VR.
Overall, the whole experience of having something so realistic in Virtual Reality makes the game worth every penny.
If you are into Hentai Games and would love a realistic and interactive VR adult experience then the Custom Maid has to be on the top of your list.
8. Gal Gun VR
Gal Gun VR  makes you live your dream as you are the popular guy who has all the beautiful, young girls behind him.
The game lets you see the girls from every angle and you even have options to get a sneak peek of the girls. If you are into some naughty playful game then you will definitely like Gal Gun VR.
You need to shoot girls with Pheromone Shot in order to avoid love confessions from each and every girl and navigate through different stages of the game.
This game can be a little irritating and that is why you have the gun. The girls will continuously harass you so you need to shoot them with the Pheromone gun in order to keep them off of you.
The demon inside the girls needs to be sucked out. The difference in this game is that you can keep the demons out unlike the previous versions where it keeps coming back to possess the girls.
The visuals are not that amazing sticking to the outdated layers of animations with glitches, but it fits perfectly with the game since you do not have to do so much.
The environment is great for the game's fun nature. You can have multiple endings in this game and a non-linear campaign so you really have many choices on how to play.
The game gets interesting as different girls have different weak spots and the reaction you get from each one of them is different.
The sounds on the game are a little irritating since the characters have a high-pitched voice kind of like the voices in animes and can be deafening.
If you like Anime girls and are in one of your fantasies, you will definitely enjoy this game.
Do watch the trailer if you haven't seen it yet.
9. VR Girl Friend
Ever thought of seeing girls wearing Bikinis in VR and running around on beaches.
In this game, you would see girls wearing Bikinis or revealing outfits that are definitely going to make you curious and pause the game so that you can zoom in and get a better look.
The graphics are great as you can move around with little to no glitches, the smooth transitions are evident especially when you are using a great VR headset to play this game.
The animations are smooth as well with the slightest movement creating a detailed flow on the dress or the body of the characters. You see the animation was very detailed as the lips and eyes are designed perfectly.
You have this somehow realistic design but it also gives you the notion that it is animated. There are proper shades on different parts of the body but you can see that they are not that realistic.
It just gives you the illusion that they have a perfectly drawn body so the experience is as immersive as ever.
This game has some really beautiful models as well so in the case you want some realistic experiences, you should definitely go ahead and get the game on SteamVR.
The camera control is easy and you can look around the room or environment that you are in. this means that you have a 360 degrees view of your VR girlfriend and you can even peak underneath her skirt.
You can view the girls in shower mode and dance mode and you can choose to take pictures of them as well.
This game definitely is immersive and has a really realistic graphics.
You are going to like this game and it is worth mentioning that it is one of the best games on the list.
10. VR Kanojo
In this game, you would be hanging out with a girl, and things will get a bit touchy. You can touch the girl and feel her inside your VR headsets.
If you have ever thought about making out look in the anime world, you can now experience it with a game like VR Kanojo.
Sakura Yuuhi is the name of the girl next door and the setting is in her room. You hang out with her and help her study.
You can even join her in her study by answering some questions that are answerable by yes or no.
Since you two are the only people in her room, things escalate and she undresses before you, you can unhook her bra and tickle her in different areas of her body but that is it.
You cannot have sex with Sakura, a bummer, but if you only need something to tease yourself, then this is the game for you.
The graphics and animation are great. You can see the smoothness of the display and moving her or her skirt is just like touching cloth and you see the movements that you can make.
Since you are in a sandbox type of game, the details put into this small room are amazing. You can even control things in the room with your hands just like a kinetic power.
For example, you can turn the electric fan on that will lift up the skirt when Sakura is getting a book on the shelf.
This game you would be exploring all possibilities and you would even get a peek in a few instances.
Another game that would be pretty interesting to experience in VR, VR Kanojo definitely has it all. You can see the girl in different outfits and settings as well, choose your options as you move along the game.
If you haven't seen the trailer of the game, check it out down below and in the case you have played this game, then let us know how you liked it in the comments down below.
11. Virtual Reality Girls
If you are all in and want some nudity then Virtual Reality Girls is the game you should check out.
This VR game has different girls in revealing outfits and since you are in VR, you can interact with them as well. Although the graphics could have been better, overall the game is fine when it comes to just enjoying the experience.
You have different outfits for the ladies as well and can choose the ones you like.
The graphics of this game are ridiculous. When night falls, you see reflections of beautiful neon lights from the city's skyscrapers.
You get to enjoy the nightlife in your dream city and make love with a beautiful woman of your choice.
You get to live the luxurious life of a millionaire living in a great big house with sports cars and naked girls everywhere that you can have sex with anytime you want.
You get to choose different settings and you can even go on a cruise in your beautiful million-dollar yacht. 
However, there is going to be a bit of dancing and other activities so feel free to lock your room before you start playing this game on your HTC Vive.
The animation of the game is a little off with some features not moving, for example, the eyes of the characters are sometimes stuck in one place which is kind of creepy sometimes but overall, it is amazing.
You can select the way the girls dance and change their clothes to what you think is perfect for the dancing routine. You can be the choreographer and control what you really want them to do.
Really immersive experience and you are going to enjoy it if you are into adult VR games. Check out the trailer below and let us know what you think in the comments down below.
12. Poker Show VR
Poker's nice game against beautiful models makes the game even more interesting by removing a piece of clothing whenever they lose a game.
If you are into knowing how these models really look and then get used to winning.
This game has 3 real-life models that you can play poker with and every time you deal with cards, they usually lose. 
The girls usually fold if you call their play, but they are good players and play real poker, but let's be honest, we're not here for that. Your goal is to defeat every hand so they remove a piece of clothing every time they lose.
This is another teasing game where you just get to watch the models strip in front of you and not get the chance to touch them. When you win the game, they leave with only their underwear.
You have the choice to play another game with another girl or press a button and then replay the previous game that you have just won.
You also get bonuses when you win the game. Your recently defeated opponent will text you or send you pictures of her for you to enjoy.
The graphics do not really matter as the models are pre-recorded and were just installed in a room that was animated. So yes, the models are pretty real if you ask me.
This game really adds the old school twist and with the amazing graphics you can zoom into the models as they are getting undressed for you.
The game is worth a try and you would definitely be better at poker after you have been challenged this way!
Do check out the trailer and let us know, what you think about the game in the comments down below.
13. Anime Girls VR
In this VR experience, you are going to watch girls working in different professional dance wearing different costumes.
It is a bit different from the other experiences mentioned, but the Anime VR is definitely one of the games where you can see Anime Girls dancing wearing revealing clothes.
You can select countless numbers of dance moves. You can choose from great dances or sexy dances that they perform right in front of you.
You can dance with them so you are also doing something worthwhile and still enjoy the company of the sexy girls. 
The main purpose of this game is to make you more fit by encouraging you to move around as much as possible but also with the help of the characters that make the movements a little less boring.
You get to check out the girls from every possible angle as you can move the camera view easily. This means that you can take a peek of their underwear and more.
The graphics and animation can be improved as the game sticks with a classic anime animation and the girls do not have as much body movement as you would want them to.
The girls were only animated to have a very attractive face and a very sexy body but the features such as the boobs and the butt do not move as much like the other games but they are still great.
You get achievements when you do the activities with the girls and select other locations for you to dance or do other activities and games.
It may not be as good as the VR Girls or other games mentioned above, but it is definitely worth checking out.
You can get the game from Steam VR and in the case, you want to know more about the game then check out the trailer down below!
14. Nympho Trainer
Nympho Trainer is a single-player game where you get to enjoy your darkest sex dreams with catgirls inside a BDSM dungeon.
The dungeon is not like what you imagine being dark and full of creepy toys. Instead, the dungeon consists of vibrant rooms and toys that you can use with the catgirls.
You still have the toys and tools such as chains, whips, cages, and paddles that you can use to punish the catgirls and also use while having sex with the girls. 
In the rooms where you select the toys to use, you can also see what machines you can use with the girls and change their clothes with whatever look you want them to be.
When you dress the catgirls, you can touch their body and play with different parts such as the boobs and the butt. You can make the changes with controls as easy as grabbing and placing them where you want them to be.
You will also get along with this game as it does not have any hard controls. There is also a tutorial at first so controls in this game are really easy to follow.
The animation can still be improved to make the characters more realistic, but they are immersive enough to enjoy whatever your sexual fantasies may be.
Sex is the main part of this game so do not worry about that. You can f*ck the characters whenever you want and in whatever position you want them to.
You have the entire control in this game and perform whatever you want with the tools and sex toys in the game you can use.
There are some issues that I have found in the game, one is that the entire room or dungeon has no gravity so basically the tools just float around the room.
The sound is also a little boring for such a colorful world so maybe that can be improved.
Overall, the game is amazing and you get to enjoy it with a lot of sex and customizations that you can make to fit your preference.
15. Dominatrix Simulator
This game is a dark one where you are lost in a castle ruled by a mistress that soon caught you sneaking around.
She then orders you to get out or stay as long as you agree to be her slave. Some sort of sex slave.
The mistress is designed to be a very sexy one, and you could hardly resist the temptation of staying.
The overall animation is dark since the room or the castle, in general, has candles for light or if not candles, some dim lamps.
It is greatly animated but I think they can still improve it by having more lights in the castle to see the details of the design.
The gameplay starts when you choose to stay and become the mistress' slave. You will then be brought to a room to select your character.
You can be a female or a male sex slave. Then you go back to the room and one of your first jobs is to kneel beneath the mistress and see a view underneath.
You are told to do different things so you can be rewarded by seeing more of her body. Kissing her foot is one task that you have to do.
Your character will automatically abide by the mistress' commands and you will have no control. Since you have agreed to be her slave, you just need to follow her commands.
The sounds in the game are perfectly fit for the dark environment. The voice acting of the mistress is really great. 
You will not have that robot-like feel of voices. It is a genuine voice actor that played the voice and you can hear it very well.
This is an overall great game where you have as much control as setting the dialogue but also less control as you become a slave. If you are really into that then check out this game!
Do let us know which one is your favorite game from the list above and which one do you like the most!
If you like the post, then do not forget to share it on social media!