There are a couple of ways in which you can access adult content and this post is going to be about how you can watch VR porn on iPhone without any issues.
There are a few players out there that allow you to watch your adult content without any hassle and if you are new to this then read everything you need to know before you get started with watching adult videos on your iPhone.
The post is going to be answering three questions and they would be-
1. How you can watch adult content on your iPhone
2. Which are the best premium sites you can opt for
3. Lastly, a few VR headset recommendations that you could go for in order to get started with VR.

How to watch adult content on iPhone
You cannot directly watch an adult VR video on your iPhone, but you can easily use apps like the Virtual Reality player or Free VR Player from the apple app store in order to view the adult content with the help of it.
1. You need to download Free VR Player in order to view content from one of the best VR sites is Badoink VR.
This site has a pretty easy way to download and store all your adult content files and that is the reason I would recommend it to anyone out there.
2. Now once you have downloaded the app, you can download a video from the Mobile LQ or the Mobile HQ option in Badoink VR.
Choose the quality you prefer and once you are done downloading it on your computer you need to transfer it to your phone.
3. In the case of an iPhone, you need to transfer the video file like any other video file which implies you need to upload the downloaded videos using iTunes.
4. Now all you need to do is launch the app and get started with watching your content.
There are quite a few apps out there that would help you watch adult content on your iPhone but these are the ones that we have tested and can assure you that they work.
BadoinkVR has its own media player as well so check that out as well. If you have any other recommendations on the media players then let us know about it in the comments below as it would help our readers.
Quality Content
Well, if you are looking for a nice VR experience then it is really important that you go for premium adult sites.
There are tons of FREE videos out there that you can watch but when you go premium you can see the difference in the quality of the video.
I could clearly see a difference when I joined BadoinkVR and if you have not gone premium on an adult VR website then you are missing out on a lot.
If you haven't joined premium yet then you are missing out on a lot.
Not only do you have realistic videos but you also get full-length movies which star the best actors and you even get to choose from different categories.
The zoom in quality on the videos from these premium websites is amazing as well.
Coming to the pricing of the membership, best sites like VirtualRealPorn and BadoinkVR have a starter membership of $1 and even if you go monthly it would cost you less than $1 every day. So it is not as expensive as it sounds!
Badoink VR is probably the best in the VR niche at the moment. You should check out both the websites if you do not want to get disappointed with your VR adult videos.
BadoinkVR
If you want to get videos of the best models in the industry then BadoinkVR is definitely the best sites that you could go for.
The site has some high-resolution videos and provides a lifelike experience, something that is worth paying for.
It has some amazing detailing when it comes to their videos and has several categories including cosplay. The media player on the site is one of the best and makes watching adult content really easy on any VR headset.
P.S.- We have a limited time offer where you get 40% off on the monthly membership on BadoinkVR using this link. Make sure to check out the offer and save some money!
VirtualRealPorn
Another website that we can easily recommend is the VirtualRealPorn. This website has a huge variety of content and an excellent zoom in quality.
The library of VRP is so huge that you can find Gay VR Porn, Milf Videos and VR videos from the women's point of view which is really rare in any of the other new VR adult websites.

Something that I personally love about VirtualRealPorn is that the membership is pretty affordable and to be honest, it is the cheapest and at the same time has the largest VR library for adult content.
Another reason why I would recommend joining a paysite is the quality of the videos in VR. It is extremely important to have a high-quality video as the zoom in image quality is not good on all the adult sites.
Free sites just don't give you the same quality and that is a bummer!
VR headsets to watch adult content
If you are new to VR and haven't narrowed down your choices on the VR headset then you should definitely read this section.
If you go premium on BadoinkVR and VirtuaRealPorn then they do send you a free Google Cardboard headset to your address(Do check if this offer is available in your country).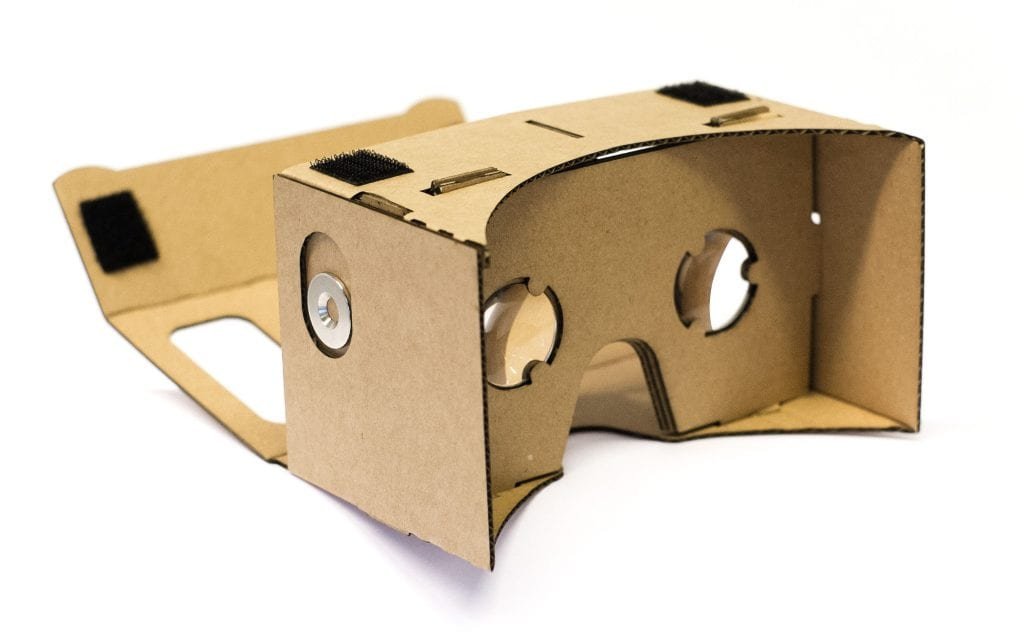 The Google Cardboard is a pretty good option for beginners. Once you are past your google cardboard phase you might want to go for the premium VR headsets as they have better quality to offer and are affordable.
Otherwise, if you want something that really stands out and gives you the best immersive experience then you can go for the two best VR headset out there which is the Homido V2 headset and the Merge VR.
These two are the premium quality VR headsets and they work pretty well with iPhones. Smartphone VR headsets are not going to give you an experience like the Oculus Rift but they do get pretty close to it.
These two are probably the best options you have out there in order to watch adult content and you can use them with Android phones.
These headsets are going to offer you a quality VR experience and the FOV on the headsets is pretty good to have an immersive experience.
Let us know if you have any additional thoughts in the comments section below! If you found this post helpful then do share it on social media!