Valve Index is currently one of my favorite VR headsets because of the immersive experience that it has to offer. The resolution, refresh rate and FOV, everything is so much better than most of the headsets out there.
Now, it is worth wondering how VR Porn would be on this headset. Honestly, the experience is pretty amazing and so much better than the VR Porn experiences on OG headsets like the Oculus Rift S or the Vive.
First-person VR Porn videos get really immersive with the Valve and if you are someone who owns the Valve Index and wants to enjoy some adult content then do read up more on different ways along with some of the best websites for adult content.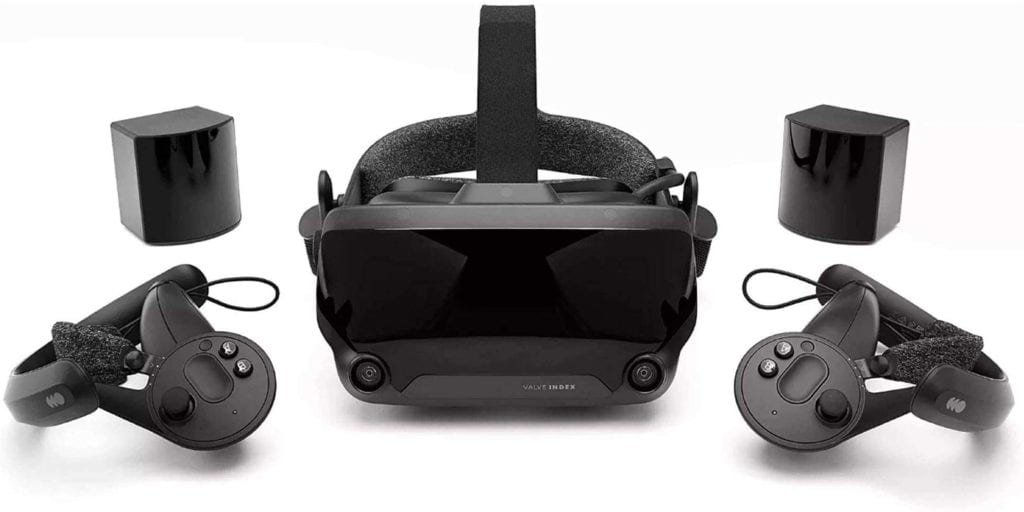 The reason I would recommend Valve Index to watch adult content would be because the headset is very comfortable to wear for long periods of time.
This means you can enjoy your VR porn movies without having any discomfort while wearing the headset. The Valve Index also comes with high resolution and high refresh rates making the experience very smooth.
So, you are assured that you get the best porn experience with VR but how would you watch it, so there are basically two ways of watching VR Porn on a headset and they are-
1. Streaming Content Online
This is the most popular way of watching VR Porn content and easier too. However, even though this way is quick, the downside is that if you do not have high-speed internet then you might have to face some buffering which can be a pain.
1. The first step would be you start your PC and connect your headset to it. Now go to an adult content website of your choice.
2. Once you have selected your video, you can choose the resolution and the headset option from the drop-down menu.
3. Click on play, wear your headset and enjoy the content.
Streaming is probably the quickest way in which you can just pop on the headset and get started with watching a video from any website of your liking.
But, if you want to watch a video without the headache of facing buffering then go ahead with another method that we have mentioned below!
2. Download Videos
Another and better way to watch adult content would be by downloading the videos from an adult website. This way you can watch movies back to back without worrying about the internet speed.
You need a media player, in this case, to make things a little easier and I would recommend SkyBox VR. It is a FREE media player that you can download and then follow the steps below-
1. Download SkyboxVR.
2. Go to your favorite adult website and download videos of your choice. Make sure you choose the resolution of your choice as that can make a huge difference in VR. The higher the resolution, the more immersive your experience gets.
3. Now wear your headset and open Skybox VR Video Player.
4. Now, go to the video that you want to play and click on the play button.
5. Enjoy.
Wait, you can make your experience more immersive…
There are a few ways in which you can make your VR Porn watching experience immersive and one of the ways has to be subscribing to premium VR Porn websites.
There are a couple of free websites out there but when you look at the premium VR porn websites, you realize the quality of the content that you are missing out on.
The best VR Porn websites have great quality videos along with great zoom in quality that has to be BadoinkVR and VirtualRealPorn. These two are the best when it comes to high-quality VR content.

The fact that you are getting immersive First-person VR Porn videos just makes everything worth it. You feel like you are in the video doing it with one of the porn actresses and let's face it, that is the closest that we are ever going to get to a porn actress.
VirtualRealPorn has such an affordable membership along with videos in diverse niches like Japanese Porn and Gay Porn. This website has a lot to offer and it is completely worth it to go premium if like watching VR Porn.
BadoinkVR is for people who are more into threesome and girl on girl action. If you really like something along these lines then you would enjoy BadoinkVR.
I personally like high-resolution videos on BadoinkVR as that is what makes the membership worth it. You can zoom in on the videos and enjoy some close-ups in VR as well.
There are so many other websites like BadoinkVR and VRPorn and you can check them out as well. But for now, we are going to stick with these as our major recommendations considering the price of the membership and the quality of the videos that you get.
Getting a VR Sex toy…
Now if you want to take it up a notch and make your experience even more immersive then you might want to invest in a VR sex toy like the KIIROO Onyx 2 or the Fleshlight Launch.
Both these toys are going to make your experience really immersive and if you want a typical Blowjob type feeling then you should go for the Fleshlight Launch.
These two sex toys can be synced with the videos as well, but that would be possible in Mobile VR and since that does not exist anymore, so it really makes no sense to use hte feature.
The Fleshlight launch comes with an automatic mode and you can leave that ON while the model does things to you in VR, still giving you an immersive and interactive experience.
I'm pretty sure if the video sync was there for PC VR, there would still be some lag but anyway, you can now enjoy your VR experience while using these toys and trust me the experience is still nothing less than perfect.
Check out both these amazing VR sex toys and let us know what you think in the comments below!
If you like the post, do not forget to share it on social media!