Lenovo Mirage Solo is another standalone headset that was released recently this year. Now, the mirage solo has so many daydream exclusive apps that you can be sure it makes no compromises when it comes to fun.
Apart from the amazing gaming apps, there is also a possibility that you can enjoy VR Porn on the Mirage Solo.
Now, if the Lenovo Mirage Solo is your first VR headset then you would find this post helpful as we would discuss everything about watching VR Porn on this headset.
Lenovo Mirage Solo on its own is an amazing headset and it comes with a controller or remote, unlike the Quest which comes with two touch controllers.
So, how is the Lenovo Mirage amazing with just a remote as a controller?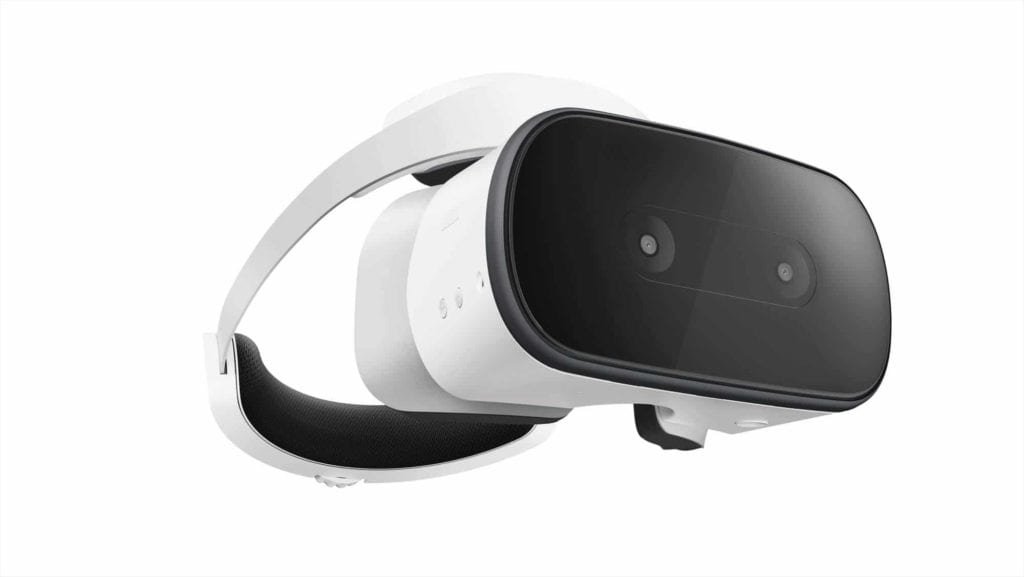 Well, the headset does come with 6DoF, so you are going to enjoy your gaming experience as you can move around, rotate and duck in real life while all these actions are going to be tracked in VR.
This makes the experience really immersive and you are going to love the games even with the remote that come along with the headset.
So, overall, the experience on the Lenovo Mirage Solo is pretty amazing and I might like it slightly more than the Oculus Go itself.
Coming back to the topic on how you can watch porn on the headset, there are two different ways one can do so-
1. Streaming videos online
This is probably the most basic way in which you can watch adult content on your headset is by streaming content online and this includes streaming adult content.
Most good-quality VR videos need high-speed internet in order to play without any buffering and if your internet slows down in between and causes some buffering then it can totally ruin your immersive experience.
Anyway, if you trust your internet then you should go for it as watching it this way is so easy.
1. Start your VR headset and head over to Chrome browser.
2. Once you have opened the browser, insert the link of the website where you want to watch VR porn content. The ones I use these days are VirtualRealPorn and VRBangers as they have extremely high-quality videos.
3. Once you go on to a premium adult content website, you can choose the video that you wish to watch and choose the quality of the video along with Oculus as an option if you do not find Mirage Solo there in the drop-down menu.
2. Download Videos
This is a far better way to enjoy your adult content as you do not need to have a super-fast internet connection to get started with fapping.
The storage on the Mirage solo is expandable as you have the option of inserting a micro SD card which is going to help you get better when it comes to downloading and saving these huge files.
This just helps you avoid the buffering that you are going to face when it comes to streaming content online. In order to get started with this make sure you have a dedicated media player downloaded.
There are so many apps out there and since I usually watch VR Porn from VirtuaRealPorn, I sometimes use their dedicated media player.
But you can use many free media players out there that help you to watch porn on the headset and once you are done with that you can get started with downloading hte videos of your choice.
1. Go to the premium website of your choice from where you would want to download the video.
2. Click on the Oculus Go option if you do not find Lenovo Mirage Solo and download the video in the quality that you want.
3. Now once downloaded open the media player and play the video of your choice.
If you want to make your experience more immersive then do throw in a KIIROO Onyx 2 or a Fleshlight Launch that would do things to you the same way the actress is doing to you int he videos.
Once you get used to this way of enjoying adult content, you would not be interested in watching porn any other way. So do check out the two sex toys mentioned above.
The best place to go for VR adult content…
There are a lot of free websites out there and you can easily download a lot of videos but sadly the videos are not full-length and the quality is just not that great.
This is one of the reasons that I have previously recommended sites like VirtualRealPorn and VRBangers. These websites have some amazing VR Porn content and the video quality is simply amazing.
The pixel density of the videos are good as well so you can pause the video and zoom it at any instant that you want. You have some really nice models as well that are exclusive to these websites which is another added bonus.
Everything about the two websites is great and with the VRP you even get to sync the videos with some sex toys from KIIROO.
So while you are watching VR Porn content on the amazing website, you can even use the sex toy so that you feel you are a part of the action.
Some of the favorite VR sex toys are the Fleshlight Launch and the KIIROO Onyx 2. Do check them out as they take your VR Porn watching experience to another level altogether.
Do let us know if you have any other ways to watch Porn on the Lenovo Mirage Solo!
If you found this post helpful then do post it on social media!