I think there is nothing wrong in admitting that VR Porn is definitely here to stay and although most of us might not admit it, everyone watches it.
In one of the previous posts where there were a few adult apps mentioned for the Gear VR, I had not included a detailed list.
The list was more relevant to Gear VR and now the list below is updated so if you ever run out of content for VR adult content then do check out this site.
1. WankzVR
Membership Details:  1 Month – $19.99, 3 Months – $23.97, 1 Year – $79.95
This site has some quality VR content with high-resolution videos. The site is pretty compatible with the major VR headsets which are the Oculus Rift, PlayStation VR, HTC Vive and the Gear VR. Although you do not have a trial membership here, the content base of this site is pretty huge and it is definitely something that I would recommend.
There are plenty of Reddit forums as well where people have actually found the site pretty good and if you have never heard of it then do check out the website because it does seem like a place where you could find a lot of VR adult content.
2. VR Bangers
Membership Details: 1 Month – $19.99, 3 Months – $39.99, 1 Year – $99.96
Another site which I missed in my previous post, VR Bangers is a really good site when it comes to the content and the quality of videos. Honestly, most of the videos on Pornhub as of now have not that great models and that really does not add up to giving you a better experience. These VR specific sites have done well in bringing an overall great content which includes some amazing 360-degree videos.
Sites like WankZVR and VR Bangers(compatible with almost all VR headsets) are pretty good and have a lot of paid and free content which is compatible with all the VR headsets. They do have their own membership prices so do check them out below. The site also has some free 360 videos so you can check them out as well before going all out on the membership.
3. Virtual Real Porn
Membership Plans: 1 Day Trial – 0.66 €, 1 Month – 19.95 €, 3 Months – 34.95 €, 1 Year – 89.95 €
Virtual Real Porn is another great Adult VR website which certainly has great content and the videos are compatible with almost every headset out there. The site even has videos that sync with devices giving you a better experience, to know more about that read on accessories for VR porn.
The site has partnered with Lovesense and they definitely have one of the largest collection of videos in comparison to the other sites out there. They have paid and free videos, so take a look but this is definitely one of the best sites and there were many who actually mentioned this site in the comments section for my previous post on How to watch porn on Gear VR.
4. Naughty America
Membership Details: 3 Day Trial – $1.95, 7 Day Trial – $4.95, 1 Month – $25
Unlike most of the sites, Naughty America comes with a trail membership and you can just get started with as much as $1 which is pretty amazing. You can browse the site, see if you like it and only then continue with your subscription.
The site has amazing high-resolution videos and even though you need to pay for membership it is definitely worth it. The site has quite a good amount of videos and they keep adding new content every week.
So it is always updated and if you want to get started with premium membership just for $1 then it is the best place to get started.
5. Badoink VR
Membership Details : 1 Day Trial – $1, 1 Month – $25, 1 Year – $6/month
Another site with a pretty great content and this site too has a trial membership.
Apparently, NaughtyAmerica and Badoink VR are really great for people who just want to try out the sites and view the content before going for the monthly membership.
Badoink VR is a great site and it gets updated with new content frequently. The content is compatible with most of the VR headsets and you can easily go for the trial membership if you are unsure of going premium.
Check out the site if you haven't yet and let us know which one is your favorite among all of them.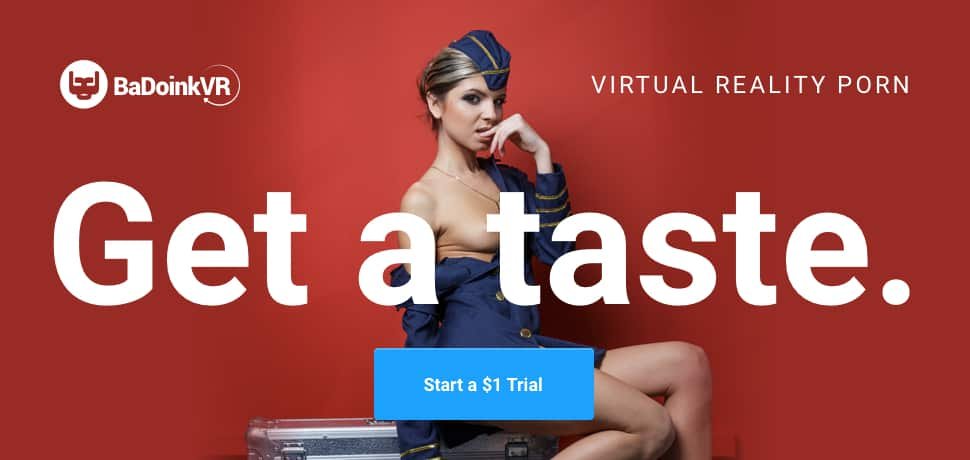 6. SexlikeReal app
This one was recommended to me by one of the readers in the previous post about how to watch porn on the Gear VR. This app is surely one of the best that you can use with your Gear VR. It has a lot of content and relatively more compared to the above two mentioned sites.
It even has a dedicated app for Gear VR users so that is another advantage of having this app if you are using your Samsung Gear VR to enjoy the adult content.
The site has a good collection of videos and they are all in high resolution. Do check out the sites before joining any and thanks to the reader who asked me to include this in the post.
The sexlikereal app is one of the best and clearly something I missed out mentioning on my previous post. You can check out the membership details for the site if interested.
If you want to know paysites then you can check out theporndude.com for more adult site recommendations in VR.
If you have any other site to add to the list then mention them in the comments section down below!
If you liked the post share it with your friends on Social Media!