Unlike any other porn games, the Dominatrix Simulator twists the game and lets you be the one to follow all the orders in order to make something happen in the game.
As its tagline suggests, "Good things come to those who obey." this alone can intrigue you, and experiencing it for the first time might be weird but you get used to it in a few minutes of playing.
See, we are used to porn games that we have control over so it is refreshing and somewhat uncomfortable at first when the game controls us.
That is the point of the Dominatrix Simulator and it really does a great job. Do not worry as it does not remove the erotic nature of a porn game.
If you want to really get deep in being submissive then this is the game for you. Your kink will surely be satisfied in this game that you will think that the graphics and the animation will be just bonuses.
This game also has some sort of a story at the beginning so you would not have to immediately go through the punishments (or rather rewards) if you are not yet used to it.
As of the writing of this article, the developers had just finished updating the introductory experience of the game and the instructions to becoming a great slave for the mistress.
So since those are the major changes in the game, we will start talking about the Dominatrix Simulator with the introduction of the game.
My first impression…
The story of this game is that you got lost in the middle of nowhere. You see a dark, spooky house and in normal circumstances, you would flee but your character is a curious adventurer.
So you decide to get to the house which you did not realize until you are near enough that it is more like a mansion or a castle and not a house.
So, you climb up the walls until you get into a dark room with hardly any light in it. It has dim lighting from a lamp so you assume that there is no one in that big room.
But lo and behold, the mistress comes out of nowhere and catches you sneaking around her mansion. You cannot escape from this point onwards.
Once the scene gets here, you are now given the choice of choosing your character. There are two neutral CGI characters that you can choose from, one male and one female.
Then right after you choose your gender, you automatically become her slave and you do abide by the first command which is to kneel before her.
Initially, she will make you do things that are simple and you get rewarded by seeing more of her body when you obey tasks such as kissing her feet where you can look up and see her V.

The Art 
This place, as you will notice eventually, is very artistic. There are a lot of objects that you know took some time to be designed.
There are a lot of patterns that you will never find in any game and the characters are also made with a lot of detail that can sometimes feel unnecessary but definitely add to the overall aesthetic of the game.
All the models are fully customized and created so there really is no comparing the Dominatrix Simulator with any other porn game.
You can get a sneak peek of the art in the game but if you are a Patron, then you can see all the uncensored images and get a true immersion with the game.
The Sound
This is also a part of the game that makes it more realistic. The voice actors of this game are professionals and they did a great job in making the game very immersive and interesting.
It perfectly syncs with the mistress and you get to experience the sexiest voice in any porn game and if you do not believe me then you should give the game a try and see it for yourself.
You can talk to her with the game's interactive dialogue choices where she asks questions to you and they are answerable by yes or no.
Be careful with your answer, though as it might affect your pathway throughout the game. Anyway, we believe that this game has the best voice over in the industry now and it is truly amazing.
You can replay the game and choose different answers to explore all the different possibilities in which the game may proceed.
Gameplay
This game is for people who have the fantasy of being submissive or who just want to explore this option. So, you have no choice but to follow the mistress' commands at all times.
You will see a reflection of yourself in front of you. Once the mistress tells you to do something, the reflection will do the action and you will need to replicate it in order to survive.
If you want to stay longer in the game, you will need to be less naughty and obey the mistress's every command and if you choose to be naughty, then there are consequences.
The fact that you are being commanded and you are so restricted makes you want to do things to her even more, turning you ON.
The game is dun for someone who is into adult VR games and you are not going to regret indulging in this.
This game uses pose recognition in VR to help you perform the actions easily. This also means that if the mistress commands you to kneel, you will do it in real life.
There are feedbacks to every action that you complete so you need to be active.
You can also interact with the mistress by choosing the questions or by letting her ask you whatever she wants.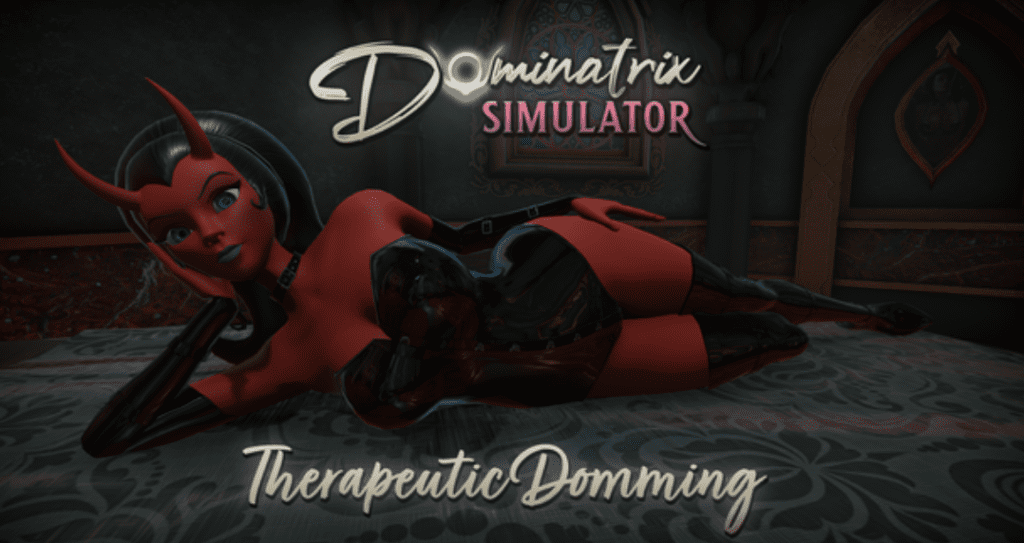 Some downsides
If you look from afar, the designs that were put in this game are truly beautiful but if you went up close, there are not a lot of movements or detailed graphics on the characters.
The hair is stiff and is grouped in large chunks and they do not look real at all. But, the thing is, this is a magical world so there is no need for them to look too real but a little bit more thought and effort would have gone a long way.
However, this game would be better if there are more facial expressions on the mistress instead of her just staring at the distance even if you are face to face with her.
Conclusion
Overall, this game is great and it offers a lot of features that other games do not have. This is probably the most inclusive game yet and it will be improved in the near future.
The sound is perfect and the voice over is beyond great. I feel most games concentrate on what you see and mostly forget that intimacy or eroticism also includes sounds.
The Dominatrix Simulator excels in terms of sound and voice over quality. It is clearly the best in terms of this and it is still improving so that's great.
There are also some improvements needed but mostly the game is perfect. It is great for people who are submissive to satisfy their kinks.
The Mistress is really authoritative so you will need to obey her. You will also get a lot of work as you will move in real life in order to comply with the commands.
So if you really love the kind of erotica where you are being punished for being naughty, then the Dominatrix Simulator is the perfect game for you.
If you are looking for some other erotic game suggestions then you might want to check out Virt-a-mate, Poke Abby VR, Honey Select, VR Kanojo or She is a Sexaroid.
If you liked the game or have played it already then do share with us your experience in the comments below!
If you liked the post, then do not forget to share it on social media!