With VR headsets incorporating newer features in each model and edition, it is becoming confusing to compare and choose the right option.
When you're looking for a wireless VR headset, two names which you will often come across are Lenovo Mirage Solo, Oculus Quest.
Both of these are good headsets, however, the question which remains is which one should you choose.
Oculus Quest incorporates many features from Oculus Rift, and that is why it stands out. Ever since its launch last month, it has created a lot of hype.
Up until now, it is the only stand-alone headset that can offer you a complete VR experience. Due to this very reason, it certainly has an edge.
However, the features come at a cost as it costs at least four times the size of other headsets. That is why you have to conduct proper due diligence before buying.
Another name which stands out when you are looking for wireless VR headsets is the Lenovo Mirage Solo.
Today we will share with you our analysis of Lenovo Mirage Solo vs Oculus Quest to help you understand which one stands out. We will compare them on different aspects that can make or break these headsets.
Display and resolution
First things first, no one likes a bulky VR headset. That is why; we will go into the details of the design and the comfort before any other feature.
One of the main reasons why the Mirage Solo has been able to garner so much attention is because of its a 5.5 inch LCD panel.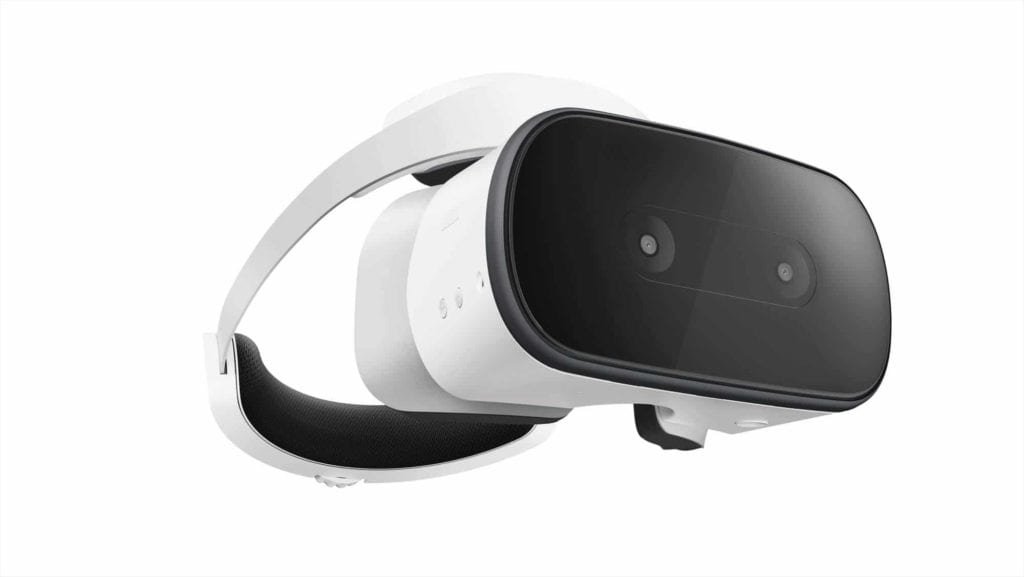 The resolution of this panel is 2560 x 1440 pixels. The visibility of the pixels, however, limits the clarity up to an extent. Also, the sharpness reduces a bit at the edges.
While the size of the panel and the pixel density might be on the higher side but it has some caveats due to which it is not an excellent but an above-average display.
The Oculus Quest offers an OLED display panel with the pixel density of 1440 x 1600 per eye. The combined pixel density is 2880 x 1600, which is higher than the Mirage Solo.
So, when you compare the fact that the Mirage Solo has an LCD panel and the Oculus Quest has OLED panel; the oculus quest is a clear winner in this department.
Moreover, the pixel density of the Oculus Quest is higher as well. So, the Oculus Quest scores in the display department.
Controllers
The Mirage Solo comes with 3 DOF controllers. The controller consists of a touchpad. It also has two buttons. It has a status led.
As we mentioned in our other Mirage Solo comparisons, the index trigger button is missing. If you're switching over from another headset, it would be a difference that you will instantly notice.
Due to this very reason, it has a learning curve. You can use the buttons on the side to change the volume, which is a useful feature to have.
It ensures that you can control the sound output in a jiffy. The touchpad is responsive enough to control the applications.
So, once you get accustomed to the missing index finger trigger, there will be not much problem in operating the headset.
The design of the Oculus Quest controllers is such that it makes you feel as if it's an extension of your hand. The headset comes with two touch controllers. These are to be held in each hand.
The basic controls are similar to the Oculus Go; it consists of two face buttons, two triggers, and an analog stick. All these are present on each controller.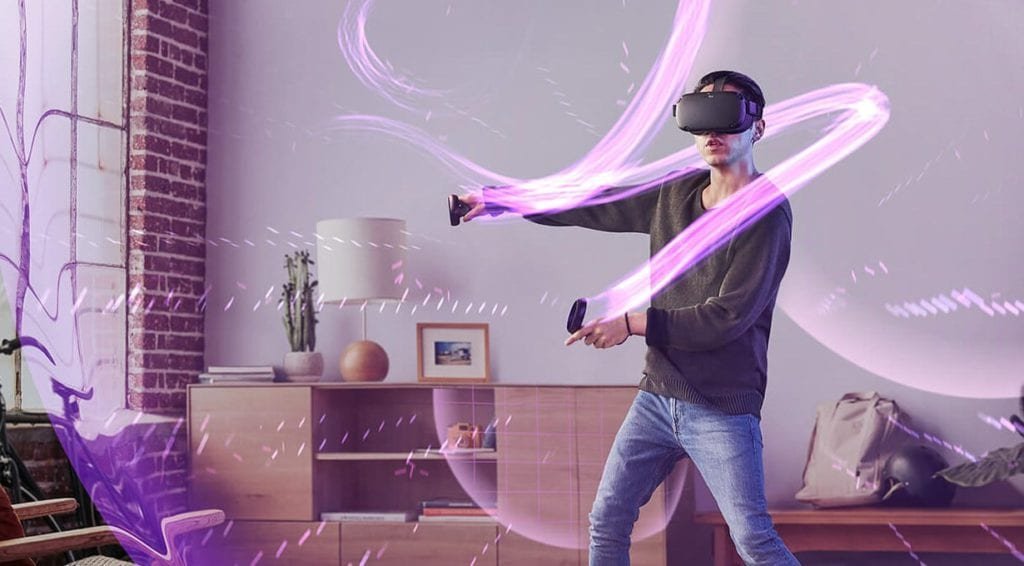 The accuracy, however, has improved significantly from the Oculus go, controller. The controllers offer finger-motion sensing, haptic feedback, which makes them superior to the Mirage Solo controllers.
The Oculus Quest has a distinct advantage when it comes to controllers.
It consists of 2 controllers rather than one might seem cumbersome at the start, but when you look at its precision, it is easy to understand why these controllers are better.
The accuracy and the level of tracking on offer are far higher than that of Mirage Solo.
Battery Life
The battery of Mirage Solo can last for 2.5 hours. It consists of 4000 mAh rechargeable battery.
The Oculus Quest, on the other hand, can last up to 3 hours. It can last for more time if you're watching any media. If you're playing games consistently, it can last for 2.5 hours.
That is why; it is a tie in the battery department.
Gaming options
The Mirage Solo by Lenovo uses the Worldsense platform by Google. In spite of that, it has all the Daydream games available as well.
The positional sensing mechanism of this VR headset ensures that you can control the gaming character quite easily.
Currently, on the new platform, there are 60 different types of games which you can try out. Due to this very reason, there is no shortage of content when it comes to the Mirage Solo headset.
The daydream platform consists of various streaming apps as well like Netflix, YouTube, Hulu, and so on. The daydream platform has plenty of exciting games to offer like: Eclipse: City of light, Need for speed, Battle Planet VR, Rez Infinite VR.
Some of the popular apps for Mirage Solo include- Horizons, Netflix VR, Google Street View, The turning Forest.
As you can see, whether you're looking for entertainment or gaming apps, there are plenty of choices when it comes to the Lenovo Mirage Solo. Let us now see if the Oculus Quest can match to that.
When it comes to the content library, Quest certainly has an impressive collection. It includes not just games but a variety of other applications, which means that you can easily use it for a variety of different tasks.
Some of the most popular games include Fruit Ninja, Thumper, Face your fears II, Angry Birds VR: Isle of Pigs, Bait
If you're looking for certain apps which you can download for binge-watching or entertainment, you can surely go with: Bigscreen data, Nature Treks VR, Ocean Rift, SkyBox VR, Video Player, Sling TV, Youtube VR.
The best thing about the content library of Oculus Quest is that it does not just rely on its games. If you're looking for gaming options as well, there are numerous choices.
However, if you're looking for entertainment apps, then you have plenty of options.
The equal distribution of content options between the games and various apps for entertainment means that you can find multiple ways to use the headset.
The functionality of the headset increases manifold since there are various categories of apps available.
While both these headsets offer quite a few gaming options but quest certainly takes the cake. It is due to the options available in each category.
Whether you're looking for some entertainment, watch movies and games, Quest has a better collection for each of these categories.
Comfort
All these features are great, but if you cannot wear the headset for the entire duration, you cannot enjoy any game or app.
Due to this reason, it is essential to consider the comfort which the headset has on offer.
The Lenovo Mirage Solo is pretty lightweight and weighs just 645 g. Now, to provide proper headset customization, it uses a visor mechanism.
The visor mechanism allows you to adjust the headset on different axes. You can tighten the headset as per your comfort level. The button ensures that you can change the distance between the lens and your face.
Also, there is a knob to tighten the headset as much as you want. That is why, if you want the perfect fit of the headset, that is certainly possible. However, the visor is not removable.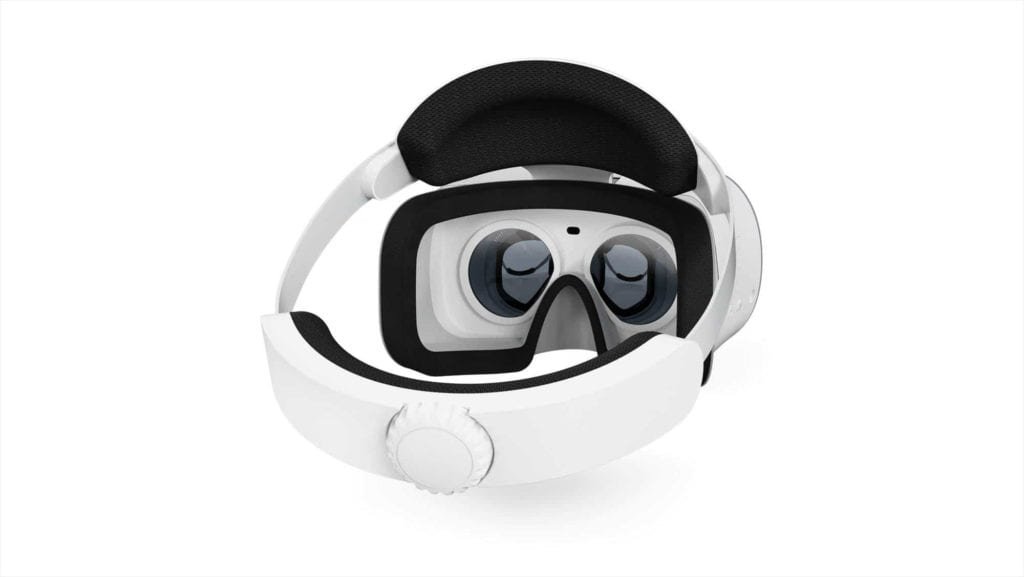 It means that when storing the headset or moving it around in your backpack, it will occupy a significant amount of space.
The weight of the Oculus Quest is 571 Gms. The procedure to wear this headset is quite easy. You have to first lower it down in front of your eyes.
You have to then tighten the Velcro straps on both sides until it feels firm. You have to ensure that you do not tighten them too much.
Then, you have to tighten the Velcro strap on the top of your head. It will ensure that it is secure from all sides. You can adjust the position of the headset up or down until you can view the screen.
It also comes with the glasses spacers which mean that if you wear spectacles, then you can use these glasses spacers. The presence of the spacers makes this headset easy to wear.
The lightweight design and the facial foam along with the glasses spacers make the Oculus Quest a better headset to wear your gaming and entertainment system.
Conclusion
While in individual aspects, Lenovo Mirage Solo vs Oculus Quest might seem like a close battle, since Oculus Quest outscores Mirage solo in almost every department.
When you look at the holistic picture, it is pretty clear that Oculus Quest races ahead. Another factor which is visible in this comparison is that the rich experience of Oculus works in its favor.
When you add to that, the lightweight design of Oculus Quest, it is not that difficult to choose.
While the weight difference might seem negligible on paper, but when you wear it for 2 hours consistently, it can make a considerable difference.
Moreover, with the help of glass spacers included, you can be sure that Oculus Quest is targeting a broad audience which will certainly work in its favor.
Considering all these factors, if you're confused between these two VR headsets, you can go with the Oculus Quest as I feel it is slightly better.
Do let us know which one is your favorite in the comments below!
If you liked the post, then do not forget to share it on social media!