Oculus GO was probably one of the awaited launches and this standalone headset does not fail to impress its VR enthusiasts.
If you own an Oculus GO then you would be interested in the different accessories that you should equip yourself with so that you have the best VR experience.
Oculus Go is the best standalone headset that you can invest in as you do not require any PC or a smartphone to be able to have a VR experience.
The headset works on its own and this is probably one of the best ways to experience VR without any wires or I can say without any strings attached.
There are way too many VR accessories out there and we would be talking about the basic ones that you definitely need and then the optional ones that you could go for if you have a higher budget.
So, keeping everyone's budget in mind, let's get started with this post with all the Oculus Go Accessories listed as follows-
1. VR Cover
This is one of the best accessories that we usually recommend for every VR headset. VR Covers are known for making custom covers for VR headsets and they have them for the Oculus Go as well.
Now using a custom cover is not only going to keep your headset clean but it would also protect your VR headset from dirt and dust.
Another reason using VR cover might be ideal is if you share your Oculus Go with someone. They have hygiene covers for the interface which you could use while sharing your headset with another person.
We all know at some point of using the headset, the person is going to sweat so to keep things a little sanitary, you might want to use these covers.
If you are someone who is into extensive gaming and use this headset for 2 hours straight without being interrupted then you would really appreciate these covers.
You can even get a foam replacement and the quality that you get from VRCovers is excellent. You would highly appreciate it and if you are interested in them then do check out their website for some really useful accessories.
2. Power Bank
This is a necessity for all the Oculus Go users as the battery life of Oculus Go on its own is not that great.
The battery on the Oculus Go is going to last for around 1 hour and 45 minutes, so if you want to extend the battery life, this is a must.
There are many Power Banks on Amazon, however, we recommend anything around 13000-20000 mAh as that would be really effective in powering your Oculus Go headset.
Just by using the Powerbank you can easily add an additional 10 hours to your gameplay apart from the 2 hours that you are already getting from the Oculus Go battery.
If you are into watching adult content on your Oculus Go then trust me these things can be a game changer as you do not need to go and charge your headset after watching just two movies.
These Power Banks can effectively power your laptops as well since they are powerful, making it a worthwhile investment.
If you already own an Oculus Go then we would recommend this as one of the most important accessories in the list so go and get it on Amazon Today.
3. Controller
The Oculus Go does come with a remote but if you are into VR gaming and are looking for a really interactive experience then investing in for a controller might possibly be the right thing to do.
There are way too many controllers out there but the Xbox One S Wireless controller works pretty well with the Oculus Go.
You can give the other controllers a try as well but they would not work as well as this one from Xbox does. We did try with the other controller and even though they did work, the experience was not as good as the one with the Xbox controller.
Do keep in mind that not all the Xbox controllers are going to work perfectly well with the Oculus Go.
So far, the one we recommended works well but if you too find a controller that works amazingly well then let us know about it in the comments below!
4. Oculus Go Skins
These are optional but you do have different skins available for the Oculus GO. You get these in different materials and you can change them according to your preference.
There are a few that look really good and the Rainbow one probably has to be the one I liked the best.
If you too are looking to customize the look of your Oculus Go then getting a new skin might be something that will get you interested.
Again, it is not needed for the Oculus Go but if you are someone who loves to change the look of your VR headset after a while then you might want to consider doing it.
5. Oculus Go Travel Case
Oculus Go is a standalone headset which makes it portable so you can take it anywhere with you. With all that traveling that it is prone to you might want to consider getting it a travel case.
There are some really affordable travel cases/ storage cases that you can find on Amazon for Oculus Go. This really helps when it comes to taking this headset along with you on a trip.
If you want to take your Go along with you while traveling then you would love this travel case as it would help you organize everything you need with your Oculus Go inside a single box.
No more of looking around for the remote or the charging cable, you can store everything in the travel/storage case which would make things so much easier.
6. Oculus Go Stand
This is pretty unique and would be useful for someone who uses their Oculus Go headset often.
If you do not want to remove your Oculus Go headset from the storage box everytime you want to use it then this stand might be the best option for you.
It keeps your headset, remote in place and you do not need to look around for things everytime you plan to take out your Oculus Go for gaming.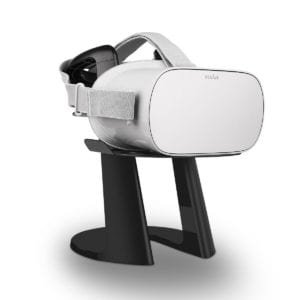 This way you do not need to throw around your headset as well as it would have a dedicated space and honestly, this should be something that every Oculus Go owner should have in their gaming room.
7. Headphones
A good headphone can make a whole lot of difference to your VR experience.
If you have been using an average headphone then you might want to rethink as there are headphones out there that can give you the much-needed oomph to your VR experience.
The immersion will be better as sound quality is really important to have a good VR experience. There are many options out there and you can choose the kind of headphones that you think suits your needs.
There are a few that we mention in our Best Headphones for the Oculus Go post and this one from Bose has to be my personal favorite as it is one of the best investments that you can make.
Since it is on the steeper side of the price range do check out our post on the headphones for Oculus Go to find a few affordable ones that best suit your needs.
These are all the accessories we could think of for your Oculus Go. In the case, you think we missed any, you can let us know in the comments below!
Which one of these accessories do you already own and which ones you think, you should own, let us know that in the comments as well.
If you liked the post do not forget to share it on social media!