The Oculus Go is a standalone headset and from the time it released, everyone anticipated, how would it be to watch VR Porn on this headset.
A standalone headset has no wires attached and you are able to move around the room while you are playing games or watching any videos.
The best part about Oculus Go is that you do not need to invest in a PC that needs some beefy specifications as it is a standalone headset unlike the Oculus Rift and the HTC Vive.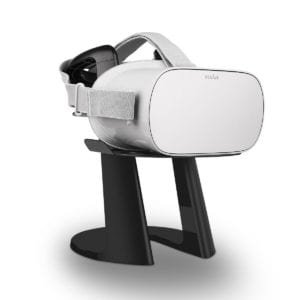 Now there are so many VR headsets out there that you can use to watch VR Porn, however, we feel that the Oculus Go might be one of the best choices because of it being untethered and easy to use.
There are so many other VR adult games and VR Hentai games that you can play on this headset as well. It can be a little tricky to play those third party games but once you have read our guide on how to play VR Hentai Games on Oculus Go then you are good to Go.
Why watch Porn on Oculus Go?
There are many factors why it might be a great idea to invest in Oculus Go especially if you want to use it only to watch VR Porn.
First off, the headset is not tethered to anything which gives you the ability to move around freely and enjoy any movies or videos.
The resolution is way better than mobile VR headsets and even the PlayStation VR for that matter. The headset is light in weight and it is probably the best that you can use to watch VR Porn.
How did we test it?
We saw a couple of videos from BadoinkVR and VirtualRealPorn, now both these two websites have some really nice HD quality videos with an amazing zoom in quality.
Basically, the BadoinkVR has our favorite actresses and the VirtualRealPorn has a section that is dedicated to Japanese Porn.

Now the process of watching the videos was really easy, you can either stream the videos or you can download the videos and then watch it on the Oculus Go.
Either way, the quality of VR was impressive and for the price point, Oculus Go did deliver some immersive and interactive experience.
You can pause and zoom in the video with the controller making the whole experience amazing.
VR Porn on Oculus Go
If you want to know how you can watch VR Porn on the Oculus Go then there is an entire post on it. Go through it and you would be able to watch adult content easily on this VR Headset.
Features of the Oculus Go
While we tested VR Porn on the Oculus Go, we did notice a difference in comparison to the other mobile VR headsets and PC VR Headsets.
So, a common question that might come to your mind is that, is the headset good enough? Here is a rundown of all the features that you should consider before making any buying decision of the Oculus Go.
Comfort-
The headset is around 470 grams and really light in weight in comparison to other headsets. With the three-way strap on the headset, we felt it was extremely comfortable.
You can even lie down if you get tired and we had no issues with that as well. There is enough space for your nose and everything was pretty good considering the comfort level on the headset.
If you wear glasses then you might have some issues provided you do no switch to wearing lenses otherwise, the overall experience is pretty good.
Resolution and Clarity
The headset had a pretty good resolution and it was no doubt better than the PlayStation VR headset. You do feel that the experience is realistic and immersive.
You can say that the visual quality was very close to the Oculus Rift which for that price point is amazing. If you want to enjoy some quality VR experience at an affordable price then you should definitely invest in this headset.
Audio
There is a 3.5mm headphone jack so in case you want to have a good audio experience then you should be ready to connect your headphones.
There are various choices of headphones that we have mentioned in one of our posts dedicated to different types of headphones that you can use with the Oculus Go.
Battery Life
Now the battery life on the Oculus Go lasts around 2 hours. It can last less than that as well, so make sure that before you start watching your VR Porn videos, you have your headset completely charged.
It is really frustrating if you are in the middle of your movie and the battery is low. In the case you want to overcome this then get a power bank that can charge your headset while you are watching the movie.
Watching VR Porn on Oculus Go just got better…
You might be thinking that your VR Porn experience is going to be the best ever just by getting the Oculus Go and signing up to a premium VR Porn website.
Let me break this to you, your VR experience can even get better if you add a VR sex toy to the mix. Yes, there are VR sex toys that you can sync to your VR videos and as the model trusts in the video you would feel the same way.
This is the beauty of teledildonics and if you want to experience it then go ahead and read our comparison post on two of the best VR sex toys.
Enjoy the best content!!!
Make sure that you get premium content from premium websites and do not waste your time on the free sites that have lo quality small video clips.
The websites that we recommed here, that is BadoinkVR and VirtualRealPorn are pretty amazing as they have high-quality videos with some really amazing actors.
VirtualRealPorn has so many different categories and a ton of video selection at a really affordable price that you would never get tired of their content and they even support teledildonics which is just amazing.
Is Oculus Go the best VR headset to watch VR Porn?
Yes. In my opinion, the Oculus Go is a pretty good headset considering the comfort, resolution and the immersive experience that it provides.
For a good VR Porn experience, you need a headset that has amazing comfort and a good resolution and the Oculus Go does give you all of that and even more.
You can even play games on the Oculus Go and the quality of these games is amazing as well. So, if you are investing on the Go then you can use it for more than just watching VR Porn.
There is a lot of content which you can get from the Oculus Store and when the quality of the headset is compared to the Rift, then you actually get a similar resolution VR experience and actually even better in some aspects.
Looking at the price point of this headset and the fact that you do not need any PC/ laptop to run it, we suggest that you can invest your money into it even if you are getting the headset just to watch VR Porn.
Overall, the headset is comfortable and for someone looking for a quality VR experience.
If you are looking for more VR adult toys then do check out the KIIROO and Fleshlight Launch products which are pretty much the best selling VR sex toys.
If you liked the post then do not forget to share it on social media!
Do let us know about your experience on the Oculus GO headset in the comments below!