Oculus Quest has been the most anticipated VR headset of the year and the fact that it would take VR Porn to the next level is just another added bonus that comes with this headset.
VR Porn is definitely an experience worth your time. Who would not like to interact with a porn star in VR?
The fact that you can sync videos to Fleshlight Launch things just get even more interactive and immersive.
There are a lot of different ways in which you can make your VR Porn experience just amazing but before that let's discuss how immersive your experience can get with the Oculus Quest.
Oculus Quest comes with really amazing features making it better than the Oculus Go. So, is the Oculus Quest, the best VR headset for watching porn? Let's find out…
VR Quality with the Oculus Quest
Oculus Quest is a VR headset that is priced as much as a gaming console and is a wireless standalone headset like the Oculus Go so you do not need any PC, console or smartphone to power the headset.
This headset is all you need to enjoy some really immersive VR games and experiences. The headset is pretty comfortable to wear but wearing it for a long time can cause some strain at the back of your head.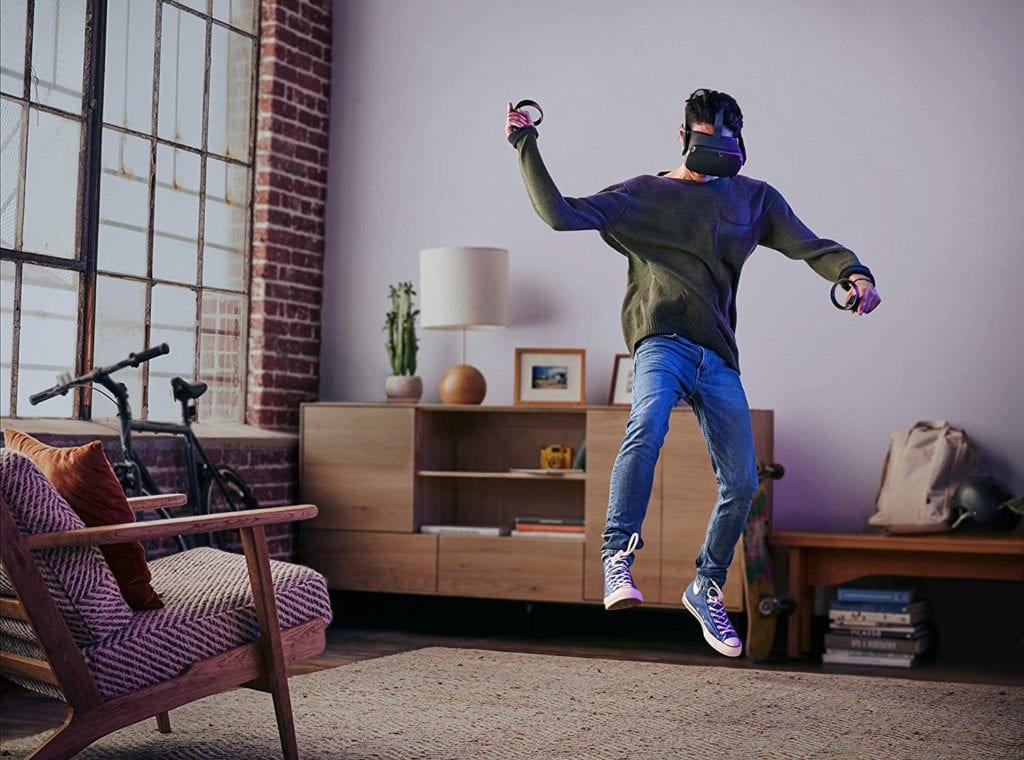 This happened with the Oculus Go as well, so there is not much to complain as you find that issue with any VR headset when worn for a really long time.
The VR quality on the Quest is pretty amazing and if you look at the overall features, it is way better than the Oculus Go. It is safe to say that you are going to enjoy the immersive VR Porn experience way more on the Quest.
The battery life on the Oculus Quest is going to last you for about 2 hours and with the same compatibility as the Oculus Rift, you are going to have a lot of options when it comes to games and apps.
The Oculus Quest also comes with a 6DOF as compared to the Oculus Go which makes your gaming experience so much better. Imagine getting a Rift-like experience without being connected to any PC.
Oculus Quest comes with a pair of controllers as well which look very similar to the ones that come with the Oculus Rift making the gaming experience interactive, unlike the bland remote that came along with the Oculus Go.
I think the 6 DoF with this headset is a huge advantage when it comes to enjoying VR content as this makes the experience more interactive and you get it for the price of a gaming console which is a pretty good deal.
Watching Porn on the Oculus Quest
Watching Porn on the Oculus Quest is going to be a similar experience to that of the Oculus Rift but even better. In the Oculus Quest, you do not have any wires connecting the headset giving you a lot more freedom.
This just makes it better to use any sex t0ys while you are doing your favorite porn star in VR. There are a lot of videos that are Male POV and you feel like the actress is doing you making your experience really immersive.
The two websites that have the best videos have to be BadoinkVR and VirtualRealPorn.
BadoinkVR is a website that comes with really high-quality content and something that I really like about the site is their video production quality.
The clarity and zoom in quality are so amazing that you feel like you are inside the VR video.
Another website that I have a membership with is VirtualRealPorn. The membership of this website is really affordable and you have a TON of videos on the website.
There are even different categories that you can browse making this one of my favorite websites from all the other paid sites out there.
SO, these are our picks and you can let us know yours in the comment below!
Using Sex Toys while watching VR Porn
There are many VR sex toys out there that you can use while watching Porn but what about a sex toy that would sync with your VR videos.
Fleshlight launch and KIIROO Onyx 2 are a few sex toys that we usually recommend for men and women can go for the KIIROO Fuse.
So, with these sex toys, you can sync them to the VR video that you are watching. Basically, the sex toys when synced to the video replicate the motions of the porn actors on you making you feel like you are physically present in the video.
This just makes the video really immersive and takes your porn watching experience to another level. Oculus Quest is just going to make everything better.
So, the fact that the Oculus Quest is going to be compatible with all the videos and games on the Oculus Rift, you might even be able to play some adult games on this headset.
Do let us know if you have watched Porn using the Oculus Quest(once it is released ofcourse) and how is your experience with this headset.
You can pre-order the quest now, so head over here and book yours now!
If you have anything to share then do share it in the comments below!
If you liked the post, then do not forget to share it on social media!