Watching movies on Oculus Rift is way better than you think, imagine not having all the background noise from your family and being totally lost in the VR movie world.
The movie watching experience would get more realistic as we would feel like you are in a movie theatre while watching a movie. There are a few movies that come as 3D 360-degree experiences and they completely transform the whole world around you.
So how can you get started by watching movies on the Oculus Rift? Read the post carefully as we talk about the different formats of movies that you can watch on the Oculus Rift and the different apps that you can use in order to make your movie experience much better in VR.
Why watch a movie in VR?
You might wonder why to take the pain of strapping a VR headset on your face when you can peacefully watch the normal 2D movie on your Laptop or TV.
Well, the experience is VR is way different in comparison to what you usually would see on a Laptop. You can totally exclude any background noises if you live with your family and be totally engaged with the storyline and the characters of the movie.
It does give a really nice touch to many scenes especially the action scenes. It looks really amazing and is way better than wearing any 3D glasses. In a few videos, like the VR porn movies, you actually feel like you are involved in the act giving you a First Person View.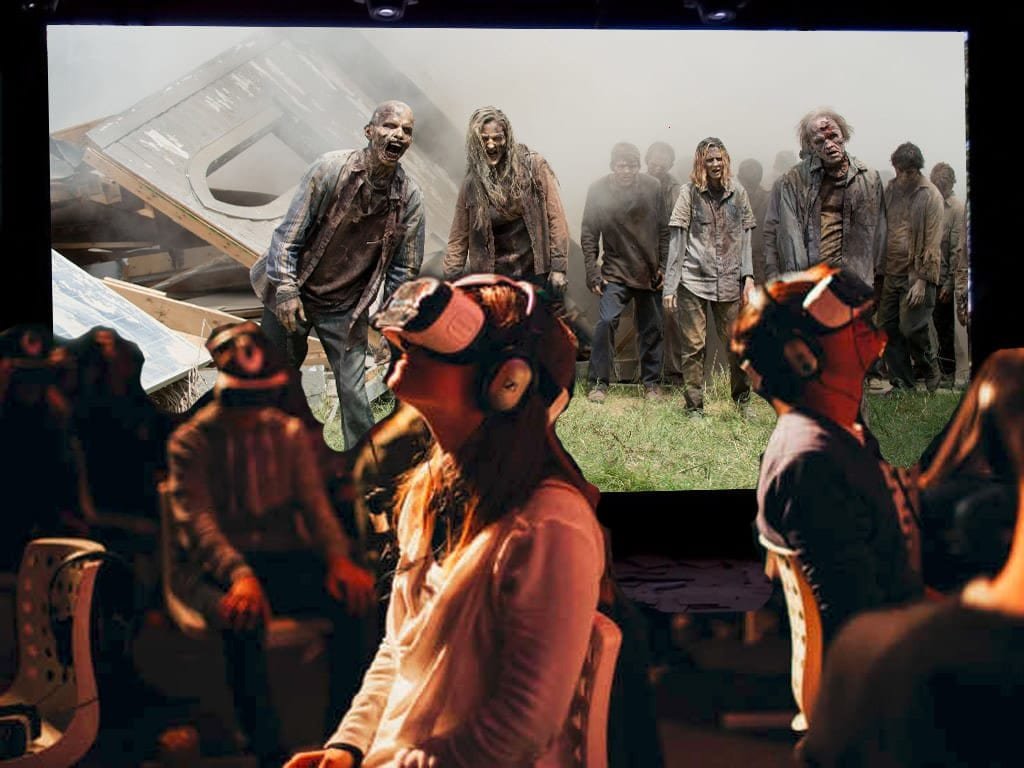 VR has made the whole movie watching experience better, although there are a few downsides, it is still an experience you should try. You might just want to be careful in the fast moving scenes like running and action scenes since it can cause motion sickness.
If that happens then just close your eyes for a few minutes till you feel normal and continue with your movie as you normally would.
How to watch Movies with the Oculus Rift
There are basically two ways to watch videos on the Oculus Rift and those are to either stream it online or mirror your PC/ laptop screen on the Oculus Rift.
Both the ways pretty much work well but the second option works better as there are no chances of buffering which just ruins the experience in most of the cases.
Most of the times we do recommend that it is better to download videos and then mirror it on the headset.
Movie watching Apps for the Oculus Rift
BigScreen Beta
One of the best apps that we recommend for watching Movies on the Oculus Rift is the BigScreen Beta. This app lets you mirror your laptop screen on your Oculus Rift without any issues.
This app is free to download and you can watch movies and TV shows from Netflix. This is probably the best way to spend your movie night. You can double the fun by inviting your friends who have the Oculus Rift and the same app.
This way you can enjoy a movie with your friends in VR. The app can also mirror downloaded videos and movies on your laptop. If you haven't heard about this app then check out the app here.
SkyBox VR
This is another amazing app that you can use for watching your videos on the Oculus Rift. This app can be used with Oculus Rift, Vive, Gear VR and Daydream VR as well.
It is more like a VR theatre where you can choose to watch any content you want from your laptop or PC. It works really well and mirrors the laptop or PC display amazingly on your VR headset.
The app is totally free and it has tons of features in comparison to the time when it was released initially. It is user-friendly and if you want to watch your content alone then the SkyBox VR is the way to go.
Virtual Desktop
Not something we usually recommend but it is worth mentioning. The Virtual Desktop is another great app that you can use if you want to watch a movie or some videos online.
The only reason I do not incline towards this app is that it is not so user-friendly, I felt using it was a pain in comparison to the other options mentioned above.
However, it works well in the end and if you want another alternative to the apps mentioned above then the Virtual Desktop is to your rescue.
How to have the Best VR Movie experience on the Oculus Rift?
Well, this really depends on the type of app you choose, usually, we would go for the SkyBox VR or if you want to watch a movie with your friends then the BigScreen Beta but once you have decided that then you should definitely consider these points to have an excellent experience.
1. Take breaks- We cannot stress enough on this point. Your eyes are going to thank you later so take a few breaks after every 45 minutes you spend on the headset. If you want to avoid any headaches or VR hangovers then do consider doing this.
2. Motion sickness- If you are watching a movie that involves running or fast action scenes then there are chances that you might feel motion sick. If this happens, close your eyes for a few minutes and when things start feeling normal again, resume watching the movie.
3. Close the door- In case you are watching any adult content, make sure you have the door locked as you do not want someone to bother you.
4. Make sure you are not going to be bothered for a while and do not have any important calls to attend. This way you can have a really nice VR experience without any disturbances.
Well, that's all for all the movie buffs out there. Choose an app and get started with watching your favorite movie right now.
If you have any new recommendations or suggestions then leave them in the comments down below!
Share this post with someone who would love to watch a movie in VR!