KIIROO is probably one of the best companies for sex toys, so in this review, we would talk all about the new KIIROO Titan and how it is going to be different from all the other sex toys on KIIROO website.
The Titan has some new features and it can be used to enjoy interactive VR Porn as well which is just another added advantage.
If you have been looking for the perfect VR sex toy that would let you enjoy some interactive VR Porn but at the same time you can use it manually then you should definitely read this review on KIIROO Titan since we are sure you would be blown away with its features.
Not all the sex toys out there give you a premium experience, however, KIIROO has been one of the best companies and with the Fleshlight Launch, we can just expect things to get better with this device.
It just gets better: 
You can enjoy more interactive content from VirtualRealPorn where the membership is extremely affordable and you get a lot of content in comparison to any other VR porn website out there.
Moving on to the KIIROO Titan lets if this toy is really good enough for an interactive experience…
What do you get inside the box?
Inside the Kiiroo Titan box that you going to receive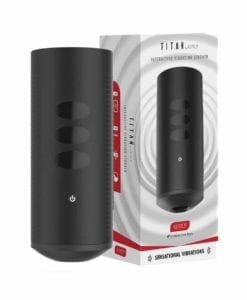 • KIIROO Titan Vibrator
• USB Pin Charging Cable
•  Warranty Card
• Quick Setup Manual
This is pretty much everything that you get in the box. You might want to invest in lube and a toy cleaner as that is not included, so you have to be prepared before using this device.
Features included in the KIIROO Titan-
1. Let's begin with one of the major features which is the device can connect with so many interactive VR Porn videos. Yes, the device can replicate the actions that are being performed by the actress in the video on you making the entire experience immersive.
You would feel like you are a part of the video making the whole point of VR Porn justified. There might be slight lag sometimes but overall, the entire experience is amazing. You can browse amazing VR interactive videos from VirtualRealPorn.
2. The KIIROO Titan has  9 bullet vibrators which just intensify the whole experience for anyone using it. You can go for 6 different modes or even use a few selected modes in tandem in order to get the best experience.
3. Something that we loved about the KIIROO Titan right from the beginning was that it was really light in weight and portable. It weighs around 800-900 grams and it is pretty portable in comparison to the Fleshlight Launch.
4. You can connect KIIROO Titan to other devices via Bluetooth to any other KIIROO devices and you can even connect it to your partner's device who lives in another part of the world.
==> Get the Best Price on KIIROO Titan
5. It is really easy to use while you are in the act as it includes the touch-sensitive controls that you can use to increase or decrease the intensity of the strokes.
The device can be paired up with your partner so you can control their device as well, which would really help someone in a long distance relationship.
6. It is extremely quiet while it is ON making it suitable for use. Usually, sex toys are a little loud, however, with the KIIROO Titan you would not have any such problems and you can just lock your room and use it without worrying about someone listening to the device's noise through the walls.
7. The device lasts for about 40 minutes when it is fully charged and it takes the device about 3 hours to charge completely. The battery life could be a little better although it is average and manageable.
8. It is made up of skin-safe materials and it consists of ABS shell, TPE sleeve, and internal NBR bullet holder.
Now, these are the basic features on the KIIROO Titan, however, you might want to consider that the toy is not waterproof, so you cannot take it with you inside the shower or any place where it would come in contact with water.
Something that was a little bothersome was the time it took to charge completely, it is odd that a battery that lasts 40 minutes max is taking around 3-4 hours in order to be fully charged.
Overall, the device works extremely well, however, there might be some lag in the video and the actions performed if the internet connection is slow.
Even though this does happen, it does not affect your experience, it would have just been a little better if this issue was resolved.
Is the KIIROO Titan worth it?
At the given price tag, the KIIROO Titan is definitely worth it. The most impressive feature about this device is that it can sync with 4000 and more interactive VR porn videos giving you the most immersive VR experience ever.
VirtualRealPorn is one of the best websites with a ton of content when it comes to Interactive VR Porn. They have different niches as well like VRJapan, VR women making their affordable membership worth it.
KIIROO Titan is probably one of the best toys that can help you get over the fact that you are single and home alone on a weekend. Such situations can get a little lonely especially if you are bored with just playing on your VR headset.
Take a break and have some fun with this new innovative toy where you can adjust the speed and use it manually as well in order to have an automated masturbation session.
==> Get the Best Price on KIIROO Titan
The device is very quiet as well so basically, you can use it in your room without people having to hear the device through the walls.
Since it is portable you can take it along yourself while you are traveling and the design is pretty decent so it would not come off as a sex toy at a glance.
A few things that you need to keep in your mind is that you do not get a toy cleaner and lube so keep it ready beforehand so that you can use the device as soon as you receive it.
Would you get a KIIROO Titan for yourself?
Do you have any experiences with this sex toy?
If yes, then share them with us in the comments below as it would help the readers!
If you liked the post then do not forget to share it on social media!
RELATED POSTS-
KIIROO Keon Review
KIIROO Keon Vs Titan
KIIROO Onyx+ Review
KIIROO Keon Vs KIIROO Onyx +- The Best Male Masturbator for 2022
KIIROO Onyx + Vs KIIROO Titan
Ohmibod Fuse Review (KIIROO)- Best VR Sex Toy for Women?