KIIROO Titan and KIIROO Onyx 2 are both pretty popular sex toys and the best part about them is that you can sync them with VR videos.
There are a lot of features that you get with both the devices, however, in this comparison post we would discuss which one of these is better than the other in VR.
The KIIROO Titan is a powerful device and there is a lot that you can do with this. The Onyx 2, on the other hand, is no less, so comparing these two devices is going to be fun.
But before we get started…
Why do you need a sex toy?
This is a question that I asked myself before getting one and I always thought if it was really necessary but once I got to experience KIIROO products, it just felt like I have been missing out on a  lot.
Sex toys are a great solution for someone who is single at the moment or who is just waiting for the right person to come along. If you are someone who has no time to invest in one night stands then you would get a lot of use out of these.
Either way, there is a lot of things that you can do with these devices which includes setting them on different intensities and vibrations.
Every time you use it, you get a different experience making it totally worth the money. The device is durable as well so it can easily last you for years making it a one-time investment.
Most of you would end up using the device every day, so trust me on this, investing in a sex toy is probably the best investment you can ever make.
Now, let's get back to business and start comparing these two bad boys…
Design of the KIIROO Titan and the KIIROO Onyx 2
The KIIROO Titan is an all-black device which is pretty light in weight. The first impression that you get after looking at the device is that it is a Bluetooth speaker.
You can easily trick someone by saying that it is a Bluetooth speaker which makes this toy really discreet.
There is a power button including some other controls on the device that easily let you set the vibration pattern and intensities on the KIIROO Titan.
The Onyx 2 is very similar in design to the Titan, honestly, there is very few difference between the two devices when it comes to the looks.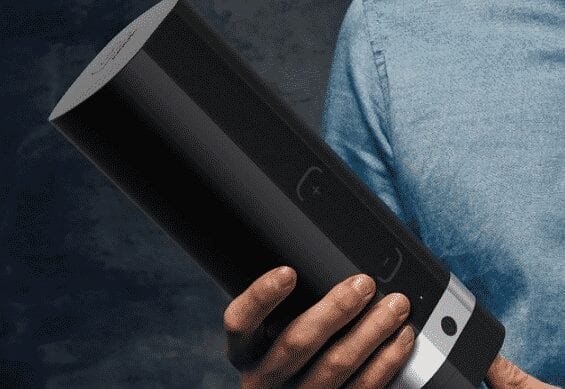 They look pretty much similar and both of them can be passed on as Bluetooth Speakers without anyone suspecting anything about them.
Both the KIIROO Titan and the KIIROO Onyx 2 are really light in weight making it really easy to use and carry it around while traveling.
How do the devices work?
The KIIROO Onyx 2 is easy to use and all you have to do is insert the Fleshlight sleeve that comes inside it, get it all lubed up and get started.
KIIROO Onyx basically works on contracting and expanding the rings around your private part. So, it feels like a massage and not proper thrusting.
Although it is not proper thrusting there are different vibrations that you can find with this device that is very similar to a blowjob.
==> Get the best Price on KIIROO Onyx 2
The Onyx 2 syncs VR videos as well, so while you are watching a VR video from the first person perspective, the KIIROO Onyx 2 is replicating everything that the model is doing in the video on you.
This makes your entire experience a whole lot immersive. You do not have to even lift a finger and everything is being done on you, so it just feels like you are having the best day of your life.
The KIIROO Titan works in a similar fashion as compared to the Onyx 2.
It comes with different combinations of vibrations and sensations. You can increase the intensity by touching controls and swiping up and down.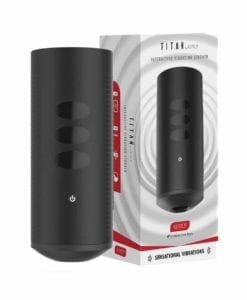 There are 9 different vibrations that you can choose from and if you change the sleeve inside, you can get different experiences every time you use the device.
==> Get the best Price on KIIROO Titan
Basically, the KIIROO Titan is a powerful masturbatory device and you are going to just love it because it is really powerful. You can use the Titan in Manual mode and automatic mode as well.
In Manual mode, you would be controlling the sensations that you get from the device whereas in the automatic mode you would sync the device to some VR content.
The Titan does have a lag when it comes to replicating the motion from the video but overall, it is manageable.
Noises produced by the devices
Both these KIIROO devices are really noisy when you use them at their highest intensities. In the case of both the devices, you are going to hear a mechanical noise all the time the device is ON.
If you want something quieter then you can consider Fleshlight Launch as it is one of the best rated VR sex toys. But overall, these two devices are going to be noisy and there is not much that you can do about it.
So, which one is better?
Now this one is a pretty difficult question as both the devices have very similar features but overall if we had to pick one then it has got to be the KIIROO Onyx 2.
The KIIROO Onyx 2 is going to be my pick from the two but if you want to go with the Titan then it would be completely understandable.
==> Get the best Price on KIIROO Onyx 2 
Note:  Use the code ULTRASEXY to get 10 percent off on KIIROO Products. It is valid for a limited time period so avail the offer today!
The difference between the two sex toys is so little that you need to use it for a really long time to be able to tell which one is slightly better than the other.
Overall, it is safe to say that the KIIROO Onyx 2 was something I liked after comparing all the features. Which one of these products do you like better?
Let us know your thoughts in the comments below!
If you liked the post, do not forget to share it on social media!
RELATED POSTS-
KIIROO Keon Review
KIIROO Keon Vs Titan
KIIROO Titan VR Experience Review
KIIROO Keon Vs KIIROO Onyx +- The Best Male Masturbator for 2022
KIIROO Onyx + Vs KIIROO Titan
Ohmibod Fuse Review (KIIROO)- Best VR Sex Toy for Women?
KIIROO Titan Review- Is it the best device for Interactive VR Porn?