There are a plenty of headphone options for Samsung Gear VR and even though you can easily use the one you get with the Samsung phones, you might want to consider investing in headphones that you could just use for gaming on the Gear VR.
I usually keep the headphones that come with the phone for emergencies and tend to invest in headphones which I could probably use for gaming, music and other activities on the phone. Whatever might be your reason but if you are looking for new headphones that would go well with the Gear VR then here are some recommendations.
1. Samsung Level On Wireless
Usually, I refrain from using wireless headphones since the Samsung phones already lose battery life faster in comparison to other phones while gaming and having your Bluetooth on for the wireless headphones is only going to make things worse.
Luckily these headphones come with the cable that can make the headphones wired and you can plug them into your phone. Moreover, with the new Oculus app update which saves a lot of battery, you can even use a wireless headphone if you wish to.
The headphones have a really good audio quality and since the audio quality is pretty important in VR, it is definitely worth investing in a headphone of premium quality like this one here. The headphones zone you out and give you an immersive VR experience.
The headphones are pretty light in weight and they would go really well with the Samsung Gear VR headset.

2. SteelSeries Artics
Steelseries have pretty good gaming controllers and now even their headphones get a mention. This company has been doing a pretty good job when it comes to affordable gaming accessories.
The SteelSeries Artics headphones are pretty good for VR headsets and since they are pretty light in weight you do not feel the additional weight of these gaming headphones.
The headphones are the best when it comes to gaming and you could definitely use them with the Gear VR.
These headphones come with a nice noise canceling feature so if you want to get completely lost in the VR world then definitely go for these headphones.
The headphones come with a really great ear cushion that would help in making your VR experience comfortable. Steelseries Artics has won many awards for the best gaming headphones.
The headphones are surely going to change your gaming experience and definitely make it more immersive.

3. Bose Quiet Comfort
One of the best premium quality headphones is from Bose and the reason it is the best is the amazing sound quality they have on almost every over-ear headphones.
They are pretty comfortable and it really takes no time for one to understand that this is possibly the best deal they could get if they are willing to spend some green on headphones. They might be a little expensive but they are totally worth it.
The games are going to get amazing if you are using the Bose headphones as they would provide the perfect audio quality making it feel like you are actually there in the Virtual world.
At the end of the day having an immersive experience does involve some great audio quality and Bose headphones are sure here to provide that.
These headphones are going to work great with Gear VR and for more on these headphones, read the customer reviews on Amazon.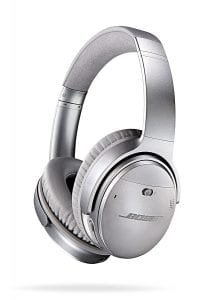 4. Bose SoundTrue In-ear headphones
If you want simple in-ear headphones then the SoundTrue in-ear headphones from Bose is the perfect ones that you should go for.
It is light and easy to use and if you do are not fond of using over-ear headphones then this one is something you should consider to pair up with your Gear VR headset.
The Bose Sound True headphones have an amazing audio quality and are light in weight and pretty comfortable to wear.
They have different fins sizes and ear tips in order to ensure that you find one that fits you perfectly. It is definitely one of the best that you could possibly use to play VR games.
The headphones do not completely cancel out the external noise so if you do want to hear sounds from your external environment or you do not want to totally ignore the happenings in your natural surrounding while playing any VR games then this is definitely a headphone that you should consider.

5. Samsung Gear IconX cordless earbuds
These are wireless earbuds and if you are using the new Samsung Galaxy S8 which has resolved the overheating issues then it is perfect for you. You can use these headphones at the gym and they are more like Sports Bluetooth headphones.
The headphones would last for 4 hours on full charge and are really small so you would find the weight of these headphones negligible. Technically it is fitness headphones but you could even use it to immerse yourself completely in the virtual World.
The headphones are compatible with every phone and you can even transfer music files to the Gear IconX(in case you want to use it for the gym as well).
Even though I have included these headphones in my list, personally I would prefer wired headphones since they do not deplete the battery life of your cell phone and as most of us would agree, Samsung phones have a pretty sad battery life and overheating issues as well.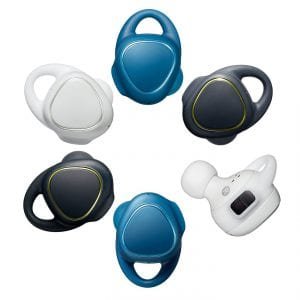 6. Samsung Level U Pro
These are again Bluetooth headphones and one of the best that you will find under $50. These headphones have a pretty okayish sound quality but are extremely comfortable with an excellent battery life.
The headphones will stay intact around your neck and are light in weight hence making it really easy to wear for longer periods of time.
The only problem you might have with these headphones is the Bluetooth connectivity but since you would be using it with the VR headset, the phone is not too far away but if you are planning on using it in your gym or exercise routines then be ready to face some connectivity issues.
This is again a Bluetooth headphone so do consider this before purchasing, honestly, a wired headphone is way better when it comes to compatibility with VR headsets and if you are interested in looking at some of the over-ear headphone options then do look at the headphone recommendations for the PlayStation VR.

If you have any questions or recommendations, leave them in the comments section below.