The PlayStation VR has been one of the major console based headsets of the year 2016. Sony had seen an unexpected demand for the VR headset and have started working more towards developing games and other VR experiences that are compatible with the PlayStation VR.
Soon we would even see a lot of movie reviews and trailers that would be in VR and by the next year, there would be a whole new level of content that would be available for the PlayStation VR users(Breaking Bad is going to make it on VR as well, check that out!). For now, let us look at the different accessories that you can possibly use with the PlayStation VR.
1. Display and Charge Station for PlayStation VR
The Display and charge station for the PlayStation VR is one of the best ways to show off your VR headset. You can keep it charging and at the same time have it at the display to show off to your friends. It is one of the best accessories you could possibly use with the  PlayStation VR.
It does the job of charging and even holding your PlayStation VR in place although you might want to consider keeping it in a dust bag later because, in this charge station, it could get dusty if left unattended for a few days. An additional cover would have made it better but if you are a regular user then this charge station could be your storage station as well.
The charge station has some pretty good customer reviews and if you want to get one them then check out the price on Amazon.

2. Headphones for PlayStation VR
The PlayStation VR comes with headphones but you might want to invest in premium quality headphones in order to have an immersive VR experience. The PlayStation VR has 3D audio which gives you the depth you need in a VR world and making the experience very realistic.
When you have a great pair of headphones then your experience gets much better and the sounds would feel like they are coming from your surroundings and not from a TV screen. Many users do not like to have noise canceling headphones along with the PlayStation VR but since I stay alone most of the times I do prefer noise canceling headphones as it makes everything seem so freakishly real.
You might want to consider the fact that when you are using a noise canceling headphones people are might just tap on your back or hand if they wish to get your attention to tell you something and if you are someone who gets scared easily then consider buying headphones which do not have the noise canceling feature. Either way using a headphone is totally worth it and you could look at the different recommendations here.
3. Aim controllers
Apart from the usual controllers, another interesting accessory which you can possibly use with the PlayStation VR is Aim controllers. If you already own a PS VR then this must be pretty obvious to you by now since Aim controllers are a great addon with the game Farpoint.
However, there are a few other games that are going to be released with the Aim controller compatibility and if you want to get another toy to play your games with then the Aim controller is a perfect choice. Sony might release a few other games which might be compatible with the Aim controller.
The aim controller does prove like a great investment while playing the game Farpoint and if you haven't played that game yet then go grab a copy from Amazon. You even have a bundle of the Aim controller and the Farpoint game so do consider that as well.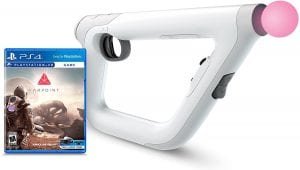 4. Sanitary Eye Mask
This is one of the accessories that never gets old and it is one of the best since it keeps things hygienic in VR, LOL. Having a sanitary mask is useful especially if you are sharing your VR headset with your friends. There are a few of us who tend to sweat a lot and it just makes the sponge around the VR headset moist which is actually gross.
If you have never had that experience then I recommend that you get the sanitary mask and never experience it in future as well. It is just disgusting and even though you might feel like it is no big deal but when you wear the VR headset soon after someone's used it you realize that it is annoying to have a wet sponge touch your face.
If you are like me and want to keep your VR headset clean and hygienic then consider getting the mask for your VR headset. It can be a little irritating and high maintenance to look at but trust me it such small steps would keep your headset clean.

5. Thrustmaster Racing Wheel
If you love racing games like I do then it would be amazing to get the Thrustmaster Racing wheel which you can easily connect with your PlayStation 4 and feel like you are actually driving/ racing in a car int he VR world. It is the most amazing accessories that you can pair up with PS VR games like DriveClub.
The racing wheel comes with a steering and a pedal set with easy access to all the controls that you might want to use in the game. Honestly, if you love racing games and can't get enough of them then this is one of the best add-ons you can have for your PlayStation VR.
It is a great deal for the price and it does make a racing game feel real. One of the best add-ons on the list, the Thrustmaster racing wheel is definitely worth it.

6. VirZoom Folding Bike
Ever thought of exercising while being in the VR world? Well, the stationary bike is here to help you with that. It is an amazing accessory that you can use with the PlayStation VR. The VirZoom folding VR bike is integrated with sensors and measures your pedaling speed, the faster the pedaling speed, the faster you move in the VR world.
The bike is pretty light and even though it does feel like it may not be able to handle your weight, it is stronger than you think it is. It can easily take care of fast pedaling and has controls on the handle which would help you interact inside the VR world.
It is definitely something you should consider if you are a serious gamer and spend most of your time with the PlayStation VR. It makes you interact more inside the VR world making the experience way more realistic and immersive.

If you have any other accessories you might want to recommend then leave your thoughts in the comment section below!