Magicoo is another VR headset that has been on the top selling list of Amazon in the smartphone VR headsets niche. There are many reviews about this product on Amazon that made me purchase one of them and hence we have a clear honest opinion about this VR headset. So without any further ado, let's get started:
Specifications
Name: Magicoo 3D VR Box
Price: $29.99
Best buy: www.amazon.com
Overall Rating: 5/10
What I liked about the VR headset
1. Most of the things that are good about the headset are pretty common to the other Chinese VR headsets in the same given price range. This one although has a unique design with the promised high-quality headphones that comes along with the VR headset providing you a really immersive VR experience.
2.  The VR headset does come with a three-way strap for the uniform distribution of the weight of the VR headset.
3. Apart from being comfortable, it is pretty compatible with almost any phone with a screen size between 4-6 inches which is something standard for these VR headsets. However, it holds the phone pretty well and the head straps are stretchy and comfortable.
4. The VR headset does have enough padding to not allow the light to enter inside while you are wearing the VR headset. This creates an immersive experience and that is something which should be the aim for every VR headset.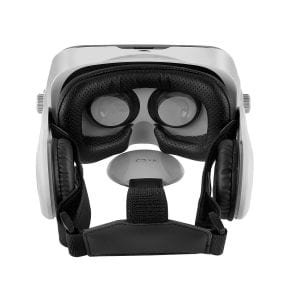 5. The VR headset comes with focal adjusters and IPD which really helps you focus the image and create the perfect VR experience. The most important aspect of a VR headset is that the VR experience has to be immersive and the focal adjusters help in adjusting the image inside the VR headset.
What I did not like about the VR headset
1. While adjusting the lenses there is a small gap which exposes your eyes to the phone screen directly making the VR experience not so immersive.
2. The VR headset has vents but that does not solve the overheating issues in the phone. You might want to keep a cooling pad at the back of the phone so that it can cool down and you can get a few more hour of gameplay.
3. They should have included a Bluetooth controller along with the VR headset since it is pretty much needed for navigation and while playing games. They should have either had a magnetic trigger or included a Bluetooth controller that would go along with the VR headset.
Games on the VR headset
There are plenty of free VR games that you can download on your phone and play these games by inserting your phone inside the VR headset. Most of the games that are VR compatible are free and you can play them without any issues. You may need a controller because there is no magnetic trigger in order to give you the proper feel of using the Google Cardboard apps.
If you feel the need for a Bluetooth controller in order to have a better gameplay experience then it would be better to invest in a good controller rather than the cheap $7 controllers that are available on Amazon. Try investing in a Moga controller which cost around $17 because they work pretty well and last really long, unlike the cheap controllers where the functionality of the controller depends on your luck.
There are plenty of games that you could play with the VR headset and if you want a detailed list of them then do check out the posts on Free VR games for Android phones.
Conclusion
Usually, when I get these products, I instantly find something wrong and then just pack it and send them back.  In these smartphone VR headsets, one even finds it difficult to focus a youtube video in order to view it in VR which is completely annoying but in the case of this Magicoo VR headset, the focusing was pretty good and you were able to view something in VR.
It is like an upgraded version fo the Google Cardboard and you can give it a try although I have mentioned this in a few of my reviews that when you buy a cheap Chinese VR headset then it can either be a hit or a miss product. It was an overall average product and for the price of $30 you could spend a bit more and invest on premium VR headsets like the Gear VR which is for around $45 after discount and the Merge VR.
The premium VR headsets can be slightly expensive but they are worth the money. They provide excellent VR quality and would last longer. The gameplay in these VR headsets is far more immersive and amazing.
If you really are looking for a long term investment then these premium VR headsets are the way to go but if you want a cheap and affordable VR option then you can give Magicoo VR headset a try.

If you have any further questions leave them in the comment section below and I would be happy to help. 
Did this post help you?
Do you have any experiences with this VR headset?
Share your thoughts and experiences with us in the comment section!