Deepoon VR headset is one of the Chinese VR headsets that has gained a lot of popularity in the VR market. There are a lot of other VR headsets that are available under the same brand name and design and the situation can be slightly misleading. This is the case with most of the Chinese VR headsets since they don't have an official website or brand of their own resulting in duplicate VR headsets available in the market which is being manufactured by different people.
However, getting into the review of this Chinese VR headset which is retailed for about $18 on amazon, let's figure out if it is really worth the money or not!
Phone Compatibility: 4.7″-6″ Android smartphones/ iPhones
FOV: 90 degree
Weight: 280 grams
What I liked about the VR headset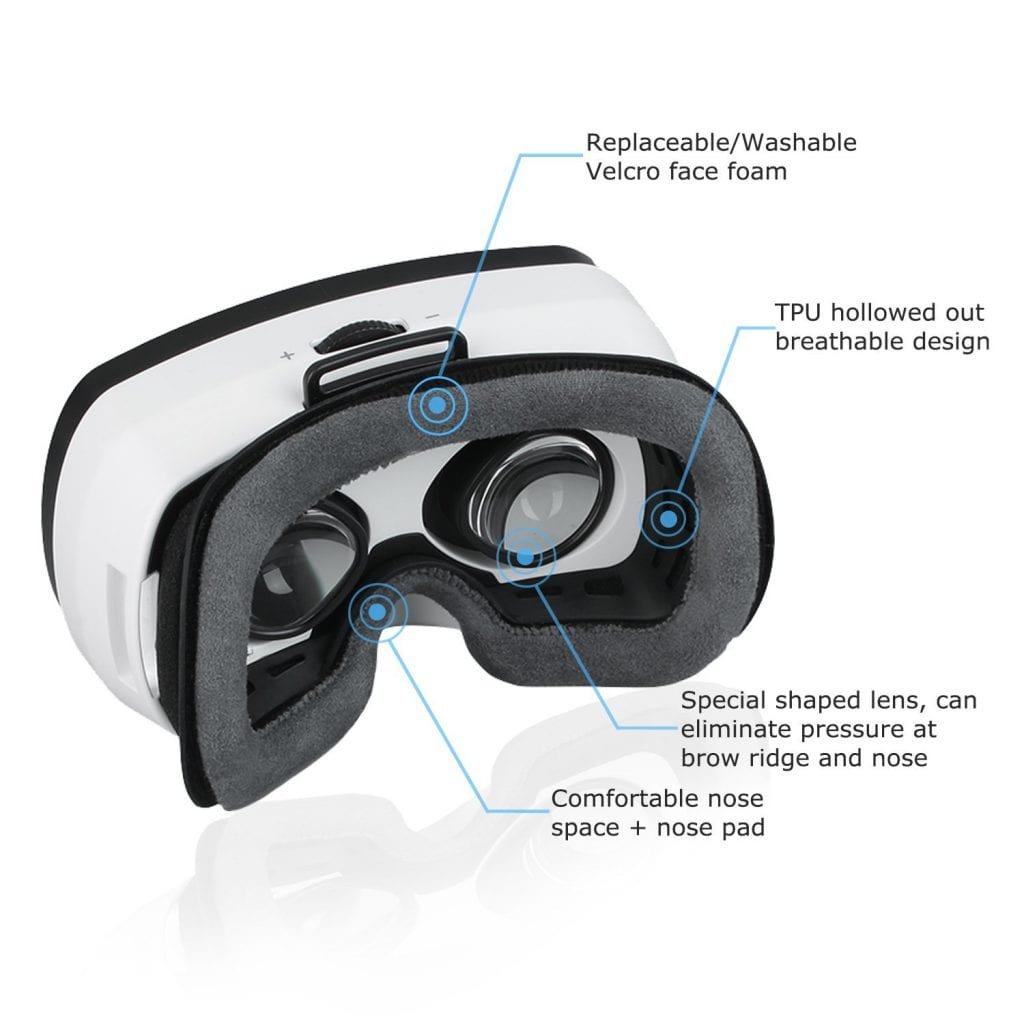 1. The VR headset does come with a three-way strap which makes it sit comfortably on your face. It is light and weighs around 280 grams. The headset does not make your nose region uncomfortable which is usually the case with other cheap Chinese VR headsets. There is enough room for your nose and it does not leave any marks on your nose bridge.
2. In the case of phone compatibility, this VR headset is compatible with android phones between the screen sizes of 4.7″-6″ and you have a spring arm at the front of the VR headset which holds your phone securely. I liked the fact that the spring was neither too tight nor too loose and it holds your phone firmly.
3. You can adjust the Interpupillary distance and can even move the lenses closer or farther away from the phone screen which is a feature not seen in all the VR headsets and it is pretty important if you want to have the perfect immersive experience.
4. The clamp design holds your phone and makes sure that there is a lot of ventilation and the phone does not heat up which is usually the problem in most of the other VR headsets where the phone is in an enclosure resulting in overheating issues.
5. The FOV claimed by the manufacturers is 96 degree but I'm pretty sure that it is less than that. It is not a great field of view and is pretty okayish compared to the other Chinese VR headsets available.
6.  It does not have a trigger so if you are using Google Cardboard app then do remember to have a Bluetooth controller which is compatible with your phones.
What I did not like about the VR headset
1. The VR headset is not as immersive as a few of the premium VR headsets like the Merge VR, Homido V2 Virtual Reality headset or the Freefly VR. Although for the money you spend, it does provide some mediocre VR experience.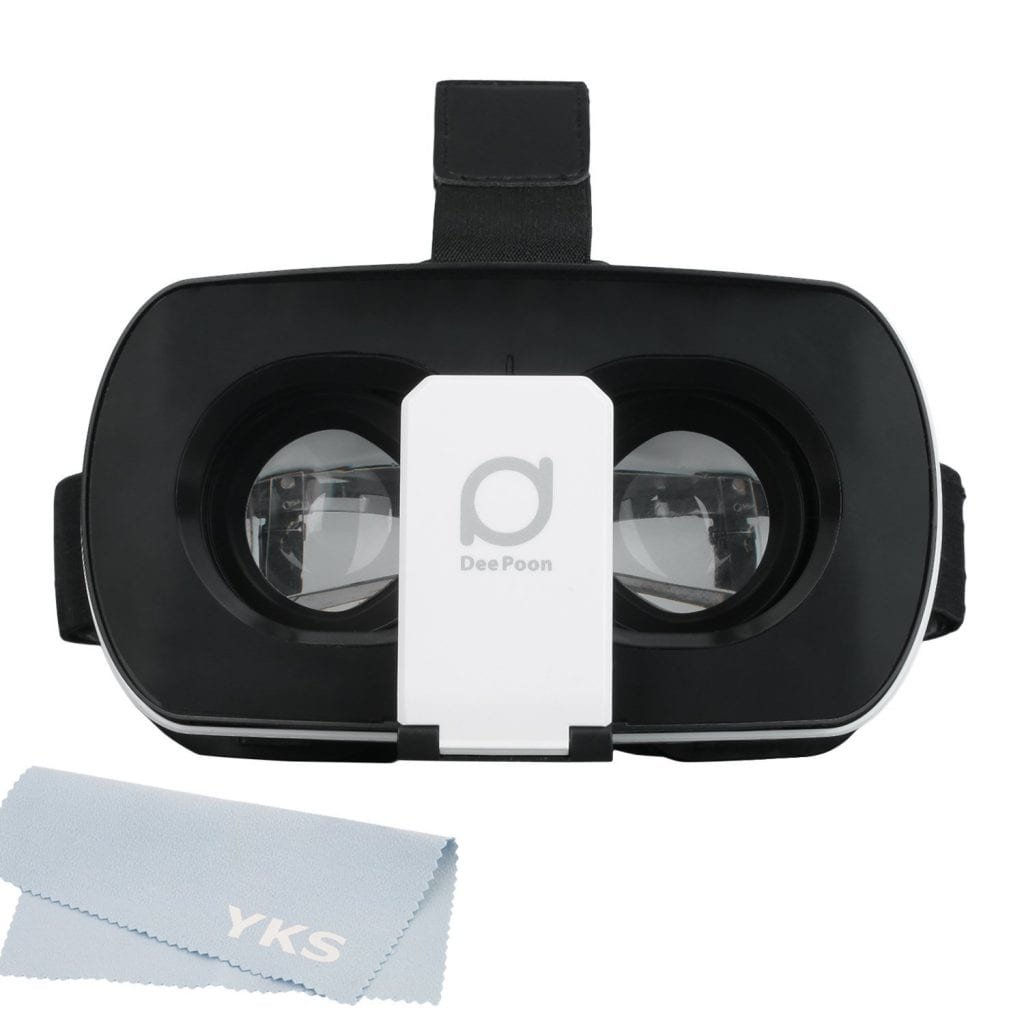 2. Since there is no magnetic trigger you need to depend on Bluetooth controller to run Google Cardboard games which is fine in the case of android phones since you have quite some options but for iPhone users, you may have to search for a Bluetooth controller that is compatible with your phone.
3. The FOV is not that great and is definitely not 96 degree. It has an overall average VR experience and nothing compared to the experience you get from the premium smartphone-based VR headset.
Content on the Deepoon VR headset
You may have to depend a lot on Google Cardboard apps and games. Although the content is not an issue these days since there are so many VR apps and games that are being released every day which makes the VR content base grow as the days pass by.
You could play games on the VR headset but that would obviously need you to have a gaming Bluetooth controller which would e compatible with all the VR games. For more assistance on choosing a Bluetooth controller for android phones, read our post on Best controller for the Samsung Gear VR.
Conclusion
Deepoon VR headset is pretty great if you look into the value for money it has to offer. If you want to have a basic VR experience then you could go for this particular VR headset. Other VR headsets within this range would be the Homido Mini and the Google Cardboard VR headset.
If you really want to have some serious gaming experience then I think you should probably avoid going for the Chinese VR headsets and go for the Merge VR goggles which retail for $59.99 or the Gear VR which is around the same after discount.

VR headsets like Deepoon are mostly going to be a hit or a miss. You could end up with a nice manufactured unit or else you might get the clumsy manufactured VR headset which would be really different from what you expect. Something very common with the Chinese VR headsets is that they lack uniformity in the production quality of their VR headsets.
This is all on the Deepoon VR headset review, if you have any questions leave them in the comment section below!
Did you like the post? 
If you liked it then do not forget to share it on social media with your friends.